Read update by Bungie below or @ https://www.bungie.net/7_Bungie-Weekly-Update—11252015/en/News/News?aid=14040
This week at Bungie we're giving thanks.
It's a short week around these parts, and you'll find this update is sized to match. In America, we're about to celebrate Thanksgiving. Our studio will grow mostly dark as we scatter to various destinations on quests to recapture time with family and friends. We might even dismantle a turkey as a consumable for our chosen Fireteams.
Don't worry, though. We haven't forgotten about you, and we've put a few dishes in the development oven to serve up for you upon our return.
As we take stock of the things for which we're thankful this year, you will be high on our lists. If you care about Destiny enough to consider yourself a member of this community, we're thankful for you. Through thick and thin, amidst criticism and praise, we're glad to have the chance to make and to play this game alongside you.
We know that you're anxious to see what we have cooking up for December. Although we hope to keep the main course under wraps a little while longer, we'll have some meaty details ready to go as early as next week. In fact, here's a preview – an appetizer, if you will – of what you can expect after the holiday.
---
"Harder" Mode
If you've slain Oryx, and then slain him again, you've likely heard some chatter about the upcoming challenges for King's Fall. As always, we plan to keep many Raid-relevant details shrouded in darkness, but today, the Raid Team is ready to cast a sliver of light on the subject.

Please welcome
Lead Raid Designer Gavin Irby
back to the Weekly Update. The last time he stopped by, it was to
talk about Hard Mode
. This time, he's here to issue to you a new challenge.
Gavin: Hello again, my fellow Raiders! I wanted to give you a heads-up on an upcoming feature for the King's Fall Raid: Challenge Modes!

Early in December, one of the King's Fall bosses will offer their challenge each week. You'll see which boss when you select the Raid in the Director. It will display next to a skull, just like one of our Nightfall modifiers. They work on both normal and hard mode, and offer rewards to match.

Each boss's challenge requires that you defeat them in a very specific manner. How, exactly? We're going to leave that up to you to discover (but apologies in advance to those that run the single-pool strat for Golgoroth).
---
Crucible Math Class
In keeping with its bloody routine, Trials of Osiris was in full swing over the weekend. When Senior Designer Derek Carroll wasn't monitoring an increase in Legendary drops across the Crucible, he was making sure that everyone had a reasonably fair shot at the Lighthouse in Brother Vance's event – no matter where they spawned.
Derek: One issue that comes up a lot when talking about "map balance" is that of initial team spawns. On roughly-symmetrical maps, like Pantheon, balancing initial spawns seems pretty straightforward. With asymmetrical maps, like Rusted Lands, things get trickier. You'd suspect that that one team would have a definite advantage based on their placement. Destiny is a huge project, and we try to get hard data on as many aspects of the game as we can so we can find and fix bugs that might not be apparent in one or even a few hundred matches.  We can measure if initial team spawns unduly affect outcomes by recording each game, and noting which team won.  For last weekend's Trials of Osiris on Rusted Lands, across all matches, the map balance looked like this:

That's pretty close to dead-even.  Thanks, Science!
Meanwhile, back in the Iron Banner, we saw an interesting reinforcement of the idea that power matters when you're fighting under the direction of Lord Saladin. Check out the trajectory of a player's average K/D when plotted in comparison to their Light.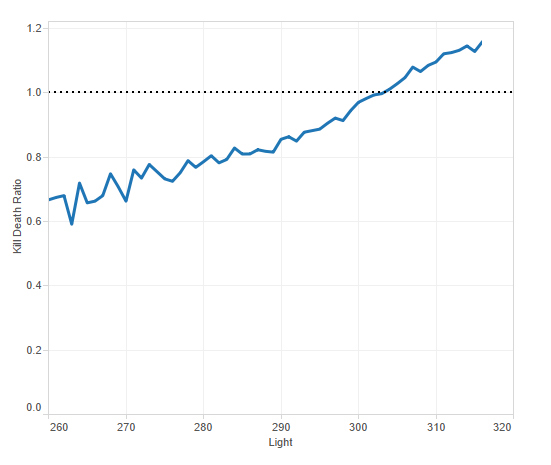 Iron Banner returns in December. If these numbers are to be believed, you'll want to commit yourself to the next battle with 303 or greater Light for the best odds of going positive. You have a month to gear up.
---
The Skeleton Crew
Our studio won't be completely dark this weekend. The Guardians never sleep, so neither do we. Destiny Player Support will be on watch to ensure the game can flow.
DPS: Now that the Refer-a-Friend program is available, our #Recruitment forums are a good place for Referees looking for their Veterans. Many players are asking the following question:Who am I? A Veteran or Referee?

Referees are new players who are looking for a referral. Referees either don't own Destiny: The Taken King, or have owned and played Destiny: The Taken King for less than 7 days. Please note, Bungie does not support console sharing features. Referees must have purchased Destiny: The Taken King under their personal PlayStation Network or Xbox Live account in order to participate.

Veterans are existing players who are looking to send a referral. Veterans have played Destiny: The Taken King for more than 7 days and have downloaded patch 2.0.2.

With the influx of new players, Destiny Player Support has also released the Destiny: The Taken King New Player Guide. For information regarding various aspects of Destiny (e.g. Bounties, Quests, Factions, etc), follow the link above. While this will provide some information to get you up to speed, there is still plenty to discover so you don't have to walk the Earth alone.
They go by BNGHelp. Look for them by name.
---
Turkey Shoot
And now, let's hear from the Lord of all Creations.
Cozmo: All of this week's videos come to you courtesy of the Crucible. Guardians competing against each other can result in amazing moments. All the videos chosen will be rewarded with the MOTW emblem. If you too seek the emblem, submit your video to the Creations page. It doesn't have to be a Crucible video. It could be a video of you beating a Raid while spinning several plates on sticks, blindfolded, with one arm tied behind your back. Be creative.
Movie of the Week: Bubble buster.
Honorable Mention: 720 no scope.
Honorable Mention: It's a trap!
---
Letting this little update off the chain was the last thing between me and the extended weekend.
Of course, a proper holiday wouldn't be complete if it weren't tempered by some rampant consumerism, so we'll be getting in on the act. The
Bungie Store
is having a sale on
Black Friday
. If you see new stuff hit those virtual shelves between now and then, hold your clicks!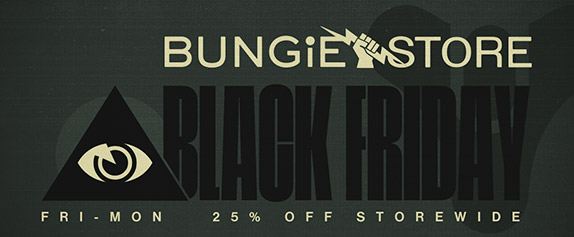 If you're in the gift-giving mood, or you have a friend on the hunt for a great deal, your favorite retailer might also have Destiny: The Taken King on sale for Black Friday, and throughout the holiday season.
Thanks again for playing Destiny, Guardians. Next week, we'll be chatting with Sage about Titan ups and downs in December. Sunbreakers are a hot topic, but they only represent one-third of the Titan conversation.
Travel and celebrate safely. We'll talk more soon.
DeeJ, out.