Post includes this week's Nightfall, King's Fall Raid Challenge Mode, Challenge of the Elders, Court of Oryx-Tier 3, Materials you may donate to earn extra reputation with your faction, Recent News, and more. 
---
Destiny Weekly Reset Newsletter – 06/07/16
Click preview images above or link to view full interactable PDF 
Zoom in to view larger text/images
Click on links/images/videos shown to open
---
King's Fall Raid – Challenge Mode – Warpriest
CHALLENGE MODE STRATEGY
Defeat Warpriest by having a different player hold the Aura for each damage phase, the same player cannot hold the Aura more than one time or the challenge will fail. (full strategy + video below)
REWARDS
Normal= Rewards drop up to 320 | Hard= Rewards drop up to 335
1- Guaranteed Special or Heavy Weapon
1- Artifact
1- New Fragment 
1- New Worm Gods' Servant Emblem 
GUIDES
Warpriest Challenge Mode Guide – Planet Destiny
Warpriest Challenge Video Guide – DPJ
 Note: Hard Mode also rewards you with normal mode loot in addition to any hard mode drops if you haven't completed normal mode before hard. 
---
Challenge of the Elders – Level 42
ELDERS SIGIL CARD COMPLETION REWARDS
1 Weapon (up to 335) + 1 Piece of Armor (up to 335) 
MODIFIERS
GROUNDED: Players take more damage while airborne.
JUGGLER: No ammo drops for your equipped weapon.
PRECISION KILL BONUS:  Precision Kills are worth more points.
ROUND 3
Sylok, the Defiled – Light 310 – Hive
ROUND 2
Noru'usk, Servant of Oryx – Light 320 – Cabal
ROUND 3
Pilot Servitor – Light 330 – Fallen
GUIDE
Note: Strategy guides above may not be updated for this week till later. 
---
Nightfall – Winter's Run – Archon Priest
MODIFIERS
EPIC- Heavily shielded and highly aggressive enemies appear in great numbers.
VOID BURN- Void damage from any source is greatly increased.
BRAWLER- Guardian melee damage is greatly increased.
GROUNDED- Players take more damage while airborne.
TRICKLE– Recharge of abilities is significantly reduced.
WINTER'S RUN STRIKE EXCLUSIVE ITEMS

 Strike exclusive items can drop up to 335 Light. Click item(s) to view details.
---
Court of Oryx – Tier 3 –  Balwur
STRATEGY
This battle begins by Balwur spawning in the middle of the upper platform by the portal. The entire floor will be toxic and can kill you. To remove the toxicity on the floor you will need to kill the Acolytes of Balwur and then a temporary safe zone will appear, you can then safely stand and fight in that safe zone. Safe zones will disappear so keep killing the Acolytes. However, there is a safe zone beneath the center platform and this safe zone is permanent. Damage Balwur after creating and/or standing in a safe zone until the wizard is completely defeated. A chest will appear on the upper middle platform by the portal once you have successfully killed Balwur.
Court of Oryx – Tier 3 now drops artifacts up to 335 Light (Requires 1 Antiquated Rune).
BALWUR VIDEO GUIDE BY AREKKZ
---
Weekly Crucible Playlist – Mayhem Clash
Ends:

Tuesday, 06/14/2016

 (PST)
REWARDS
1- Sterling Treasure (1 per account)
10- Legendary Marks
---
Material Donations
Below is a list of materials you may donate this week, to earn more reputation.
To donate materials visit the Faction you have pledged to and select materials you would like to donate.
Click faction to view more details and complete inventory.
---
Trials of Osiris
Starts: 

Friday, 06/10/2016 @ 10AM

 (PST)
Ends: T

uesday, 06/14/2016 @ 2AM

(PST)
Weekly Trials Map & Rewards will be posted: Every Friday via Kyber's Corner
---
Armsday
Orders Arrive:
Tomorrow, 06/08/2016 @ 2AM

(PST)

Note: Click links above or weapon icons to view detail via Destiny Tracker
---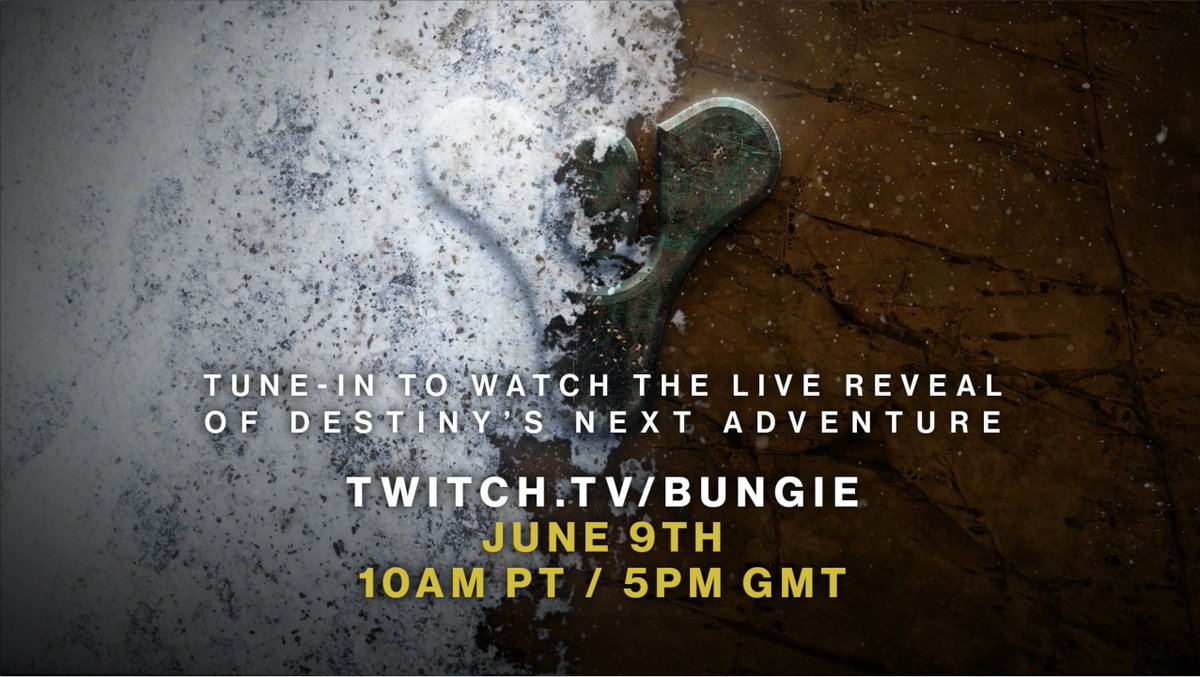 DESTINY REVEAL STREAM
Thursday, June 9th @ 10am (PST)
More details about the upcoming Twitch Reveal (Video below by Planet Destiny)
THIS WEEK AT BUNGIE – 06/02/2016
The calm before the stream.

THIS WEEK AT BUNGIE – 05/26/2016
When everything happens at once.
Click image or links to open posts above
---
Upcoming Destiny The Game Posts by Kyber3000 
TUESDAY
  Destiny Weekly Reset
Nightfall, King's Fall Challenge Mode, Court of Oryx Tier 3, Prison of Elders Levels 41 & 42, and more
WEDNESDAY
Destiny Armsday
Armsday Weapons, Foundry Orders & Test Weapons Available
FRIDAY

 
Destiny Weekend Newsletter
Xur's Inventory & Location, Trials of Osiris Map, News, & more
All posts are also added on Twitter & Instagram. I haven't been posting as much on Google+ & Medium, to always have the most currently update-to-date posts and more visit @Kyber3000 via Twitter.
---
Hope you have a great week 🙂
Kyber3000
---
RECENT TWEETS: