It's Friday!! Which means Xur has arrived with his big bag of loot and Trials of Osiris is live. Recent news and updates by Bungie and Rise of Iron  information are included in this post.
---
XUR'S INVENTORY & LOCATION
Arrives:
Friday, Aug 5th @ 10AM

 (Pacific)
Departs:
Sunday, Aug 7th @ 2AM

 (Pacific)
LOCATION:
Click link above to view map.
INVENTORY:
EXOTIC ARMOR- 13SC – YEAR 2
EXOTIC WEAPON – 17SC- YEAR 2
LEGACY EXOTIC ENGRAM – 19SC – YEAR 1 ONLY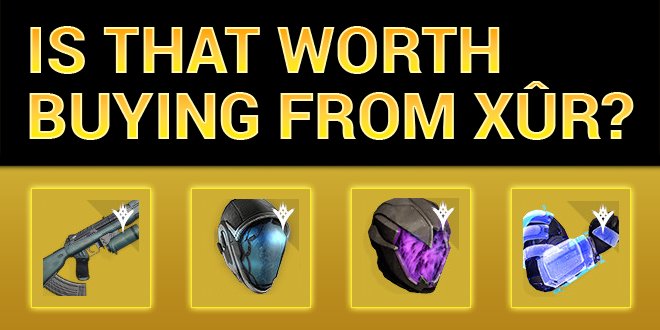 ---
TRIALS OF OSIRIS
Arrives:
Friday, Aug 5th @ 10AM

 (Pacific)
Departs:
Tuesday, Aug 9th @ 2AM

 (Pacific)
REWARDS:
Random RNG
Rewards can drop up to 335 Light.
MAP:
Note/Tips:

Drops are Guaranteed to be higher than your current Light Level (up to 335).

Remember to use Three of Coins for each match since Exotic Engrams can drop.

If your looking to score some extra Crucible Reputation to earn rank up rewards, use a Crucible Reputation Booster to earn double reputation, each booster lasts 2 hrs.

(Also, make sure to equip a Crucible character class item so all reputation goes to Crucible instead of Vanguard).
GUIDE: TRIALS OF OSIRIS
---

NEED A TEAM?
---
FOUNDRY ORDERS
Test weapons to order Foundry Weapons for the next Armsday
Order by: Sunday, Aug 7th @ 2AM (Pacific)
Next Armsday on:
Wednesday, Aug 10th @ 2AM

 (Pacific)
Available to Order – $2,500 Glimmer 
---
Game Informer Show – Full Podcast

 
Destiny: Rise of Iron Impressions
This podcast includes many details about Rise of Iron and what to expect. Choose any of the options below to listen to the Game Informer Podcast.
Game Informer – September 2016 Issue
The September issue features 16 pages all about Rise of Iron, including loads of new details such as new artifacts, crucible maps/mode, weapons/gear, and activities coming to Rise of Iron. Click image above to read more.
This Week at Bungie – 08/04/2016
Informing you about the game.
This Week at Bungie – 07/28/2016
Paving the road to the Plaguelands.
---

Moments of Triumphs is Back!
Deadline: 
September 20th, 2016 @ 10AM Pacific
Players have until September 20th, 2016 to complete their Year Two Moments of Triumph Record Book, players who have completed their Record Book have until 11:59 PM PDT on October 4th, 2016 to place their T-shirt order at the Bungie Store. For more information on this offer, please see the Year Two Moments of Triumph Donation T-Shirt support page. (Source: Bungie.net)
Record Books are available to be picked up at the Postmaster. If discarded you may pick it up again at Eververse (at no cost). You may also hold one Record Book on each character.
Year Two Moments of Triumphs are:
A Blade Reborn: Complete any of the Exotic sword quests from Shaxx
Eris Morn's Revenge: Collect all 50 Calcified Fragments
The Sword Logic: Defeat Oryx in the King's Fall Raid on Hard difficulty
Return to the Reef: Complete the April quests "At The Gates" and "Return to the Prison"
The Play's The Thing: Complete the Taken King main quest line, culminating in "Regicide."
Challenge of the Elders: Complete an Elder's Sigil scorecard in the Prison of the Elders.
This is Amazing: Complete the Crucible quest line culminating in "The Mountaintop."
The Third Element: Equip a fully leveled Year Two subclass on any character.

Rewards:
Rank 2: Caelestis Shader
Rank 3: Shield of the Traveler Emblem
Rank 4: Dawncaller Shader
Rank 5: Hear the Call Emblem
View more detailed Moments of Triumphs information at https://www.bungie.net/en/Help/Troubleshoot?oid=44927 or click the Record Book image above.
---
Rise of Iron @ Gamescom
Bungie will be discussing New Crucible Maps, Game Modes, and more for the Rise of Iron Expansion, at this years Gamescom Event.
Gamescom 2016 will start on
August 17th

 and will end on

August 21st

.
---
RISE OF IRON EXPANSION INFO
Current posts and news for the upcoming expansion, Rise of Iron. Click image above or link below to visit the Rise of Iron website by Bungie. Check out

@

Kyber3000 on Twitter and Instagram for current news and updates for Rise of Iron.
Releases
September 20th, 2016

for Xbox One & PlayStation 4
*Xbox One Pre-Order will be available soon.
To Watch the Tour of the New Cosmodrome Stream on Bungie's Twitch Channel click here or click video below (video by Bungie will be directly added here asap)
---
TUESDAY: Destiny Weekly Reset
Weekly Activities, News, and more
WEDNESDAY: Destiny Armsday + Foundry Orders & Test Weapons
Armsday Weapons, Foundry Orders & Test Weapons Available
FRIDAY: Destiny Weekend Newsletter
Xur's Inventory & Location, Trials of Osiris Map, News, and more
---
Note: There will be limited to no posts when Rise of Iron releases on
September 20th

to get everything updated on this blog and elsewhere. All posts should be back to regular schedule about 2 weeks after the Rise of Iron release date. On another note at some point, when I can settle on something, will be changing the name of this blog/website (Kyber's Corner). If you have any suggestions , questions, or would like to submit any content (such as videos, posts, etc) you may message me at any time.
Have a great weekend!
Kyber3000 🙂