Announcement:

For the next few weeks posts may be limited or not made. I am currently working on updating the Destiny 2 weekly reset infographic as well as this usual posts made on this website.I recommend checking out @nicregis on Twitter for D2 weekly reset posts/infographics and/or the Destiny 2 Reddit page (click weekly reset threads on the top of the page or look for the weekly reset post for details about activities).

Kyber3000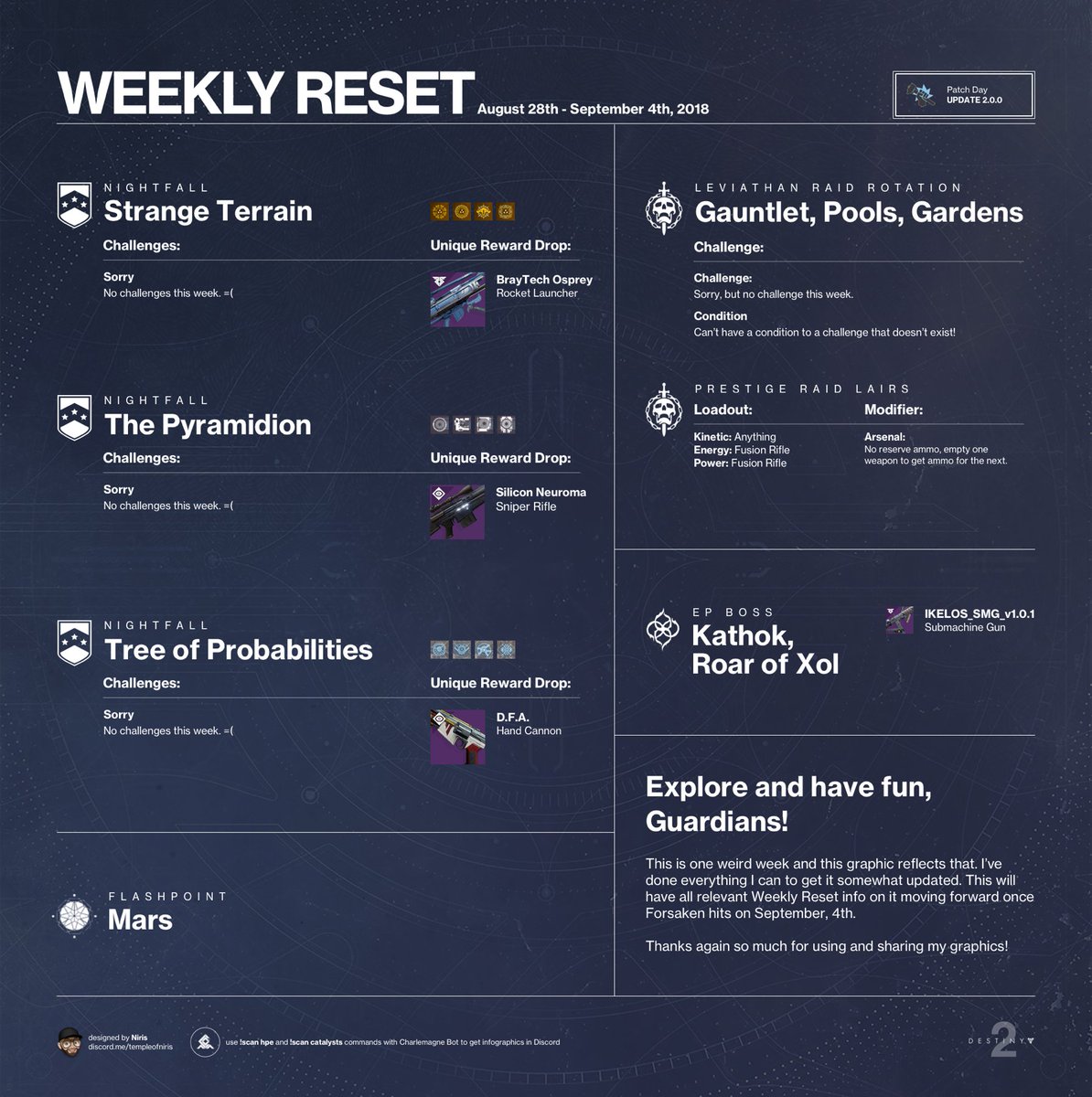 Destiny 2 Weekly Reset
Starts: Tuesday, August 28 @ 10AM PT
Ends: Tuesday, September 04 @ 10AM PT
I hope you all enjoy Update 2.0 and Forsaken when it releases next week, September 4th!! 🙂
---
Will update if a challenge is available and once I get that information.
Weekly Order: Gauntlet > Royal Pools > Gardens > Calus
Challenge Mode: ?
Challenge Requirement: ?
Guaranteed Challenge Rewards: A Raid Specific Item, Challenge Mode Emblem, and Tokens.
Challenge Video Guide …
---
Prestige Raid Lairs (Eater of Worlds and Spire of Stars)
Recommended Power: 380
Modifier – Arsenal:
Weapons have no reserve ammo. Emptying the clip of a weapon refills the clips of your holstered weapons.
Armsmaster Required Loadout:
Kinetic: Anything
Energy: Fusion Rifle
Power: Fusion Rifle
Rewards: 400 Power Weapon and Armor Ornaments (exotic catalysts have a chance to drop)
---
Complete 1 Nightfall (You now can choose between 3 different nightfalls)
The Pyramidion
Unique Item: Silicon Neuroma – Legendary Sniper Rifle
Tree of Probabilities
Unique Item: D.F.A. – Legendary Hand Cannon
Strange Terrain
Unique Item: BrayTech Osprey – Legendary Rocket Launcher
Scoring:
Complete the nightfall to receive a 'challenge card' (If you already have one, this will still be in your inventory)
Add burns / increase the difficulty on the challenge card to increase the scoring modifier for your run
Get a highscore and earn unique weapons and exotic accessories. The higher the score, the higher your chance.
Click here to learn more about Nightfall Unique Rewards.
---
Complete various activities on Mars including public events, Lost Sectors, and Heroic adventures.
Rewards
Legendary Gear
---
Compete 3 matches in the Crucible (competitive/quickplay)
Rewards
Legendary Gear
---
Escalation Protocol (Requires Warmind Expansion)
Recommended Power: 370 | Max Players: 9 (3 per fireteam)
Final Boss: Kathok, Roar of Xol—a Knight surrounded by an immunity shield that can only be destroyed by using Ascendant Swords dropped from Severing Knights.
Weapon: Ikelos SMG
More Info: Read more about Escalation Protocol here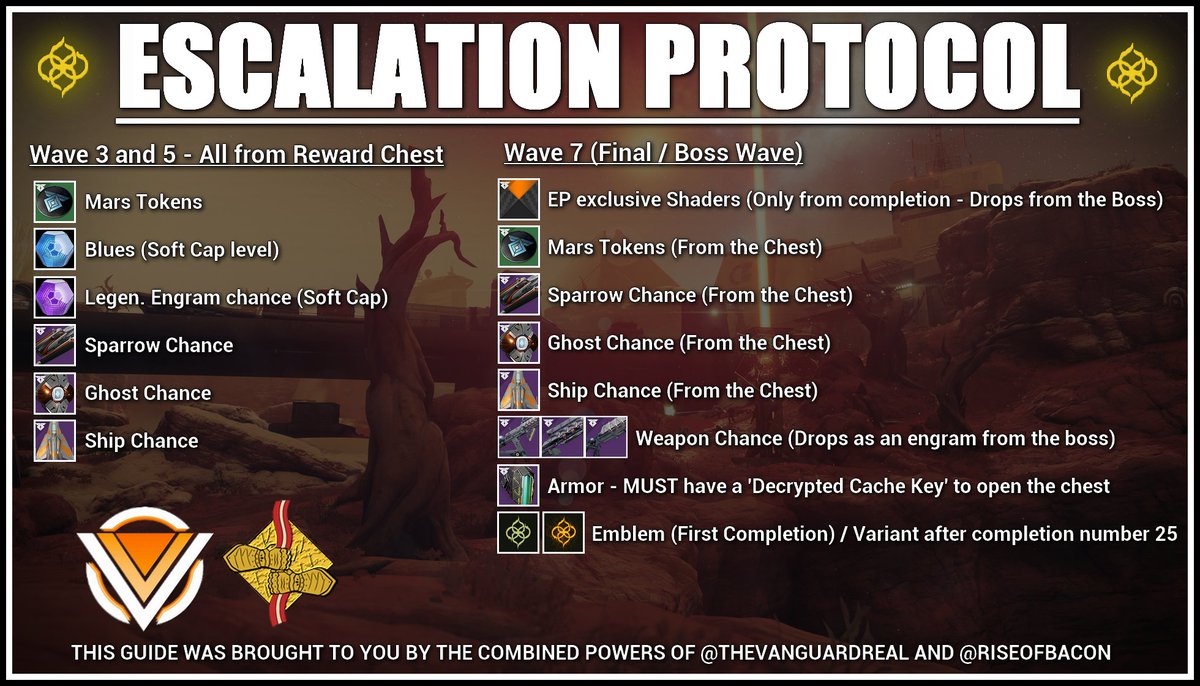 ---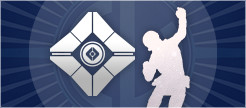 Ghost Shells and Emotes:
Curtain Call – Exotic Emote (3250 BD)
Impatience – Rare Emote (400 BD)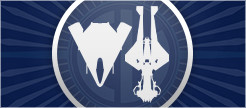 Ships and Sparrows:
Vespulaser – Exotic Sparrow (2500 BD)
Exotic Ornaments:
Hypnopompic – Sleeper Simulant Ornament (800 BD)
Symbiosis – Sturm Ornament (800 BD)
Reef in Ruins – Telesto Ornament (1250 BD)
The Bray Legacy – Polaris Lance Ornament (800 BD)
War Beast Skin – Legend of Acrius Ornament (800 BD)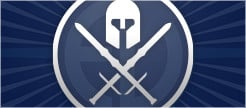 Armor – Chest Armor (1200 BD)
Hunter: Qiao's Heart
Warlock: Mihaylova's Choice
TItan: Hardy's Journey
Shaders and Mods
Cerulean Divide – Legendary Shader (40 BD)
Omolon Meteor Gloss – Legendary Shader (40 BD)
Watermelon – Legendary Shader (40 BD)
Mercury Vex Chrome – Legendary Shader (40 BD)
Travelers Wake Effects – Legendary Transmat Effect: Adds a Travelers theme to your transmat effects. (650 BD)
Guardian Gold – Rare Transmat Effect: Adds a gold Guardian crest to your transmat effects. (450 BD)
Other
Gleaming Boon of the Vanguard– When this is used during a strike, all players receive an Eververse Gift at the end of that strike. Only one gift consumable may be used per player in an activity. (250 BD)
Gleaming Boon of the Crucible– When this is used during a Crucible match, all players receive an Eververse Gift at the end of that match. Only one gift consumable may be used per player in an activity. (600 BD)
Fireteam Medallion – Increases XP gains and loot for you and your fireteam from strikes, public events, and the crucible for 4 hours. (50 BD)
---
Arrives: Friday, August 31 @ 10AM PDT
Departs: Tuesday, September 04 @ 10AM PDT
Click link above to view Xûr's Inventory and Location on Friday's.
---
Trials will be unavailable as of now and for the duration Season 4! Read information below for more details.
Important Info Regarding Trials of the Nine:
Trials of the Nine will be unavailable for the duration of Season 4. The design team is putting it back on the workbench to make it a fitting challenge for the hardcore warrior. When the weekly activity returns, it will feature updated rewards, Power advantages, and other gameplay changes. The final weekend of Season 3 Trials of the Nine will take place on the weekend of August 24.
We'll tell you more about our goals and our progress during Season 4.
Source: Bungie TWAB article
---
Recent News and Updates (view recent news and updates at Bungie.net)
Aug 28: Beyond Launch – Year Two Seasons and Annual Pass
Aug 28: Update 2.0 – The one about everything.
Aug 23: This Week at Bungie – Coming Home, Ace.
---
If you want to give Gambit a try before Forsaken, the competitive co-op activity will be on full display September 1.
Begins: September 1 @ 10 AM PDT
Ends: September 2 @ 10 AM PDT
You will have to wait until after September 4 to start earning Gambit-specific rewards and ranking up your Infamy, but you will still see some Year 1 reward drops. Gambit stats will not be recorded during the 24-hour trial, but they will be available for tracking on bungie.net after September 4.
---
Last Wish Raid – Requires Forsaken
Begins: Sept 14 @ 10 AM PDT
From This Week at Bungie: The next date we know you want to circle on your calendar is when the raid will open up and when the race for World First will begin. Here is Senior Designer Joe Blackburn to tell you more.
Joe: Forsaken is proof that the full Destiny 2 experience is just beginning when the campaign comes to a close. With so many new things to do and so much Power to gain, we knew that players would need more than just three days to prepare for the incredible challenges of Forsaken's raid. That's why "Last Wish," the next chapter in Destiny's raiding legacy, goes live on September 14 at 10 AM PDT, a week and a half after you'll have first set foot on the Tangled Shore. Good luck, Guardians.
---
In the time between 2.0.0 going live and Forsaken launching, things might get a little weird. Player Support has the info you need to know. Here is the full Player Support Report by Bungie.
On September 4, there will be a day one patch that players will need to download before they can play Forsaken. Destiny 2 will be brought down for maintenance at 7 AM PDT, and we anticipate that the patch will become available to players on all platforms by 7:30 AM PDT. Maintenance will end at 10 AM PDT, and assuming you have completed your download, you can start playing Forsaken at that time.
---
Forsaken (Visit Official Website)
Releases September 4! For more details and videos: View the Destiny 2 Forsaken Info Page!
To pre-order and get details about Forsaken and the Annual Pass: CLICK HERE!
Click here to compare different editions and collections available to pre-order!
You will be able to experience the full story of Cayde's fate and claim your revenge when Forsaken launches on September 4.
---
Since the reveal of Destiny 2: Forsaken, players have asked whether or not Cayde's Exotic Stash will be included with pre-orders directly from platform online marketplaces. We can confirm that this pre-order bonus will be available to all players who purchase through the PlayStation, Xbox, and Battle.net online stores before launch.
Additionally, shown below is what players can expect to become available to them in Year 2, based off of title ownership. For information on purchase eligibility from other retailers, players should visit the official destinythegame.com page.
---
Have a great week! 🙂
Kyber3000
Check me out and follow me on: Twitter and Instagram
Note: View more posts by visiting the home page or click Kybers Corner at the top of this post.