__
December 17 – January 14 | For ALL Players!
Visit the Official Event page: Bung.ie/Dawning | For help and more Dawning info view the Dawning Guide from Bungie.net.
This year, Eva has a new SMG for you to bake: the Cold Front. Additionally, if you missed out on the perfect roll for the Machine Gun Avalanche last year, it's your time to shine. Both weapons will be available to earn throughout the entire event.
Weekly and repeatable Dawning bounties also grant Bright dust, giving you more sources of this currency for new items on the Eververse storefront.
One item will be Silver only: The Perfect Ten finisher.
Note: Just like Festival of the Lost, New Light players will need to ensure they meet the following requirements before they can participate in The Dawning festivities:
Escape the Cosmodrome to unlock The Tower.
Achieve 770 Power.
Destiny 2 News | DAWNING EVENT REVEALED! Exotic Quest, NEW Weapon, Armor Set & Trailer! by xHOUNDISHx
Destiny 2 | ALL DAWNING RECIPES! – The Dawning 2019 Complete Guide! by Jarv
Dawning Recipes Graphic by @OatsFX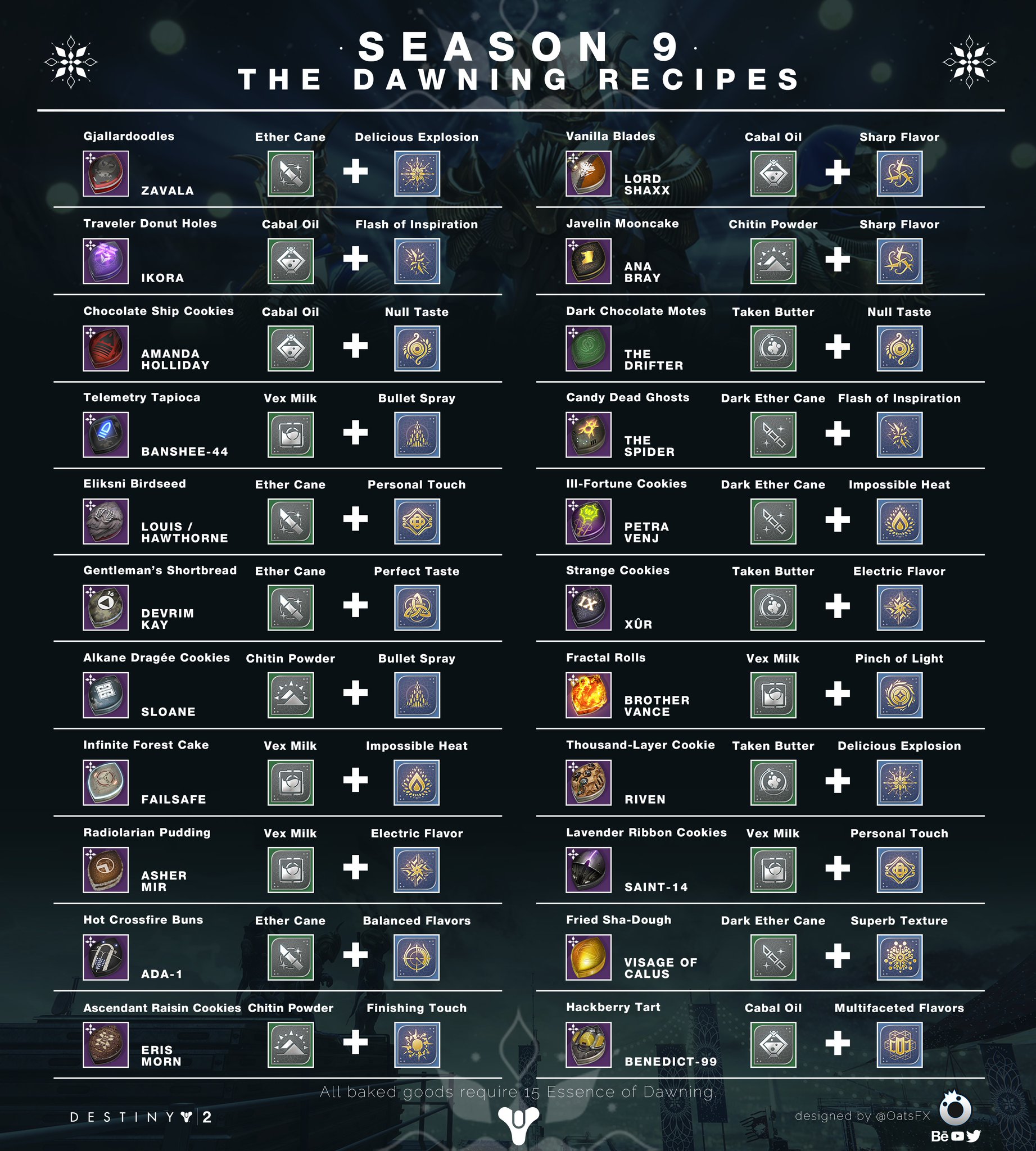 ---
Credit: All info below is from Bungie.net
BASK IN THE WARMTH OF THE DAWNING
The Dawning is a special time when brave Guardians spread cheer (and cookie crumbs) throughout the solar system while keeping the Darkness at bay. This year, Eva Levante returns to share tidings of joy and merriment with friends, new and old.
It might be cold on the Moon, but the lanterns that deck the halls keep the Tower warm and toasty. Gather and celebrate your victories, Guardian. The season for thanks is upon us.
ACTIVITIES
A Recipe for Friendship
Eva's back at the Tower with new recipes to share—and that's where your adventure begins. Gather ingredients and hasten back to the warm glow of her upgraded Holiday Oven. Take off your coat and get toasty as you bake the tastiest treats the Tower has ever seen.
REWARDS
Cool Rides & A Warm Return
There's a ship-shaped package and a Sparrow with your name on it. So trade in your freshly baked cookies and unwrap brand new gifts and a few vintage toys you may have missed last year.
GEAR
Cold Front
Hunt for the perfect version that feels like it was crafted just for you. Eva knows that gifting your cookies away is difficult—but you can always bake more. And you can't bake a Submachine Gun.
TINSEL
Delightful Decorations
Undeterred by wish lists as long as the Infinite Forest, Tess is ready to add a little twinkle to your travels. Strap on your skates, dress up your Ghost, then bundle up in the new Northlight armor ornaments and feel the warmth of the Light.
Click here to view a the GIF above in video version (better quality).
Screenshots:
This slideshow requires JavaScript.
Source and Credit: bungie.net/7/en/Seasons/Events/TheDawning
*Kyber and Kyber's Corner are not affiliated with Bungie or Destiny 2.