__
WEEKLY RESET (Dec 24 – Dec 31)
Live Now:
This week's elemental singe is  

Solar

 

and increased Infamy in Gambit.
The Dawning Seasonal Event continues for all players!
Third Sundial boss Tazaroc, The Sun Eater has arrived.
Iron Banner seasonal event has returned plus all players earn increased Valor in the Crucible.
Due to some Holiday plans some sections will be updated with more information later today or tomorrow. To view what challenges/activities drop Powerful Rewards click here. To view daily modifiers click here.
---
__
Live Now – January 14 | For ALL Players!
Click here to learn more or visit the official event page: Bung.ie/Dawning (Click here for the Dawning Guide)
Next week, The Dawning returns for all players in Destiny 2. Just like Festival of the Lost, New Light players will need to ensure they meet the following requirements before they can participate in The Dawning festivities:
Escape the Cosmodrome to unlock The Tower.
Achieve 770 Power.
---
__
GARDEN OF SALVATION
Zero to One Hundred (Third Encounter): Once you deposit motes, you have ten (10) seconds to fully fill the bank. This applies to both banks.
CLAN BOUNTY
Last Wish: 
Forever Fight (Morgeth): Do not kill small Ogres.
Scourge of the Past: 
To Each Their Own (Prime Phase II): Each player needs to destroy one of Insurrection Prime's six shield generators and must not shoot more than once, one each damage phase.
Crown of Sorrow:
Total Victory (Gahlran's Deception): Players must break the shield of Gahlran's Deception a total of five times in a single damage phase (which means your team will also need to one-phase the boss).
PRESTIGE RAID LAIRS (Eater of Worlds + Spire of Stars)
Active Modifier: Arsenal
Weapons have no reserve ammo. Emptying the clip of your weapon refills the clips of your holstered weapons.
Armsmaster Required Loadout
Kinetic: Auto Rifle
Energy:

Auto Rifle

Power:

Anything
LEVIATHAN (Normal and Prestige)
Weekly Order: Gauntlet > Gardens > Pools > Calus
Challenge: Gauntlet
Players must not stand on the same plate more than once.
---
__
The Festering Core
Descend into the heart of Io's Pyramidion and root out a burgeoning infestation.
Potential Unique Item:
Strange Terrain
Defeat Nokris before he completes his ritual.
Potential Unique Item:
Lake of Shadows
Stem the tide of Taken flowing into the European Dead Zone from beneath the waves.
Potential Unique Item:
Click here to view all of the Nightfall unique rewards available.
---
__
Tree of Probabilities
Contain a rampant army of Red Legion within the Infinite Forest.
Challenges and Reward:
Complete 5, higher difficulties grant the most efficient progress. (Powerful T1)
Complete with a team score of 100k or more (Pinnacle Gear)
Modifiers:
Martyr: Exploder units have more health (Higher difficulties have more modifiers).
Possible Unique Item:
---
__
Titan: Complete various activities including public events, Lost Sectors, and Heroic adventures.
Rewards Powerful Gear (Tier 2)
View guides on how to complete heroic public events here.
---
__
THE SUNDIAL (Season of Dawn Season Pass required)
Weekly Challenge: Earn points by defeating Enforcers and Flayers in the Sundial. Flayers grant the most efficient progress.(T2 Powerful Reward)
Weekly Boss: Tazaroc, The Sun Eater
Modifiers: 
Solar Singe – Solar damage increases slightly from all sources.
Grenadier – Grenade abilities deal more damage and recharge much faster.
Champions: Unstoppable –This mode contains Unstoppable Champions, which cannot be stopped without an Unstoppable mod.
Champions: Barrier – This mode contains Barrier Champions, which cannot be stopped without an Anti-Barrier mod.
+ Barrier: Cabal
Note: To view weekly Timelost bounties available and get info about Obelisks click here.
---
__
Challenge:
Complete 3 Nightmare Hunts to get Powerful Gear (Tier 1)
Main Modifier:
Fire Pit: When defeated, Acolytes spawn fire pools that cause damage over time. (This modifier is on all difficulties. Higher difficulties have more modifiers.)
Hunts this week:
View more details for this activity here and view the Lectern of Enchantment page to view Essence Quests and activity info.
---
__
This Week: Nightmare of Xortal
Location: Sorrow's Harbor
---
__
Daily Weapon Rotation:
12/24: Heretic (Rocket Launcher)
12/25: Blasphemer (Shotgun)
12/26: Apostate (Sniper)
12/27: Heretic (Rocket Launcher)
12/28: Blasphemer (Shotgun)
12/29: Apostate (Sniper)
12/30: Heretic (Rocket Launcher)
12/31: Blasphemer (Shotgun)
---
__
Heroic Boss: Pagouri, Hive Ogre
Singe: Solar damage increases slightly from all sources.
Modifiers:
Extinguish: If your fireteam falls in a Restricted Zone, everyone is returned to orbit.
Match Game: Enemy shields are highly resistant to all unmatched elemental damage.
Attrition: Regeneration is greatly impaired. Defeating enemies may create wells of Light.
View the Menagerie page for guides and more details.
Boss: The Swords
Singe: Void damage increases slightly from all sources.
Potential Drops:
Next Week: The Swords
Check r/DestinyTheGame/ to find out what the daily modifiers are. Click here for guides.
---
__
BLACK ARMORY: DAILY FORGE ORDER
Daily Rotation: 
12/24: Volundr
12/25: GoFannon
12/26: Izanami
12/27: Bergusia
12/28: Volundr
12/29: GoFannon
12/30: Izanami
12/31: Bergusia
Rotation: Volundr > GoFannon > Izanami > Bergusia > repeat cycle (One Forge per day).
You can also visit the DTG Reddit page to find out what the daily Forge is.
---
__
Weekly Location: Divalian Mists
Dreaming City Cycle: Medium Strength Curse ("The Shattered Throne" Dungeon is available at all times. It can be launched and reset from the Director.)
Challenges and Weekly Quest:
Ascendant Challenge: Ouroborea, Aphelions Rest
Quest: The Oracle Engine – The Taken threaten to take control of an irreplaceable Awoken communications device.
Blind Well: Shattered Ruins, Spine of Keres
---
__
Boss: Nur Abath, Crest of Xol (Hive Ogre)
Possible Drop: Ikelos_SG_v1.0.1 – Legendary Shotgun
---
__
This section will be updated ASAP.
Visit the Eververse page to view Dawning and Seasonal items available.
---
__
A peddler of strange curios, Xûr's motives are not his own. He bows to his distant masters, the nine.
Arrives: Friday, Dec 27 @ 9 AM PT
Departs: Tuesday, Dec 31 @ 9 AM PT
---
__
Dec 24 – Dec 31 for ALL players!
There will be an Armor 2.0 version of the Iron Truage set available this season. The Seasonal Pursuit to earn this armor will work similar to last Season but we have changed some of the steps and what weapons are required to gain progress.
In case you are just joining us, here is a refresher of how it all works.
There is a new Seasonal Pursuit which must be completed prior to being able to turn in tokens to purchase packages from Lord Saladin.

This pursuit is character based and rewards a Season of Dawn armor set.
Each step of the pursuit awards Iron Banner weapons or armor.
Most of the objectives within the pursuit track progress at any point during Season of Dawn, even if you have not yet acquired the pursuit.

Until the Seasonal Pursuit has been completed, all rewards will be obtained from completing matches and bounties.

All of the rewards will be weapons until the Seasonal Pursuit has been completed.
There will be seven bounties offering Pinnacle rewards (970 Power Max,) but only four are available per event.
If you were paying close attention to the Season of Dawn calendar you may have noticed an Iron Banner-themed Bow. That image will also show up as director dialogue in the game when Iron Banner starts next week. Bungie is hoping to have the new Iron Banner Bow available this Season, but it had to be pushed to Season 10. Bungie is sorry about the delay, but wanted to call it out to avoid any confusion.
Bungie also made a change to the An Arsenal of Tricks bounty. The ability final blow requirements has been reduced by half.
Armor: 
---
__
Dec 19: This Week at Bungie – New Dawn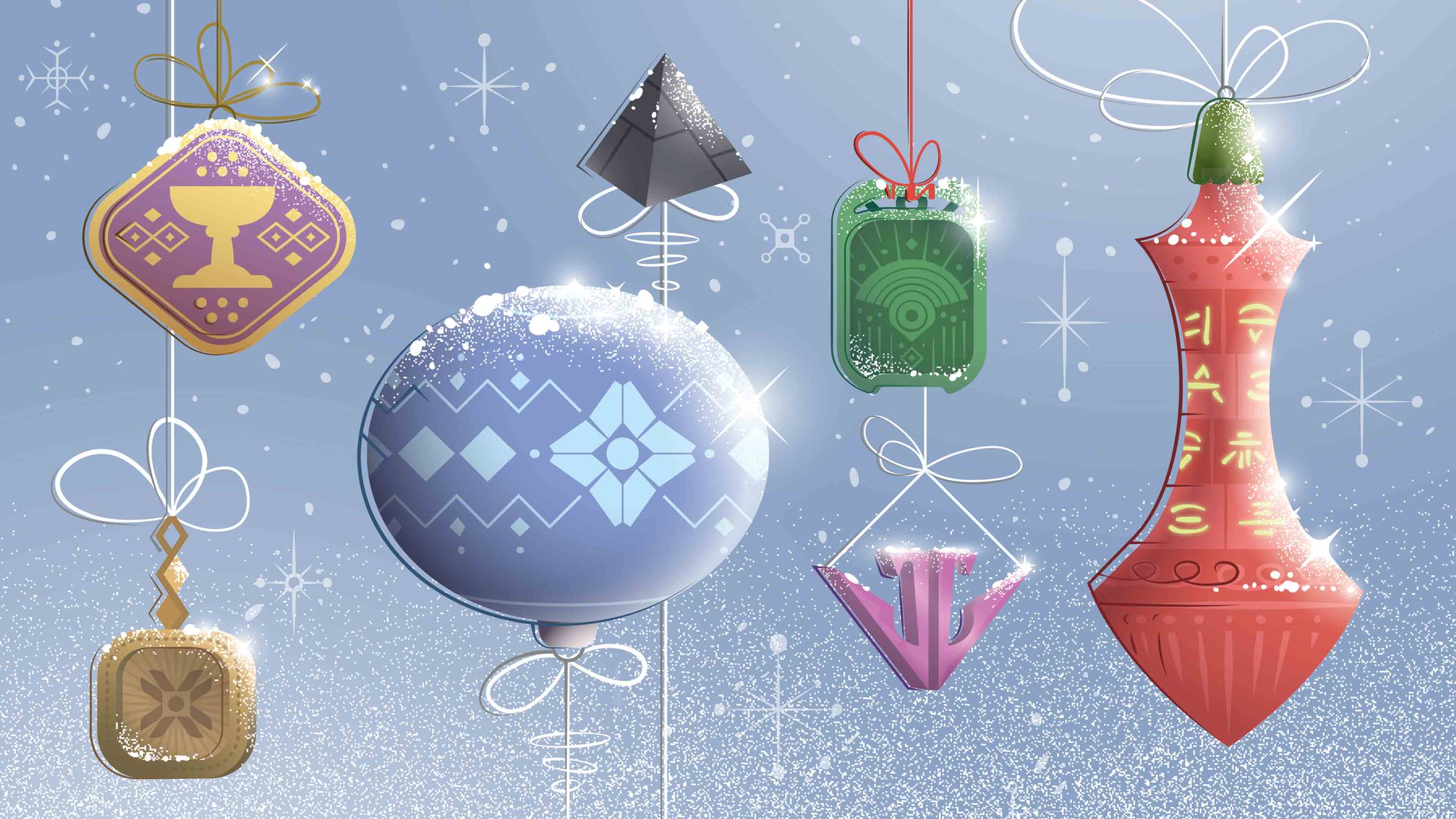 Holiday Support
As the winter season begins and 2019 comes to a close, Bungie's Player Support Team will be around throughout the holidays to review player reports and investigate the latest known issues. If you encounter issues over the holidays, be sure to follow @BungieHelp on Twitter or monitor their feed on help.bungie.net.
Players encountering other issues are encouraged to report them to the #Help forum.
Helpful Bungie Links:
---
Thank you all for your support in 2019, it truly means a lot to know others enjoy the content I make and I look forward to what 2020 brings! I hope you all have a Happy Holiday (or great week to those that don't celebrate) and a very Happy New Year!
  Kyber3000
>> View infographics and posts at kyber3000.com/Links (These links are updated every week). And join on Discord to stay up-to-date with gaming infographics/posts, news and updates, and more!