__
This weekend you can find Xûr hanging out at the Watcher's Grave on Nessus. View Xur's complete inventory and recent news below.
Note: The Exotic Engram and the Fated Engram have been collapsed into a single new Exotic Engram item. When opened it will award a new Exotic if any remain to be collected; otherwise, it contains a random piece of Exotic armor (view Update 2.7.0 and scroll down to Exotic Engram to view this info).
Regardless of this news, I still updated the Xûr graphic to include Armor Stats since it was requested by quite a few and won the poll I posted on Instagram. Currently, I have to update some things and will be able to get it posted sooner once I get all of the armor stats logged. If you have any comments, feedback, or suggestions please leave a comment below.
---
__
A peddler of strange curios, Xûr's motives are not his own. He bows to his distant masters, the nine. (Note: For a larger view of the infographic above, click and open it, and then zoom in for larger text.)
Departs: Tues, Dec 17 @ 9 AM PST 
Where is Xur? Watcher's Grave, Nessus (Green arrow below is Xur's location)
Exotic Armor – 23 LS
Hallowfire Heart – Titan Chest Armor
 

+1 Energy 

Mobility: 8
Resilience: 7
Recovery: 10
Discipline: 6
Intellect: 12
Strength: 6
Stat Total= 49
Young Ahamkara's Spine – Hunter Gauntlets
 

+1 Energy 

Mobility: 10
Resilience: 3
Recovery: 11
Discipline: 10
Intellect: 6
Strength: 6
Stat Total= 46
Wings of Sacred Dawn – Warlock Chest Armor 
 

+1 Energy 

Mobility: 14
Resilience: 6
Recovery: 7
Discipline: 6
Intellect: 12
Strength: 6
Stat Total= 51
Element: Void

 

| Type: Energy | Ammo: Special
Catalyst:
Other Items
Fated Engram – Exotic Engram (97 LS)
An engram with a predestined outcome. It will contain a new Exotic if any remain to be collected. (

The Fated Engram can grant an unearned exotic from Year 1 (world drops), Year 2 (world drops), Forsaken and the Annual Pass)
Five of Swords – NF Challenge Card (No Cost)
Enables modifiers in Nightfall strikes on Prestige difficulty. More challenging modifiers apply larger score multipliers. This will replace a Rare Challenge Card in your inventory.
Invitation of the Nine – Quest (9 LS)
// More Info
Xûr Mega-thread via DTG Reddit
Destiny 2 | XUR'S DAWN EXOTICS & LOCATION! DLC Exotics, NEW Engram & Where is Xur | 13th December by xHOUNDISHx
---
NEXT IN WEEK IN DESTINY 2:
Seasonal Event: The Dawning goes live for all players!
Save a Legend Quest will begin and Nessus and EDZ Obelisks open.
New boss Ozletc, the Sky Piercer arrives in The Sundial activity.
Info from TWAB on December 12:
We are two days into the new Season with much more on the horizon. A legend needs saving, and additional obelisks will become available on alternate destinations next week.
New Exotic Catalysts are in the wild, granting benefits to a few Exotics you know and love. New Legendary weapons have been introduced, some packing new perks to give you an edge in combat. Keep an eye out for Vorpal Weapon, granting you additional damage against bosses, vehicles, and Guardians with their Super active.
Three new Exotics have also been introduced to Destiny 2 for owners of Shadowkeep.
Hunter: The Bombardiers – Exotic Leg Armor
Warlock: Promethium Spur – Exotic Leg Armor
Titan: Severance Enclosure – Exotic Chest Armor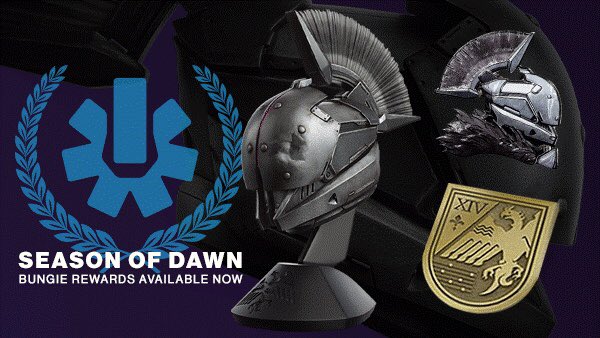 __
New Bungie Rewards are available now!
One reward includes a free Powerful Engram. You can claim your Powerful Engram anytime during Season of Dawn at bungie.net/rewards.
When a legend is saved starting on Dec 17, a special Bungie Reward offer for purchase can be claimed during Season of Dawn.
A new Seasonal seal begins and will be available for purchase once the Season of Dawn seal is complete.
And a new emblem called Ultraworld is available with any purchase from the Bungie Store during Season of Dawn.
---
__
December 17 – January 14 | For ALL Players!
Click here to learn more or visit the official event page: Bung.ie/Dawning
Next week, The Dawning returns for all players in Destiny 2. Just like Festival of the Lost, New Light players will need to ensure they meet the following requirements before they can participate in The Dawning festivities:
Escape the Cosmodrome to unlock The Tower.
Achieve 770 Power.
Preview of Screenshots and Items:
This slideshow requires JavaScript.
---
__
Dec 13: This Week at Bungie – Dawned and Ready
Dec 14: The Dawning
View Infographics/Posts & Social Links: kyber3000.com/Links
Feel free to join on Discordto stay up-to-date with gaming infographics/posts, news and updates, and more!
I hope you all  have a great weekend!
  Kyber3000
Check out the IG Story for a larger view of Xur's Items.