__
💠 WEEKLY RESET (Sept 01 – Sept 08)
This Week in Destiny 2:
Coming Soon: 
Oct 06: Festival of the Lost event begins October 06, for ALL players!
NOTES: The info for Altars of Sorrow is incorrect on the graphic above, the correct rotation is Heretic • Blasphemer • Apostate • Repeat (one weapon can drop per day). Reset begins and ends on Tuesdays at 10 AM Pacific (Daily reset is everyday at 10 AM Pacific). To view daily modifiers check out r/DestinyTheGame and if you would like to find out what activities reward powerful gear click here to view the Powerful Rewards page or visit d2checklist.com. To find out what drops people are getting from various activities this week, check out the Weekly Loot Hub on r/DestinyTheGame.
---
__
To do the challenges below you will need to get the challenge bounties from Hawthorne at the Tower, except the Garden of Salvation, Prestige Raid Lairs and Leviathan challenges.
Garden of Salvation: Zero to One Hundred (Sanctified Mind) – Fully fill each conflux with x30 motes within x10 seconds of initially banking the first set of motes.
Last Wish: Keep Out (Vault) – Ensure that no Might of Riven knights make it into the center chamber during the Vault fight.
Scourge of the Past: All for One, One for All (Prime Phase I) – All six members of your Fireteam must destroy one of Insurrection Prime's shield generators.
Crown of Sorrow: With Both Hands (Gahlran) – Each fireteam member can only shoot one of Gahlran's hands during each of the hand-raising phases.
Prestige Raid Lairs (Eater of Worlds + Spire of Stars)
Arsenal: Melee kills buff weapon damage, and weapon kills buff melee damage.
Armsmaster Required Loadout
Kinetic: Auto Rifle
Energy:

Auto Rifle

Power:

Anything
Leviathan Challenge (Normal and Prestige)
Weekly Order: Gauntlet > Gardens > Pools > Calus
Challenge: Gauntlet – Players must not stand on the same plate more than once.
---
__
Recommended Power: 990
Boss: Taken Pyromaster
Location: The Rupture, Io
NOTE: Visit this page for more details about Contact Public Events. For details about Interference click here.
---
__
The Pyramidion: Seek vengeance against the Vex Mind that corrupted Asher's arm.

The Festering Core: Descend into the heart of Io's Pyramidion and root out a burgeoning infestation.

Potential Drop: No Unique Drop
Lake of Shadows: Stem the tide of Taken flowing into the European Dead Zone from beneath the waves.

NOTE: Click here to view all of the Nightfall unique rewards currently available.
---
__
The Corrupted: Hunt down one of Queen Mara's most trusted advisors and free her from Taken possession.
Challenges: 
Complete 5, higher difficulties grant the most efficient progress. (Powerful T1)
Complete with a team score of 100k or more (Pinnacle Gear)
Modifiers: 
---
__
Mars: Complete various activities including public events, Lost Sectors, and Heroic adventures (Tier 2 Reward).
NOTE: View guides on how to complete heroic public events here.
---
__
Challenges: 
Complete 3 Nightmare Hunts to get Powerful Gear (Tier 1)
Complete a Nightmare Hunt on Master Difficulty (Pinnacle)
Nightmares Hunts: 
NOTE: View more details for this activity here and view the Lectern of Enchantment page to view Essence Quests and activity info.
---
__
This Week: Nightmare of Xortal
Location: Sorrow's Harbor, Moon
Trove Guardian Location: Anchor of Light, Moon
---
__
Daily Weapon Rotation: Heretic • Blasphemer • Apostate • Repeat
---
__
Heroic Boss: Arunak, Hive Ogre
Singe: Arc damage increases slightly from all sources.
Modifiers:
Extinguish: If your fireteam falls in a Restricted Zone, everyone is returned to orbit.

Match Game: Enemy shields are highly resistant to all unmatched elemental damage.

Attrition: Regeneration is greatly impaired. Defeating enemies may create wells of Light.
NOTE: View the Menagerie page for guides and more details.
---
__
Boss: The Swords, Hive Knights
Singe: Void damage increases slightly from all sources.
Potential Drops: 
NOTE: Check r/DestinyTheGame/ to find out what the daily modifiers are. Click here for guides.
---
__
BLACK ARMORY: DAILY FORGE ORDER
Daily Rotation: GoFannon • Izanami • Bergusia • Volundr • Repeat (One per day)
09/01: GoFannon
09/02: Izanami
09/03: Bergusia
09/04: Volundr
09/05: GoFannon
09/06: Izanami
09/07: Bergusia
09/08: Volundr
NOTE: There is one forge available each day, launch from the EDZ in-game map. You may also confirm the daily Forge at r/DestinyTheGame.
---
__
Weekly Location: Divalian Mists
Dreaming City Cycle: Growing/Medium Strength Curse ("The Shattered Throne" Dungeon is available at all times. It can be launched and reset from the Director.)
Challenges and Quests:
Ascendant Challenge: Shattered Ruins, Spine of Keres
Quest: The Oracle Engine – The Taken threaten to take control of an irreplaceable Awoken communications device.
Blind Well: Hive, Plague: Cragur
NOTE: For more activity info visit TodayInDestiny.com.
---
__
Boss: Kathok, Roar of Xol (Hive Knight)
Potential Drop: Ikelos_SMG_v1.0.1 – Legendary Submachine Gun
---
__
The Eververse page will be updated each week here, please note that it will be updated after posting weekly reset graphics and posts (usually updated no later than 1 PM Pacific).
---
__
This is the FINAL WEEK of Solstice of Heroes (ends on 09.08)!!
Solstice of Heroes post | Solstice of Heroes Guide
More details will be added to the Solstice of Heroes page throughout this week.
---
__
Live now until Nov 10 | Free Event for ALL Players!
Details: bung.ie/2BzM9gR | MoT Guide: bungie.net/en/Help/Article/49300
---
__
Eyes up Guardian! Unbox the biggest characters and events in the Destiny universe with exclusive and officially licensed collectibles, apparel and gear delivered quarterly! (Notes: Destiny is delivered every 3 months, Crates arrive between: 20th – 10th)
💠 Starting at: $49.99 USD/Crate + Shipping
Every 3 months, unbox a surprise crate of exclusive and officially licensed collectibles, gear, apparel and more from the Destiny universe.
5-7 exclusive Destiny items
$80+ MSRP value in every crate
Licensed collectibles, apparel, gear and more
💠 August's Theme is: Earth
From the Cosmodrome to The Tower, it's home to humanity's last remaining civilization. Join the Guardians in protecting EARTH from exterrestrial assault in the next Destiny Crate!
Earth Ends on 11/15 at 9PM PT. Supplies are limited.
CHECK IT OUT: LOOT.CR/UNVEILDESTINY
---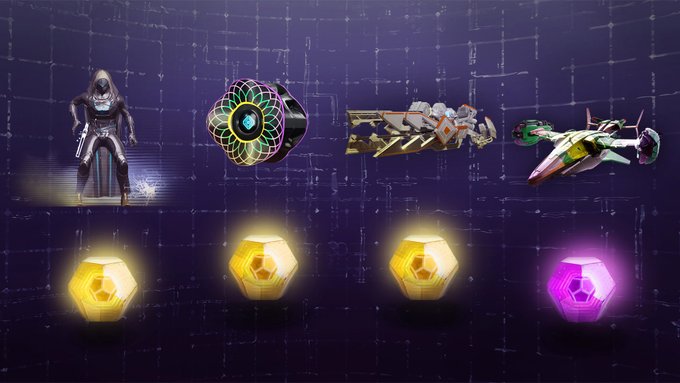 __
Drop #8 is Available Now!! (Stay tuned, more drops coming soon!)
Standoff Exotic Bundle Drop:
Standoff Exotic Emote
Neon Helix Shell Exotic Ghost Shell
Vespulaser Exotic Sparrow
Egbe-01X Legendary Ship
If you do not have a membership, you may start your free trial here – This link supports Kyber3000 with a credit for each sign up. (visit this page to start your free trial and support Kyber at the same time or to sign up without using a link that supports Kyber with a small commission click here).
Once you have signed up, visit this page and link your Bungie.net account to start receiving your monthly gear drops. Each drop will contain four rewards, including Exotic weapons, Ghosts, ships, Sparrows, emotes, and weapon ornaments from previous Seasons.
Visit the Twitch Prime page for more details!
---
__
BEYOND LIGHT 
Releases November 10, 2020
Visit the Official Beyond Light website to pre-order and for more details: bung.ie/BeyondLight
---
__
A peddler of strange curios, Xûr's motives are not his own. He bows to his distant masters, the nine.
Arrives: Friday, Sept 04 @ 10 AM PST
Departs: Tuesday, Sept  08 @ 10 AM PST
NOTE: Every Friday, the This Weekend in Destiny 2: Xur and Trials post will include Xur's inventory or view the Xûr page.
---
__
3v3 Competitive Activity (Available for all players)
Returns: Friday, Sept 04 @ 10 AM PST
Ends: Tuesday, Sept 08 @ 10 AM PST
NOTE: Every Friday, the This Weekend in Destiny 2: Xur and Trials post will list what the Trials map is for the weekend or view the Trials page.
---
__
Visit Bungie.net for news, updates, and more!
Helpful Info:
---
View graphics (updated each week), posts, and get other links at: kyber3000.com/Links. Also, feel free to jump on in and join us on Discord to stay up-to-date with gaming infographics/posts, news and updates, occasionally giveaways and more!
Hope you all have a good weekend, take care!
  Kyber
Connect and Support:
Amazon Affiliate | Epic Games Code: Kyber3000
Note: If you want to support me when buying games on the Epic Games Store, enter code Kyber3000 at checkout and your purchase will credit me a small commission (usually about 5% of the sale). My Amazon Affiliate link is similar, eligible purchases will credit me with a small commission when my link is used when buying items on Amazon. Your support is appreciated!