__
This weekend you can find Xûr hanging out at The Rig on Titan. Saint-14 has returned, visit him in the Tower's Hangar (Requires Season of Dawn season pass). View Xur's complete inventory and recent news below.
Reminder: Due to some upcoming Holiday plans, the Weekly Reset post and infographic may be posted late on Tuesday, 12/24/2019. There is a chance I may not have to delay it but rather give some advance notice just in case I am unable to post it at reset. 
Bungie Developer Insights – Season of Dawn: Saving a Legend by Bungie via YouTube
---
__
A peddler of strange curios, Xûr's motives are not his own. He bows to his distant masters, the nine. (Note: For a larger view of the infographic above, click and open it, and then zoom in for larger text.)
Departs: Tues, Dec 24 @ 9 AM PST 
Where is Xur? The Rig, Titan (Green arrow below is Xur's location)
Exotic Armor – 23 LS
Dunemarchers – Titan Leg Armor
 

+1 Energy 

Mobility: 13
Resilience: 7
Recovery: 6
Discipline: 6
Intellect: 6
Strength: 12
Stat Total= 50
Assassin's Cowl – Hunter Helmet
+1 Energy

Mobility: 16
Resilience: 6
Recovery: 2
Discipline: 6
Intellect: 2
Strength: 16
Stat Total= 48
Contraverse Hold – Warlock Gauntlets 
+1 Energy

Mobility: 6
Resilience: 6
Recovery: 12
Discipline: 12
Intellect: 6
Strength: 6
Stat Total= 48
Two-Tailed Fox – Rocket Launcher
Element: Void

 

| Type: Power | Ammo: Heavy
Catalyst: Reload Speed +30, +10 Weapon Size (Must obtain and unlock to acquire this Catalyst)
Other Items
Fated Engram – Exotic Engram (97 LS)
An engram with a predestined outcome. It will contain a new Exotic if any remain to be collected. (

The Fated Engram can grant an unearned exotic from Year 1 (world drops), Year 2 (world drops), Forsaken and the Annual Pass)
Five of Swords – NF Challenge Card (No Cost)
Enables modifiers in Nightfall strikes on Prestige difficulty. More challenging modifiers apply larger score multipliers. This will replace a Rare Challenge Card in your inventory.
Invitation of the Nine – Quest (9 LS)
// More Info
Xûr Mega-thread via DTG Reddit
Destiny 2 | SAINT-14 RETURNS & XUR'S EXOTICS! DLC Exotics, NEW Engram & Where is Xur | 20th December by xHOUNDISHx
---
__
SAINT-14
Available in the Hangar, Tower
Quests:
Cornerstone
A Guardian's Duty
Tribute to the Colonies
In-Game Trailer:
---
NEXT IN WEEK IN DESTINY 2:
Seasonal Event: The Dawning continues for all players!
Iron Banner seasonal event returns plus all players earn increased Valor in the Crucible.
New boss Tazaroc, The Sun Eater arrives in The Sundial activity.
---
__
Live Now – January 14 | For ALL Players!
Click here to learn more or visit the official event page: Bung.ie/Dawning (Click here for the Dawning Guide)
Destiny 2 | ALL DAWNING RECIPES! – The Dawning 2019 Complete Guide! by Jarv
Dawning Recipes Graphic by @OatsFX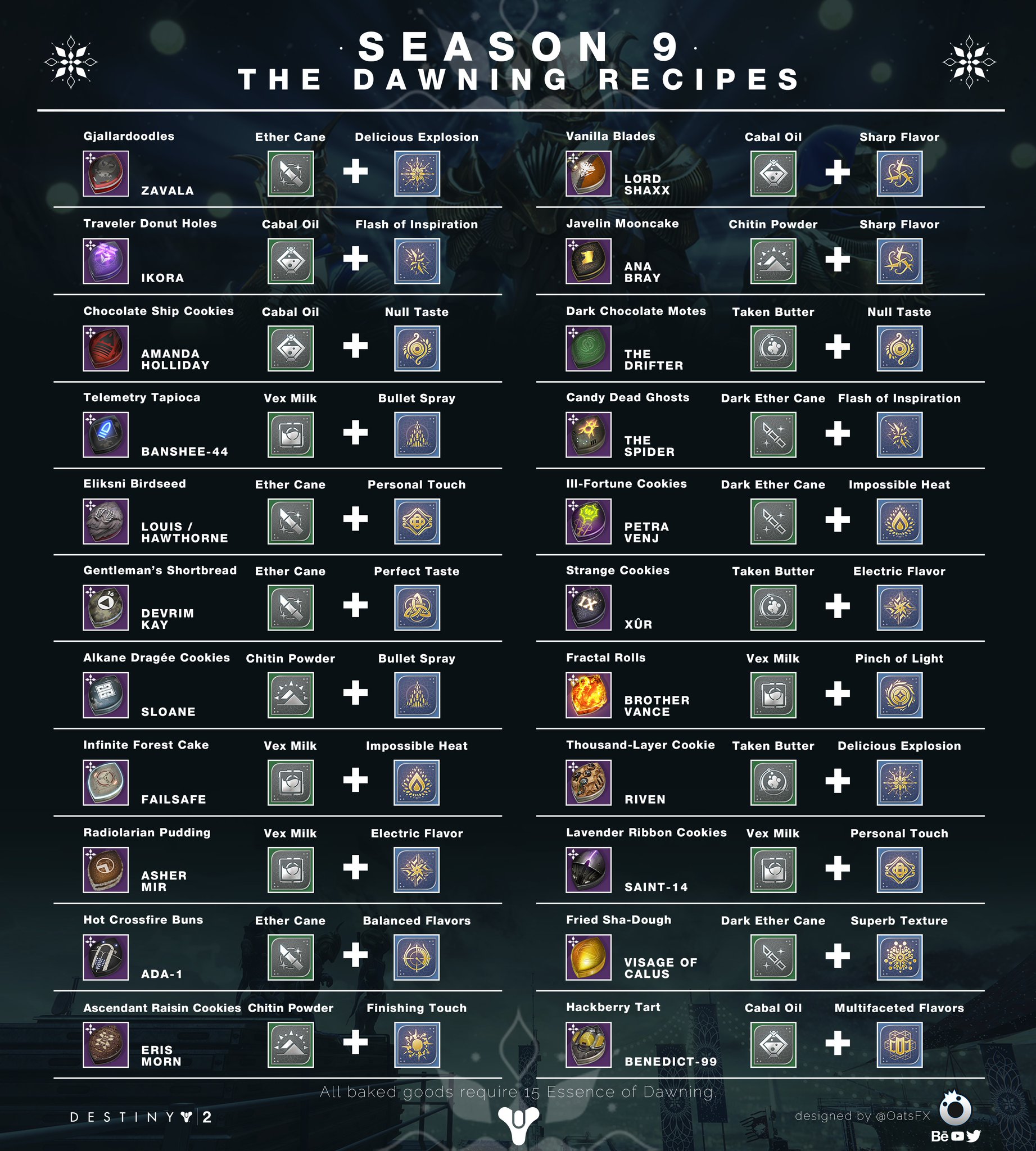 Player Support Report from TWAB:
A COLD FRONT
Eva Levante is visiting the Tower once again and has brought The Dawning with her. All players can use her Holiday Oven to gather and combine materials to form gifts for vendors across the solar system. The Dawning began on December 17, 2019, and ends at the weekly reset on January 14, 2020.
For more information about The Dawning, including some handy hints on those recipes and materials, please view Bungie's support guide.
---
__
Dec 24 – Dec 31 for ALL players!
There will be an Armor 2.0 version of the Iron Truage set available this season. The Seasonal Pursuit to earn this armor will work similar to last Season but we have changed some of the steps and what weapons are required to gain progress.
In case you are just joining us, here is a refresher of how it all works.
There is a new Seasonal Pursuit which must be completed prior to being able to turn in tokens to purchase packages from Lord Saladin.

This pursuit is character based and rewards a Season of Dawn armor set.
Each step of the pursuit awards Iron Banner weapons or armor.
Most of the objectives within the pursuit track progress at any point during Season of Dawn, even if you have not yet acquired the pursuit.

Until the Seasonal Pursuit has been completed, all rewards will be obtained from completing matches and bounties.

All of the rewards will be weapons until the Seasonal Pursuit has been completed.
There will be seven bounties offering Pinnacle rewards (970 Power Max,) but only four are available per event.
If you were paying close attention to the Season of Dawn calendar you may have noticed an Iron Banner-themed Bow. That image will also show up as director dialogue in the game when Iron Banner starts next week. Bungie is hoping to have the new Iron Banner Bow available this Season, but it had to be pushed to Season 10. Bungie is sorry about the delay, but wanted to call it out to avoid any confusion.
Bungie also made a change to the An Arsenal of Tricks bounty. The ability final blow requirements has been reduced by half.
Armor: 
---
__
Dec 19: This Week at Bungie – New Dawn
KNOWN ISSUES
Our Player Support Team has been monitoring player reports in our #Help Forum to find the latest issues impacting gameplay. Below is a summary of the latest reported issues.
The EDZ Obelisk can sometimes not be accessed.
The Green With Envy and Heart of the Dragon quests sometimes don't update while playing and completing Gambit or Crucible matches, respectively.
Players need to reach Mythic Infamy rank to progress the Gambit "Green With Envy" quest step, not Fabled.
Warlocks cannot Blink jump after switching weapons or canceling Sprint.
Players who accept or complete a quest from Osiris will need to back out of his menu entirely and interact with him again to continue picking up other quests. This must be repeated for every quest picked up.
A flashing notification icon appears constantly above Tess' head in the Tower.
For a full list of emergent issues in Destiny 2, players should view our Known Issues article. Players who observe other issues should report them to our #Help forum.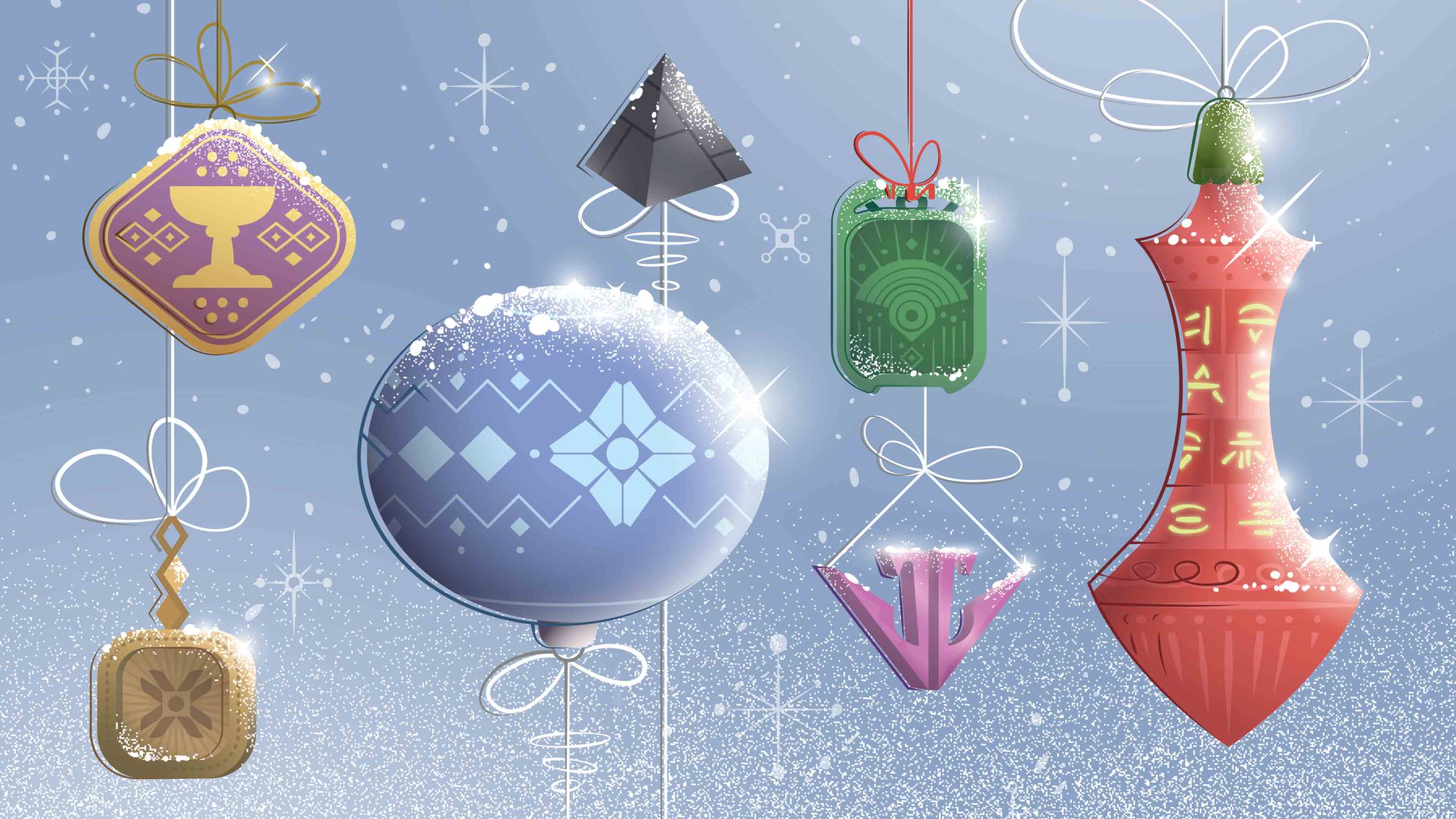 Holiday Support
As the winter season begins and 2019 comes to a close, Bungie's Player Support Team will be around throughout the holidays to review player reports and investigate the latest known issues. If you encounter issues over the holidays, be sure to follow @BungieHelp on Twitter or monitor their feed on help.bungie.net.
Players encountering other issues are encouraged to report them to the #Help forum.
Helpful Bungie Links:
---
View infographics and posts at kyber3000.com/Links (These links are updated every week). And join on Discord to stay up-to-date with gaming infographics/posts, news and updates, and more!
I hope you all  have a great weekend!
  Kyber3000