This weekend you can find Xûr hanging out at The Rig on Titan and Trials is live on Rusted Lands.View Xûr's complete inventory and Trials info below.
Note: Once the Trials loot rotation is known, I will be able to post this and the infographics much sooner. I appreciate your patience for the time being.
Depending on how your viewing this, you may need to disable/turn off reader mode if you notice some text isn't visible or formatting looks off or visit the full desktop version.
---
__
A peddler of strange curios, Xûr's motives are not his own. He bows to his distant masters, the nine. (Note: For a larger view of the infographic above, click and open it, and then zoom in for larger text.)
Departs: Tues, Apr 14 @ 10 AM PDT
Where is Xur? The Rig, Titan (Green arrow below is Xur's location)
Exotic Armor – 23 LS
Titan: Hallowfire Heart – Chest Armor
Hunter: The Sixth Coyote – Chest Armor
Warlock: Geomag Stabilizers – Leg Armor
Exotic Weapon – 29 LS
Element: None

 

| Type: Kinetic | Ammo: Primary
Other Items
Exotic Engram (97 LS)
An engram with a predestined outcome. Contains a new Exotic if any remain to be collected; otherwise, it contains a random piece of Exotic armor. This item can be purchase only once per week, per account.
Five of Swords – NF Challenge Card (No Cost)
Enables modifiers in Nightfall strikes on Prestige difficulty. More challenging modifiers apply larger score multipliers. This will replace a Rare Challenge Card in your inventory.
Invitation of the Nine – Quest (9 LS)
More Info
Xur Graphic: kyber3000.com/Xur | Post: kyber3000.com/Xurpost
Xûr Mega-thread via r/DestinyTheGame
Destiny 2 | XUR'S DLC EXOTICS & LOCATION! Trials Map, New Inventory & Where is Xur | 10th April by xHOUNDISHx
---
__
Departs: Tuesday, Apr 14 @ 10 AM Pacific
3v3 Competitive PvP (Power Level of 960+ is required. Trials of Osiris should match you with opponents based on your connections and how many wins you have logged on your current Passage)
Rewards:
Note: You can earn Trials themed weapons and gear when you've consecutively won x3, x5, x7 games + Flawless. Tokens will only drop what you have already earned on your character (re-rolls).
Map: Rusted Lands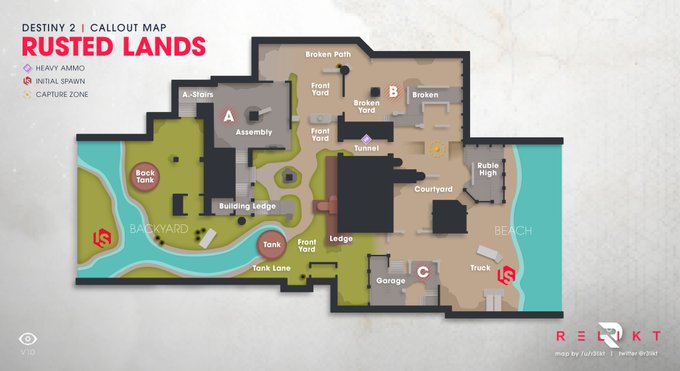 Trials Graphic: kyber3000.com/Trials | Post: kyber3000.com/Trialspost
More Info: View Guides, Rewards, and More for Trials | Trials Help Article via Bungie
---
__
NEXT WEEK IN DESTINY 2
Iron Banner returns for ALL players!
Earn increased Valor in the Crucible all week.
Countdown and Clash return to the Crucible.
Later in the month: Guardian Games will kick off some good old-fashioned Guardian rivalry, accompanied by the Grandmaster Nightfall difficulty.
---
__
Live on Monday, March 13 @ 10 AM PDT via Twitch.tv/Bungie
On Monday, Bungie will let you know how you can earn the emblem shown above. Read more at Bungie.net.
---
__
Begins: Tuesday, April 14 @ 10 AM PDT
Ends: Tuesday, April 21 @ 10 AM PDT
Plus, all players will earn bonus Valor in the Crucible. Get more details on the Iron Banner page.
---
__
In a few weeks, Bungie will debut a new difficulty selection for The Ordeal called Grandmaster. It will test your fireteam's coordination, communication, builds, and skill like no other activity in Destiny to date.
Here's a look at a few of the goals Bungie had when approaching Grandmaster after they saw how the rest of The Ordeal was received:
Grandmaster should build on Master difficulty, but be significantly more challenging.
Once you reach a certain bar, the challenge should be found completely in perfecting your builds, communication, and execution.
The primary rewards should be doled out on initial completion.
Completion should be the primary metric for success, rather than score or time or another in-activity metric like 'killing all Champions'
Grandmaster should stress the top end of build crafting.
Grandmaster should be watchable.
To attempt Grandmaster, you will need to be Power Level 1025 which is 15 Power above the Pinnacle cap but will be 25 Power below the activity which will be set at a Power Level of 1050. Bungie is also going to have something similar to the Contest mode we introduced for Crown of Sorrow. You will gain no extra advantage for being higher than 1025. They wanted to require a mixture of pinnacle rewards and artifact power to get you prepared for this, but not make you feel like you had to put in a ton of extra hours over-leveling the activity.
Bungie is introducing some new modifiers along with some familiar ones, including Extinguish (if your team wipes, it sends you back to orbit) and Limited Revives (you start with a small pool of shared team revives and you get more every time you kill a Champion). Bungie doesn't want to spoil everything, so there are a few other wrinkles they'll let you discover when it goes live.
Does this sound like a worthy challenge so far? Bungie hope it does, and as a reward, you'll have increased chances of being awarded Exotic armor and Masterworking materials. But the main draw of the mode is the new Seal and title available for beating each of the Grandmaster Ordeal Strikes once during the Season: Conqueror. Bungie wants this to be one the most challenging titles to get, but they want it to be approachable for anyone to try who puts in the time and dedication with their team during a given Season.
Grandmaster Ordeal will begin on April 21.
---
__
Apr 09: This Week at Bungie – Pay It Forward
Apr 02: This Week at Bungie – Wash Your Hands. Keep It Clean. (Includes info regarding Trials, achievements and trackers, and more)
Helpful Bungie Links:
Shadowkeep | Seasons | Season of the Worthy | CrossSave
Find a Fireteam | Destiny 2: New Player Guide
---
View graphics (updated each week), posts, and get other links at: kyber3000.com/Links.
Also, feel free to jump on in and join us on Discord to stay up-to-date with gaming infographics/posts, news and updates, and more!
Have a good weekend and Take Care!
-Kyber3000
__
🎧 A few songs from Kyber's playlist