This weekend you can find Xûr hanging out at the Hangar in the Tower and Trials is live on Exodus Blue. View Xûr's complete inventory and Trials info below.
Note: Once the Trials loot rotation is known, I will be able to post this and the infographics much sooner, I appreciate your patience for the time being. Depending on how your viewing this post, you may need to disable/turn off reader mode if you notice some text isn't visible or formatting looks off or visit the full desktop version.
---
__
A peddler of strange curios, Xûr's motives are not his own. He bows to his distant masters, the nine. (Note: For a larger view of the infographic above, click and open it, and then zoom in for larger text.)
Departs: Tues, Apr 21 @ 10 AM PDT
Where is Xur? Hangar, Tower (Green arrow below is Xur's location)
Exotic Armor – 23 LS
Titan: Armamentarium – Chest Armor
Hunter: Knucklehead Radar – Helmet
Warlock: Crown of Tempest – Helmet
Exotic Weapon – 29 LS
Element: Arc

 

| Type: Energy | Ammo: Special
Other Items
Exotic Engram (97 LS)
An engram with a predestined outcome. Contains a new Exotic if any remain to be collected; otherwise, it contains a random piece of Exotic armor. This item can be purchase only once per week, per account.
Five of Swords – NF Challenge Card (No Cost)
Enables modifiers in Nightfall strikes on Prestige difficulty. More challenging modifiers apply larger score multipliers. This will replace a Rare Challenge Card in your inventory.
Invitation of the Nine – Quest (9 LS)
More Info
Xur Graphic: kyber3000.com/Xur | Post: kyber3000.com/Xurpost
Xûr Mega-thread via r/DestinyTheGame
---
__
Departs: Tuesday, Apr 21 @ 10 AM Pacific
3v3 Competitive PvP (Power Level of 960+ is required. Trials of Osiris should match you with opponents based on your connections and how many wins you have logged on your current Passage)
Rewards:
3 Wins (Powerful): The Summoner – Auto Rifle (Energy / Solar)
5 Wins (Powerful): Chest Armor
7 Wins (Pinnacle): Legs/Boots

Flawless (Pinnacle):

Arms/Gauntlets
Note: You can earn Trials themed weapons and gear when you've consecutively won x3, x5, x7 games + Flawless. Tokens will only drop what you have already earned on your character (re-rolls).
Map: Exodus Blue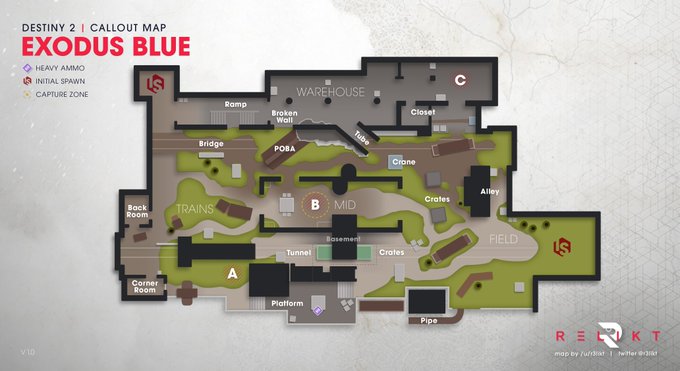 ..
Trials Graphic: kyber3000.com/Trials | Post: kyber3000.com/Trialspost
More Info: View Guides, Rewards, and More for Trials | Trials Help Article via Bungie
---
__
Plus, all players earn bonus Valor in the Crucible this week.
Begins: Live Now for ALL players!
Ends: Tuesday, April 21 @ 10 AM PDT
---
__
NEXT WEEK IN DESTINY 2
Guardian Games event begins for all players!
Grandmaster Nightfall difficulty goes live for The Ordeal.
---
__
Apr 21 – May 11 for ALL Destiny 2 players!
Get more details here or visit the Official Guardian Games Website at: bung.ie/GuardianGames
---
__
Let the Games Begin
Next week, Guardian Games kicks off with the release of Destiny 2 Update 2.8.1. Please see below for the rollout timeline.
9 AM PDT (1600 UTC): Destiny 2 service maintenance begins.
9:45 AM PDT (1645 UTC): Destiny 2 is taken offline on all platforms.
10 AM PDT (1700 UTC): Destiny 2 Update 2.8.0 begins rolling out across all platforms and regions. Players will be able to log back into Destiny 2 at 10:01 AM PDT.
10:01 AM PDT (1701 UTC): Destiny 2 is back online on all platforms; Guardian Games begins.
11 AM PDT (1800 UTC): Destiny 2 service maintenance concludes.
For future release timelines when they are available, players should visit Bungie's Destiny Server and Update Status help article. For live updates as this maintenance occurs, players should follow @BungieHelp on Twitter or monitor their support feed at help.bungie.net.
Upcoming Resolved Issues
Below is a list of issues that will be resolved when Guardian Games and Update 2.8.1 becomes available on April 21:
Ward of Dawn will now correctly generate Orbs of Light.
Fully upgrading any bunker will now unlock the associated Warmind Security Triumph.
Interacting with the statue of Sjur Eido for the Wish Ender quest in the Shattered Throne will no longer crash the game.
The Level 32 PDS upgrade can now be used to clear the bunker by any character.
Rasputin's Daily Seraph Weapon can now be claimed on any character.
Players who've completed the Forsaken campaign will find The Lawless Frontier lore book entry "By Thy Tongue Be Damned" completed and available to claim.
Friends listed in a player's Roster should no longer show up as black nameplates with zero Power.
View more details at: https://www.bungie.net/en/Explore/Detail/News/48954
---
__
Helpful Bungie Links:
Shadowkeep | Seasons | Season of the Worthy | CrossSave
Find a Fireteam | Destiny 2: New Player Guide
---
__
GUARDIAN'S HEART // COVID-19 FUNDRAISER
View Details and Donate at: bung.ie/GuardiansHeart
In response to these trying times, Bungie is excited to announce the Guardian's Heart fundraising initiative. In partnership with Direct Relief, and in collaboration with our community, Bungie wanted to bring the full might of the community to support the healthcare workers and frontline responders who are confronting this global healthcare crisis.
Direct Relief will work with a network of providers across the globe to deliver the supplies that healthcare workers need. This includes basic personal protective equipment, including gloves, masks, gowns, and face shields. The hospitals where they work will also receive food covers, prescription medication, portable oxygen concentrators, ventilators, and other intensive care unit equipment.
Your Reward
As evidence of your kindness, a donation of $20 or more will earn you the Guardian's Heart Emblem in Destiny 2. Donations will collected using Tiltify. Within one week of your donation, you should receive an email with the code you can redeem on Bungie.net to add the emblem to your collection.
CLICK HERE TO MAKE YOUR DONATION TO DIRECT RELIEF NOW!
We may have to stay home, but there is a lot we can do as a community to support the heroes who are still going out into the world every day to care for the sick. Guardians have proven to be a tremendous force for good in the world and your generosity in supporting others in the fight against COVID-19 is inspiring. Thank you.
Get more info about this Fundraiser and how to get the emblem at here or on the original Bungie Blog article.
---
View graphics (updated each week), posts, and get other links at: kyber3000.com/Links.
Also, feel free to jump on in and join us on Discord to stay up-to-date with gaming infographics/posts, news and updates, and more!
I hope you all have a great weekend!
-Kyber3000