💠 This weekend you can find Xûr hanging out at Watcher's Grave (Emperor's Barge) on Nessus is live on Javelin-4. View Xûr's complete inventory and Trials info below.
Notes:
Bungie announced yesterday (05-07-20) that maps will be random. Since maps and drops are random and not on a set rotation, this post and the graphic will be updated each Friday as soon as drops are confirmed (should be no later than 11 AM PT).
Depending on how your viewing this post, you may need to disable/turn off reader mode if you notice some text isn't visible or formatting looks off or visit the full desktop version.
---
__
A peddler of strange curios, Xûr's motives are not his own. He bows to his distant masters, the nine. (Note: For a larger view of the infographic above, click and open it, and then zoom in for larger text.)
Departs: Tues, May 12 @ 10 AM PDT
Where is Xur? Watcher's Grave (Emperor's Barge), Nessus (Green arrow below is Xur's location)
Exotic Armor – 23 LS
Titan: Hallowfire Heart – Chest Armor
Hunter: Gwisin Vest – Chest Armor
Warlock: Apotheosis Veil – Helmet
Exotic Weapon – 29 LS
Element:

Void

| Type: Energy | Ammo: Primary
Other Items
Exotic Engram (97 LS)
An engram with a predestined outcome. Contains a new Exotic if any remain to be collected; otherwise, it contains a random piece of Exotic armor. This item can be purchase only once per week, per account.
Five of Swords – NF Challenge Card (No Cost)
Enables modifiers in Nightfall strikes on Prestige difficulty. More challenging modifiers apply larger score multipliers. This will replace a Rare Challenge Card in your inventory.
Invitation of the Nine – Quest (9 LS)
More Info
Xur Graphic: kyber3000.com/Xur | Post: kyber3000.com/Xurpost
Xûr Mega-thread via r/DestinyTheGame
---
__
Departs: Tuesday, May 12 @ 10 AM Pacific
3v3 Competitive PvP (Power Level of 960+ is required. Trials of Osiris should match you with opponents based on your connections and how many wins you have logged on your current Passage)
Rewards:
Note: You can earn Trials themed weapons and gear when you've consecutively won x3, x5, x7 games + Flawless. Tokens will only drop what you have already earned on your character (re-rolls).
Map: Javelin-4
Callout Map by @R3likt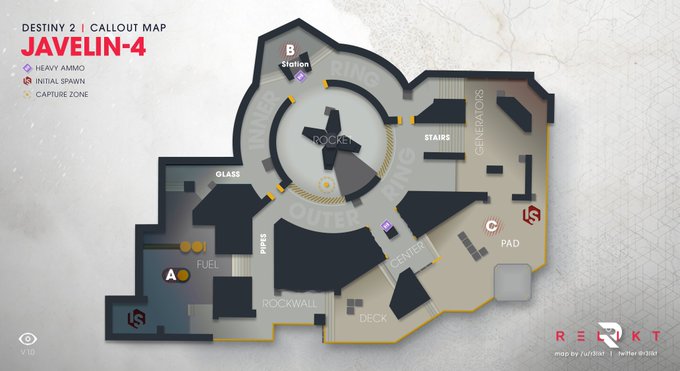 Reddit: r/DestinyTheGame Trials post
Trials Graphic: kyber3000.com/Trials | Post: kyber3000.com/Trialspost
More Info: View Guides, Rewards, and More for Trials | Trials Help Article via Bungie
Updates/News: For updated info about Trials changes coming soon (includes info about cheating), click here to read the most recent TWAB post.
---
__
Final Week! Ends: May 12 @ 10 AM PT
---
__
Live: Tuesday, May 12 @ 10 AM Pacific
Ends: Tuesday, May 19 @ 10 AM Pacific
Next week, Lord Saladin returns to the Tower, hosting the final Iron Banner of the season. If you dig 6v6 power-enabled combat, this is your time to shine. Saladin will bring his final round of weekly bounties, each of which rewarding pinnacle power gear. Let's say you've been striking out on that final Heavy Weapon – Iron Banner may grant you the Rocket Launcher you need to finish your pinnacle journey for this season.
As this is the final Iron Banner of the season, this serves as last call for a few rewards.
Iron Remembrance Armor Sets
Cast Iron Emblem
Iron Precious Shader
Additionally, this will be your last chance to earn the Point of the Stag Pursuit Bow. This weapon will not be available during Season 11, so get in there and complete your quest! Who knows, maybe you'll fall in love with a new Bowfriend.
---
__
NEXT WEEK IN DESTINY 2
Iron Banner returns for the final time this Season.
Earn increased Valor in the Crucible all week long.
Nessus returns as the weekly Flashpoint.
---
__
Helpful Bungie Links:
Guardian's Heart Covid-19 Fundraiser | Bungie's COVID-19 Response
Shadowkeep | Seasons | Season of the Worthy | CrossSave
Find a Fireteam | Destiny 2: New Player Guide
---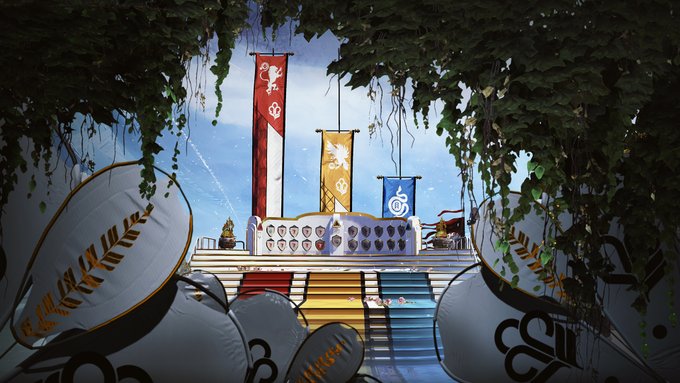 __
REWARD CHANGES COMING IN YEAR 4
Here is some info from This Week at Bungie by Luke Smith about the changes to Rewards coming in Year 4:
VANITY AND ACCESSORY (SHIPS, GHOSTS & SPARROWS) CHANGES 
We will be adding a Transmogrification feature to Destiny 2.
This will allow players to turn their Armor into Universal Ornaments.
We plan to allow players to do this with in-game effort OR Silver.
This feature is in early development and is expected sometime during Year 4.
Each Season we will deliver an aspirational pursuit for armor. We haven't done this consistently in Destiny 2.
This armor will come from activities, not the Season Pass nor Eververse.

As an example: We removed the Eververse Armor from Season 11 and itemized it into an aspirational activity, because this is the right thing to do for the game.
We are improving the rewards for Aspirational Activities (Raids, Trials, Dungeons)
Going forward, Aspirational Activities will reward players with power, items, and vanity.

When we build an Aspirational Activity it will have at least one accessory to pursue.

The team is working on Adept Weapons for Trials of Osiris.
Trials will get new Armor (aka not reprisal), accessories, and weapons in Season 13.

Trials will get new Armor every year.

Destiny's next Raid will have brand new Armor, Weapons, and Exotic Accessories to pursue (no spoilers).
Beginning in Season 12, we will no longer be selling ships, ghost shells, sparrows, or armor ornaments in Eververse that are visually based on themes from Aspirational Activities.
We are not planning on changing existing items as that is time we could be spending on itemizing the future.
CORE PLAYLIST REWARDS CHANGES (STRIKES, GAMBIT, AND CRUCIBLE)
We are adding a new set of Armor for the core playlists (Strikes, Gambit, and Crucible).
This armor shares a set of new geometry, with decals and shaders specific to the activity.
We will create new sets like this each Year (e.g., Year 4, Year 5, Year 6, etc.)
This set will arrive alongside the next Expansion.
Starting in Season 12, we are adding a new Pursuit Weapon each Season.
This weapon can be earned by playing your preferred Core playlist.
This weapon will have activity-specific Legendary Skins that can be unlocked in each playlist.
We will no longer be selling new Legendary Weapon Ornaments in Eververse
DUST AND ENGRAMS.
We are making it easier for you to earn Bright Dust.
We will be moving away from character-specific ways to earn Bright Dust and more toward Account-specific paths.
This change is geared toward giving one-character players significantly more Bright Dust than they earn today.
We're updating the Bright Engram to be more relevant than it is today.
The earned Bright Engram in the Season Pass will be updated to include various Year 3 Eververse items previously sold for Silver and Bright Dust. And going forward, that Bright Engram will update each Season to include Eververse items from 3+ seasons prior.
On behalf of all of us at Bungie, we hope you and yours are safe and well. We know you could be doing anything with your free time, and so, so many of you are spending it in our worlds. Thanks, and stay safe.
Credit: https://www.bungie.net/en/Explore/Detail/News/49002
---
View graphics (updated each week), posts, and get other links at: kyber3000.com/Links.
Also, feel free to jump on in and join us on Discord to stay up-to-date with gaming infographics/posts, news and updates, and more!
I hope you all are well and have a great weekend!
-Kyber3000