💠 This weekend you can find Xûr hanging out at Giant's Scar on Io and Trials is live on Midtown. View Xûr's complete inventory and Trials info below.
Notes:
About the Trials infographic: The weekend Trials map and drops are not on a set rotation from what I understand so the Weekend Destiny 2 post and Trials infographic will be a bit late each week (meaning they won't post right around 10 AM PT) but they should not be posted much later than 11 AM PT. The Trials page gets updated with drops right after drops are known at kyber3000.com/Trialspost. As well as the infographic and info page for Xûr will be posted much sooner (usually around 10:15 – 10:30 AM PT). The Xûr graphic can be viewed each week at kyber3000.com/Xur and the page gets updated at kyber3000.com/Xurpost. 
Website Note: Depending on how your viewing this post, you may need to disable/turn off reader mode if you notice some text isn't visible or formatting looks off or visit the full desktop version.
---
__
A peddler of strange curios, Xûr's motives are not his own. He bows to his distant masters, the nine. (Note: For a larger view of the infographic above, click and open it, and then zoom in for larger text.)
Departs: Tues, May 19 @ 10 AM PDT
Where is Xur? Giant's Scar, Io (Green arrow below is Xur's location)
Exotic Armor – 23 LS
Titan: Dunemarchers – Leg Armor
Hunter: The Sixth Coyote – Chest Armor
Warlock: Claws of Ahamkara – Gauntlets
Exotic Weapon – 29 LS
Element: Arc | Type: Power | Ammo: Heavy
Other Items
Exotic Engram (97 LS)
An engram with a predestined outcome. Contains a new Exotic if any remain to be collected; otherwise, it contains a random piece of Exotic armor. This item can be purchase only once per week, per account.
Five of Swords – NF Challenge Card (No Cost)
Enables modifiers in Nightfall strikes on Prestige difficulty. More challenging modifiers apply larger score multipliers. This will replace a Rare Challenge Card in your inventory.
Invitation of the Nine – Quest (9 LS)
More Info
Xur Graphic: kyber3000.com/Xur | Post: kyber3000.com/Xurpost
Xûr Mega-thread via r/DestinyTheGame
---
__
Departs: Tuesday, May 19 @ 10 AM Pacific
3v3 Competitive PvP (Power Level of 960+ is required. Trials of Osiris should match you with opponents based on your connections and how many wins you have logged on your current Passage)
Rewards:
Note: You can earn Trials themed weapons and gear when you've consecutively won x3, x5, x7 games + Flawless. Tokens will only drop what you have already earned on your character (re-rolls).
Map: Midtown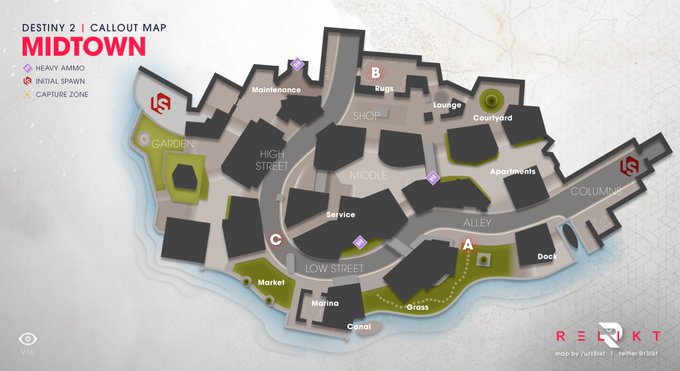 Reddit: r/DestinyTheGame Trials post
Trials Graphic: kyber3000.com/Trials | Post: kyber3000.com/Trialspost
More Info: View Guides, Rewards, and More for Trials | Trials Help Article via Bungie
---
__
Begins: Live Now
Ends: Tuesday, May 19 @ 10 AM Pacific
Lord Saladin has returned to the Tower, hosting the final Iron Banner of the season. As this is the final Iron Banner of the season, this serves as last call for a few rewards.
Iron Remembrance Armor Sets
Cast Iron Emblem
Iron Precious Shader
Additionally, this will be your last chance to earn the Point of the Stag Pursuit Bow. This weapon will not be available during Season 11, so get in there and complete your quest! Who knows, maybe you'll fall in love with a new Bowfriend.
---
__
Quest Steps via getdroidtips.com
Step 1: Warmind Evaluation:

Ana needs your help. Band together with fellow Guardians to complete Seraph Tower events across the EDZ, on Io, and on the Moon.
Quest Reward: Felwinter's Lie – Legendary Shotgun
Progress as of May 15 @ 11:29 AM Pacific via https://warmind.io/community/seraph (click link to get the most up-to-date results and view leaderboards)
View guides and more info at: kyberscorner.com/destiny2/the-lie-quest/
---
__
NEXT WEEK IN DESTINY 2
The Lie Quest continues.
All players earn increased Infamy in Gambit and Gambit Prime.
Clash and Lockdown return to the Crucible.
Update 2.8.1.2 – Read section below.
---
__
UPCOMING MAINTENANCE – HOTFIX 2.8.1.2
On Tuesday, May 19, Hotfix 2.8.1.2 will be available to players. Below is a timeline of Destiny 2 maintenance for Hotfix 2.8.1.2:
9 AM PDT (1600 UTC): Destiny 2 service maintenance begins.
9:45 AM PDT (1645 UTC): Destiny 2 is taken offline on all platforms.
10 AM PDT (1700 UTC): Destiny 2 Hotfix 2.8.1.2 begins rolling out across all platforms and regions. Players will be able to log back into Destiny 2 at 10:01 AM PDT.
10:01 AM PDT (1701 UTC): Destiny 2 is back online on all platforms.
12 PM PDT (1900 UTC): Destiny 2 service maintenance concludes.
For future release timelines when they are available, players should visit the Destiny Server and Update Status help article. For live updates as this maintenance occurs, players should follow @BungieHelp on Twitter or monitor the support feed at help.bungie.net.
---
__
Helpful Bungie Links:
Shadowkeep | Seasons | Season of the Worthy | CrossSave
Find a Fireteam | Destiny 2: New Player Guide
---
View graphics (updated each week), posts, and get other links at: kyber3000.com/Links.
Also, feel free to jump on in and join us on Discordto stay up-to-date with gaming infographics/posts, news and updates, and more!
Currently, I have 2 giveaways going. One is for the Destiny 2 Code of 3000 Clan and another is on Discord. To be valid to enter you must have already been a member in Co3 or the Discord prior to the giveaway starting. If you were not but have been a follower on another social site of Kyber's (such as Twitter, Instagram, or Kyber's Corner) you may still enter just make sure to type your @profile name in the entry box. You must still must be a member in Discord to enter and cannot win in both giveaways. To check out the current Giveaways and get more info, join the Discord or Code of 3000 clan.
I hope you all have a great weekend!
-Kyber3000