💠 This weekend you can find Xûr hanging out at The Winding Cove on EDZ and Trials is live on Convergence. View Xûr's complete inventory and Trials info below.
Notes:
Check out Important Info about the Content Vault: Info via TWAB | Content Vault Guide
Disable/turn off

reader mode

if you notice some text isn't visible or formatting looks off or visit the full desktop version.
---
__
A peddler of strange curios, Xûr's motives are not his own. He bows to his distant masters, the nine.
Departs: Tues, Aug 25 @ 10 AM PDT
Where is Xur? Winding Cove, EDZ (The green arrow below is Xur's location)
Exotic Armor – 23 LS (Random Rolls are available)
Exotic Weapon – 29 LS
Element: Solar | Type: Energy | Ammo: Special
Other Items
Exotic Engram (97 LS)
An engram with a predestined outcome. Contains a new Exotic if any remain to be collected; otherwise, it contains a random piece of Exotic armor. This item can be purchase only once per week, per account.
Five of Swords – NF Challenge Card (No Cost)
Enables modifiers in Nightfall strikes on Prestige difficulty. More challenging modifiers apply larger score multipliers. This will replace a Rare Challenge Card in your inventory.
Invitation of the Nine – Quest (9 LS)
More Info
Xur Graphic: kyber3000.com/Xur | Post: kyber3000.com/Xurpost
Reddit: Xûr Mega-thread via r/DestinyTheGame
---
__
TRIALS OF OSIRIS // 3V3 COMPETITIVE GAME MODE
Departs: Tuesday, Aug 25 @ 10 AM Pacific
Rewards:
Map: Convergence
Reddit: Trials Mega-thread via r/DestinyTheGame
Trials Graphic: kyber3000.com/Trials | Post: kyber3000.com/Trialspost
More Info: View Guides, Rewards, and More for Trials | Trials Help Article via Bungie
---
__
From Aug 11 – Sept 08 for ALL players!
Solstice of Heroes post | Solstice of Heroes Guide
More details will be added to the Solstice of Heroes page throughout this week.
---
__
Live now until Nov 10 | Free Event for ALL Players!
Details: bung.ie/2BzM9gR | MoT Guide: bungie.net/en/Help/Article/49300
---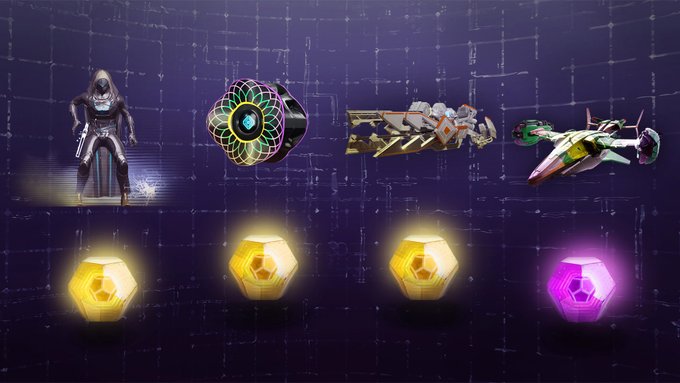 __
Drop #8 is Available Now!! (Stay tuned, more drops coming soon!)
Standoff Exotic Bundle Drop:
Standoff Exotic Emote
Neon Helix Shell Exotic Ghost Shell
Vespulaser Exotic Sparrow
Egbe-01X Legendary Ship
If you do not have a membership, you may start your free trial here – This link supports Kyber3000 with a credit for each sign up. (visit this page to start your free trial and support Kyber at the same time or to sign up without using a link that supports Kyber with a small commission click here).
Once you have signed up, visit this page and link your Bungie.net account to start receiving your monthly gear drops. Each drop will contain four rewards, including Exotic weapons, Ghosts, ships, Sparrows, emotes, and weapon ornaments from previous Seasons.
Visit the Twitch Prime page for more details!
---
__
NEXT WEEK IN DESTINY!
Moments of Triumph and Solstice of Heroes continues!
A Garden World returns to the Nightfall: The Ordeal.
Breakthrough and Mayhem return to the Crucible.
Coming Soon: 
Festival of the Lost arrives Oct 06, 2020 for ALL players!
---
__
Visit Bungie.net for news, updates, and more!
Helpful Info:
---
View graphics (updated each week), posts, and get other links at: kyber3000.com/Links. Also, feel free to jump on in and join us on Discord to stay up-to-date with gaming infographics/posts, news and updates, occasionally giveaways and more!
Hope you all have a good weekend, take care!
  Kyber
Connect and Support:
Amazon Affiliate | Epic Games Code: Kyber3000
Note: If you want to support me when buying games on the Epic Games Store, enter code Kyber3000 at checkout and your purchase will credit me a small commission (usually about 5% of the sale). My Amazon Affiliate link is similar, eligible purchases will credit me with a small commission when my link is used when buying items on Amazon. Your support is appreciated!