💠 This weekend you can find Xûr hanging out at the Hangar in the Tower and Trials is live on Altar of Flame for the first weekend of Season of the Chosen. Preview: This weekend you can earn The Messenger Pulse Rifle for 3 wins and a new Chest Armor piece (plus a random Adept Mod) for going Flawless. Check out the info below for a look at Xur's Inventory, Trials info, recent news, and more!
NOTE: For the first few week or two there may be some activities and challenges not yet included/updated on posts or infographics (the Weekly Reset graphic will be updated throughout the season). Everything will be updated and back to normal ASAP, I appreciate your patience for the time being.
---
__
A peddler of strange curios, Xûr's motives are not his own. He bows to his distant masters, the nine. (Note: Xur offers random rolls on all armor.)
Departs: Tuesday, Feb 16 @ 9 AM PST
Where is Xur? Hangar, Tower (The green arrow below is Xur's location)
Exotic Armor – 23 LS (Random Rolls are available)
Exotic Weapon – 29 LS
Element: Void | Type/Slot: Energy | Ammo: Primary
Other Items
Exotic Engram (97 LS)
An engram with a predestined outcome. Contains a new Exotic if any remain to be collected; otherwise, it contains a random piece of Exotic armor. This item can be purchase only once per week, per account.
Exotic Cipher Quest (No Cost)
Complete strikes or win matches in Crucible or Gambit. Extra progress is awarded for more challenging activities and for succeeding with clanmates. Reward: Exotic Cipher Present it to Xûr or the Monument To Lost Lights to receive a reward. You can only hold 1 of this item at a time. (Available on a weekly cadence)
More Info
Xur Graphic: kyber3000.com/Xur | Post: kyber3000.com/Xurpost
Reddit: Xûr Mega-thread via r/DestinyTheGame
---
__
TRIALS OF OSIRIS // 3V3 COMPETITIVE MODE
Departs: Tuesday, Feb 16 @ 9 a.m. PST
Rewards:
Map: Altar of Flame
Callout Map by @R3likt: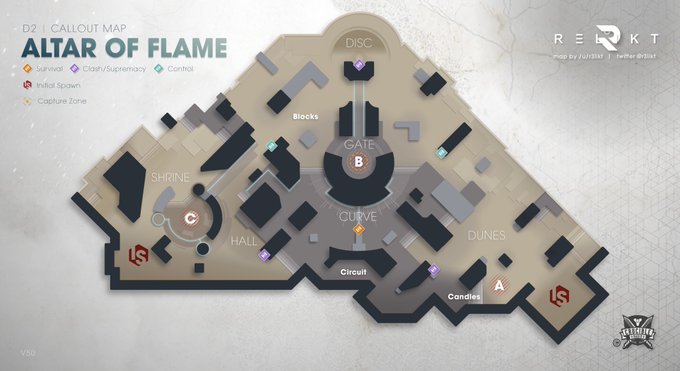 Trials Graphic: kyber3000.com/Trials | Post: kyber3000.com/Trialspost
More Info: Callout Maps by R3likt | Trials Help Article via Bungie
Reddit: Trials Mega-thread via r/DestinyTheGame
---
__
SEASON 13: SEASON OF THE CHOSEN
Live Now!! (Note: Some activities will require the Season of the Chosen Season Pass)
More Details: Official Website | Season of the Chosen Guide | Season Calendar
Updated Power Bands
Power Floor: 1100
Soft Cap: 1250
Powerful Cap: 1300
Pinnacle Cap: 1310
When below the Soft Cap, increased the upper limit of Power upgrades dropped from weekly powerful sources.
Increased XP rewards for the Last Wish raid to match Garden of Salvation and Deep Stone Crypt.
Bungie fixed an issue where the Power preview for some vendor items did not match the Power of the gear received.
NOTE: Check out more info about Season 13 on the Season of the Chosen page on this website (page may be periodically updated with more info/details). To get a look at what Season of the Chosen includes (weapons, armor, and more) visit light.gg.
---
__
NEXT WEEK IN DESTINY!
Enjoy boosted Infamy in Gambit all week long.
Continue the fight by launching the Battlegrounds at the Cosmodrone (The Cleansing Battleground unlocks).
Rally against the Cabal in The Arms Dealer Nightfall: The Ordeal.
---
__
Next Thursday, February 18, Hotfix 3.1.0.1 will be released. Here is a timeline of events:
February 17, 10 AM PST (1800 UTC): Destiny 2 background maintenance for Hotfix 3.1.0.1 begins.
February 17, 2 PM PST (2200 UTC): Destiny 2 background maintenance for Hotfix 3.1.0.1 completes.
February 18, 8 AM PST (1600 UTC): Destiny 2 maintenance for Hotfix 3.1.0.1 begins.
February 18, 8:45 AM PST (1630 UTC): Players are removed from activities and won't be able to log back into Destiny 2 until 9 AM PST when Hotfix 3.1.0.1 is available.
February 18, 9 AM PST (1700 UTC): Destiny 2 Hotfix 3.1.0.1 is rolled out across all platforms and regions. Players can log back into Destiny 2 at this time. Ongoing maintenance is expected to conclude at 10 AM PST.
February 18, 10 AM PST (1800 UTC): Destiny 2 maintenance is expected to conclude.
Below are some issues that will be resolved with Hotfix 3.1.0.1. A complete list will be shared when the update goes live.
Salvager's Salvo can now be reclaimed from Collections.
Vendor tooltips will no longer say they require Trials Tokens to rank up reputation.
The Whisper of Chains Stasis Fragment will now properly grant damage resistance when standing near frozen enemies.
Swapping between Challenger Medallions or Cabal Runes on the Hammer of Proving will now refund currencies used.
Source: bungie.net/en/Explore/Detail/News/50102
---
__
Visit Bungie.net for news, updates, and more!
News and Updates
Helpful Info
---
__
Quest Details
Over the past year, Bungie has made a handful of iterative improvements to the player's quest experience. Early on, these improvements focused on helping players understand their quests when viewed together.
Most recently, Bungie added the Quest Details screen (view image above). This new screen allows you to dive into the details of each quest, which should help you:
Take in the narrative context and visual themes of the quest.
Understand what the quest is asking you to do, and what you've done already.
Get a better look at the rewards for completing the quest.
Taken together, Bungie is hoping you feel more knowledgeable and motivated about the quests in your log. You can access the following screen by hovering your cursor over a given quest and using the Inspect command.
Bungie is excited to build on the Quest Detail screen in future updates with more improvements to the quest experience.
And now, onto some general patch notes:
Rituals 
Removed Hawthorne's Red War-era dialog when completing her Clan challenge.
Players can now turn in Gunsmith materials 100 at a time, and Vanguard tokens 20 at a time – enough to get a full rank.
Reputation
Valor, Glory, and Infamy rank-up banners are now at the bottom of the screen, no longer blocking players from taking actions in orbit when hitting a new rank.
Valor, Glory, and Infamy values are now available on the main Director screen for the ritual.
Gambit
Reworked the mote system for more reliable gathering.
Crucible 
Iron Banner

Removed Skill Based Matchmaking listing from the Iron Banner tooltip – it has been using Connection-Based Matchmaking, along with the rest of the Crucible, since June of 2020.

Survival

Life count changed from 6 to 4, respawn time changed from 7s to 5s, consistent with ruleset prior to Beyond Light.
New Light
A Guardian Rises

Destroying the Spider Tank during The Divide phase will now progress the directive by 50%.
Fixed an issue where veteran accounts that start a new character could not be progress or dismiss some tutorials.

Schism

Fixed an issue where players could jump through a window during the Navota vignette and block their mission progress.

Cold Boot

Fixed an issue for veteran characters playing the New Light quest that would cause the Legendary weapon tutorial to persist through the entire mission.
Risk/Reward (Riskrunner)
Fixed an issue where players with full Energy weapon inventory slots would have Riskrunner sent to the Postmaster upon pick up.
The weapon now drops as an Exotic Engram during the mission, allowing players to clear room in their inventories if they wish to pick up their Riskrunner immediately.
Forsaken Campaign
Fixed an issue where players would see a "Quests Full" message when trying to start the Forsaken campaign, forcing them to find and pick up the quest at the Quest Archive in the Tower before proceeding.
All missing patch notes are being added to the Destiny 2 Update 3.1.0 article. If you haven't taken a look at everything that's changed this Season, stop by and give it a read!
Souce: bungie.net/en/Explore/Detail/News/50102
---
__
DESTINY CONTENT VAULT + COSMODROME 
This season, two strikes from Destiny 1 are making their entrance to Destiny 2 through the Destiny Content Vault. Bungie has a quick update on our plans for the Cosmodrome from the Development Team.
By The Bungie Dev Team: "Last summer, when we revealed our plans for the Destiny Content Vault – where we cycle out older underused content to improve our ability to evolve Destiny – we also committed to periodically unvaulting legacy content, merging some of the best that Destiny 1 and Destiny 2 has to offer. THat announcement included the reveal that the Cosmodrone would be returning, and that it would be 'fleshed out to roughly Destiny 1 Year-1 parity'.

When we first shared our plans, we were still early in development and uncertain how far we would go with the Cosmodrome unvault. We were pretty sure it wouldn't include the Plaguelands but what about the locations added in the Year-1 DLCs, or the awesome Colony Ship behind Sepik's Lair with The Taken King? What about all of the public patrol spaces? How much of Cosmo would we need in order to accomplish our goals of having a great space to tell the new Guardian origin story while still giving veteran players a big dose of nostalgia via some updates to the strike playlist?

As we approached Beyond Light's launch, it became clear to us that we had a choice to make: After returning all three of its original strikes, do we invest more time and resources in bringing Cosmodrome to D1 parity or do we switch our focus to building new experiences for Year 4 and beyond? Given that we believed we had achieved our original goals and knowing the community and team's desire for new content, we chose the latter option. But, when we made that decision, we failed to properly update your expectations for how far the Cosmodrome experience was going to be extended and that was a mistake. So, to clear things up: With the Devil's Lair and Fallen S.A.B.E.R. strikes returning, we don't have any active plans to add more to the Cosmodrome than what is there will be focusing on new updates overall.

We will continue to use the Destiny Content Vault to drive variety in the live game in the future. The Cosmodrome was our first big push and later this year the Vault of Glass will return. We'll share more later this year."
Source: bungie.net/en/News/Article/49189
---
To stay up-to-date with gaming infographics/posts, news and updates, enter occasional giveaways and more, make sure to join the Kyber Discord! As a reminder, you may always view graphics and post at kyber3000.com/Links. All graphics and posts are updated here every week so you may bookmark that link to have easy access to graphics and posts for Destiny 2.
I hope you all have a great weekend and enjoy Season of the Chosen!
  Kyber (Kimberly)
---
CONNECT & SUPPORT


🤍 Follow and Support Kyber
Twitter| IG| Discord | Support | Amazon | Epic Games Store 

Note: If you want to support me when buying games on the Epic Games Store, enter code Kyber3000 at checkout and your purchase will credit me a commission (usually about 5% of the sale). With Amazon, I will receive a commission whenever my link is used to buy items or when signing up for Amazon memberships (some things are not eligible). Your support is greatly appreciated!