💠 This weekend you can find Xûr hanging out on the Big Tree at Watcher's Grave on Nessus and Trials is live on Javelin-4. Get a more detailed look at what's available below!
---
__
A peddler of strange curios, Xûr's motives are not his own. He bows to his distant masters, the nine. (Note: Xur offers random rolls on all armor.)
Departs: Tuesday, Apr 06 @ 10 AM Pacific
Where is Xur? Watcher's Grave (on Big Tree), Nessus (The green arrow below is Xur's location)
Exotic Armor – 23 LS (Random Rolls are available)
Exotic Weapon – 29 LS
Element: Kinect | Type/Slot: Kinetic | Ammo: Special
Other Items
Exotic Engram (97 LS)
An engram with a predestined outcome. Contains a new Exotic if any remain to be collected; otherwise, it contains a random piece of Exotic armor. This item can be purchase only once per week, per account.
Exotic Cipher Quest (No Cost)
Complete strikes or win matches in Crucible or Gambit. Extra progress is awarded for more challenging activities and for succeeding with clanmates. Reward: Exotic Cipher Present it to Xûr or the Monument To Lost Lights to receive a reward. You can only hold 1 of this item at a time. (Available on a weekly cadence)
More Info
Xur Graphic: kyber3000.com/Xur | Post: kyber3000.com/Xurpost
Reddit: Xûr Mega-thread via r/DestinyTheGame
---
__
TRIALS OF OSIRIS // 3V3 COMPETITIVE MODE
Departs: Tuesday, Apr 06 @ 10 AM Pacific
Rewards:
Map: Javelin-4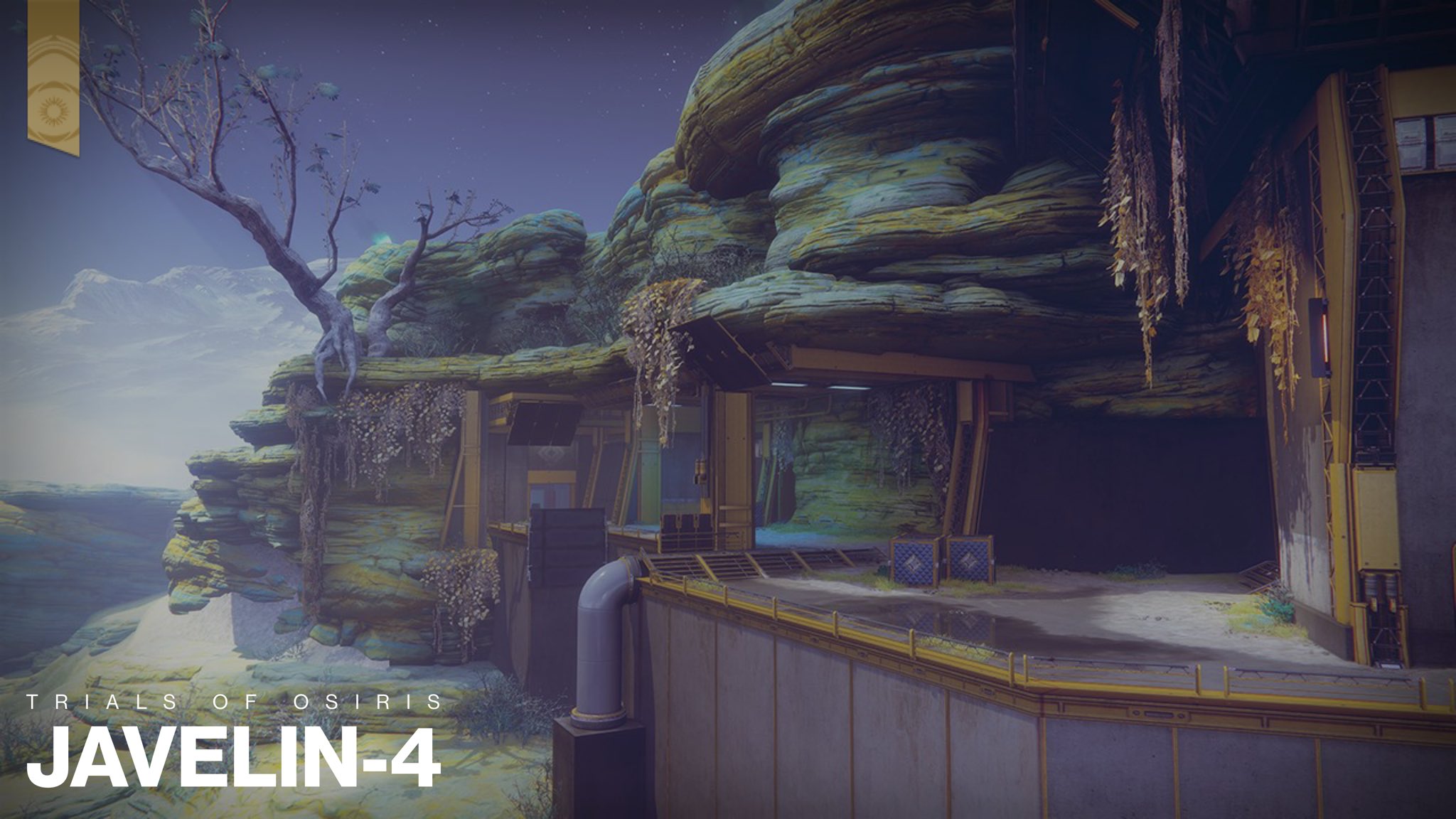 Trials Graphic: kyber3000.com/Trials | Post: kyber3000.com/Trialspost
More Info: View Guides, Rewards, and More for Trials | Trials Help Article via Bungie
Reddit: Trials Mega-thread via r/DestinyTheGame
---
__
DESTINY 2 TWITCH PRIME BUNDLE DROPS
New Exotic Bundle is Available Now for a Limited Time!!
The Huckleberry Exotic Bundle:
Imperial Projection Legendary Ghost Hologram
Six Shooter Exotic Emote
Warrior's Steed Exotic Sparrow
The Oviraptor Exotic Ship
Sign Up: If you do not have a membership, you may start your free trial here – This link supports Kyber3000 with a credit for each sign up (visit this pageto start your free trial and support Kyber at the same time or to sign up without using a link that supports Kyber with a small commission click here).
After Signing Up: Once you have signed up, visit this page and link your Bungie.net account to start receiving your monthly gear drops. Each drop will contain four rewards, including Exotic weapons, Ghosts, ships, Sparrows, emotes, and weapon ornaments from previous Seasons.
When a drop is available, players with Twitch Prime can claim the rewards here! Once claimed, follow a visual indicator to Amanda Holliday in the Tower's hangar. Amanda will have the rewards available in her inventory. As long as you claim the rewards on the Twitch Prime page by 10:00 AM on the last day of the drop, the gear will still be available from Amanda after the deadline.
If you have any questions or hit any snags, be sure to check the Prime Gaming Support Article on Help.Bungie.net.
---
https://cdn.discordapp.com/attachments/591093381728567311/827606532866310174/Next_Week_in_Destiny_04-06-2021.png
__
NEXT WEEK IN DESTINY!
Stop a super-powered Shank in the Fallen S.A.B.E.R Nightfall: The Ordeal.
The Drifter wants to make you rich. Enjoy Infamy boosts all week long.
Clash returns to the Crucible.
---
__
PRESAGE DEV DEEP DIVE LIVESTREAM
Join Bungie for a live presentation of the Presage Exotic Mission that went live earlier this Season. Bungie has lined up representatives from several of the teams that worked to create this experience and are ready to share some behind-the-scenes stories.
Live: Wednesday, April 7 @ 10 AM PDT
Watch at: Twitch.tv/Bungie or Youtube.com/Bungie
---
__
With the return of Ada-1 to the Tower in Season 14, Bungie is introducing some small quality of life upgrades to a couple of our Tower vendors.
Transmog: First, in addition to being the primary vendor associated with the upcoming transmog system also known as Armor Synthesis, Ada-1 will become the vendor who delivers a variety of armor-focused items and upgrades.
Daily Armor Mod: Each day, Ada-1 will now sell one randomly chosen armor mod from the general and armor slot (Helmet, Gauntlets, etc.) groups, and one randomly chosen Combat Style armor mod (chosen from the Charged with Light and Warmind Cell mod groups), which should make it easier for players who missed these in the past to get their hands on some of the armor mods from Year 3.
Weekly Armor: Additionally, on a weekly basis, Ada-1 will sell one armor set randomly chosen from the World Loot Pool, with a stat roll that also changes on a weekly basis.
Upgrade Materials: Finally, Ada-1 will also sell armor upgrade materials (Upgrade Modules, Enhancement Prisms, and Ascendant Shards) in the same way that the Banshee-44 does right now.
With Ada-1 taking on armor responsibilities, Banshee-44 is getting a few revisions to his inventory as well.
Banshee Weekly Weapons: The Gunsmith will no longer sell armor mods, but will retain the rest of the items that he currently sells. Additionally, on a weekly basis, Banshee-44 will sell a selection of six weapons, randomly chosen from the weapons in the World Loot Pool (two weapons each from the Kinetic, Energy, and Power slots) with perk rolls on each weapon that are randomly determined at the start of the week. So, at each weekly reset when you log in, you can head to the Tower and see what the Gunsmith is selling, and maybe pick up a weapon you've been looking for with a roll you are excited to use.
Source: https://bung.ie/39CHubw
---
__
In Season 14, Bungie is making the following changes to Trials and Nightfall weapons, and their Adept versions (Note: This only applies to new drops of these weapons, not previous drops.):
Nightfall weapons:

Bottomless Grief grants a permanently active +30 to Magazine.
Bottomless Grief is now a fixed alternate perk in the left column on Adept drops of Nightfall weapons (i.e. you can switch between that and the randomly rolled perk in the inspection screen).

Trials weapons:

Celerity grants a permanently active +20 to both Reload and Handling.
Celerity is now a fixed alternate perk in the right column on Adept drops of Trials weapons (i.e. you can switch between that and the randomly rolled perk in the inspection screen).
Moving forward, Bungie is not done with origin perks, and hope to have something that better achieves our goals in a future release.
Source: https://bung.ie/39CHubw
---
__
Proving Grounds Nightfall
Earlier this week, the Proving Grounds strike entered the Nightfall playlist. When the Season began, Bungie revealed their Seasonal calendar which showed that on March 30th the Proving Grounds strike would enter the Vanguard Strikes playlist for all players.
Bungie failed to acknowledge on the calendar that Beyond Light and the Season Pass would be required to play the Nightfall version of Proving Grounds. All Nightfalls require ownership of their associated expansion to access, with examples for previous expansion-gated Nightfalls versus free Nightfalls below:
Free to all players: The Arms Dealer, The Devil's Lair, The Disgraced, Exodus Crash, Fallen S.A.B.E.R, The Inverted Spire, The Insight Terminus, Lake of Shadows
Requires Forsaken: Broodhold, The Corrupted, The Hollowed Lair, Warden of Nothing
Requires Shadowkeep: The Scarlet Keep
Requires Beyond Light: The Glassway, Proving Grounds
Bungie is working with their teams to update the Season of the Chosen calendar and future calendars to better reflect this distinction.
Guardian Games Ghost Shell
With the launch of Patch 3.1.1, it was discovered that player's Guardian Games Ghost Shells were being replaced with other Ghost Shells, and would disappear when equipped. This issue is now resolved.
To address any lost currencies resulting from this issue, players will be granted a Masterworked version of each of the Rival Guardian Games Ghost Shells currently unlocked in their collections.
Players with full Ghost Shell inventories will have their Shells sent to the Postmaster and should pick them up before they get pushed out by other items and are no longer available.
Flawless Dungeon
With the launch of Beyond Light some changes were made to how flawless Triumphs were rewarded for dungeon completions. While previously flawless Triumphs would be awarded on an individual basis for not dying during the activity, they now award on a fireteam basis instead. This means that every member of the fireteam will need to have no deaths during the activity for the flawless Triumph to be awarded for each dungeon.
Cross Save Reminder
Prior to altering their Cross Save setups players should keep in mind that Cross Save does not permanently transfer characters or account data between platforms. In order to access your Cross Save characters on a different platform than they originate Cross Save must remain active. There is no possible way to permanently transfer account data between different platforms.
To get started with Cross Save, please click here.
Help and Info
KNOWN ISSUES LIST #HELP FORUMS BUNGIE HELP TWITTER
---
__
Movie of the Week: 8-bit Lullaby (Note from Kyber: Love This!!!)
Movie of the Week: The Man With The Golden Gun (Note from Kyber: Wow, this is very well done!)
---
__
Visit Bungie.net for news, updates, and more!
News and Updates
Helpful Info
---
To stay up-to-date with gaming infographics/posts, news and updates, enter occasional giveaways and more, make sure to join Kyber's Community Discord! As a reminder, you may always view graphics and post at kyber3000.com/Links. All graphics and posts are updated here every week so you may bookmark that link to have easy access to graphics and posts for Destiny 2.
I hope you all have a good weekend, take care!
  Kyber (Kimberly)
---

🤍 FOLLOW & SUPPORT KYBER
Twitter | IG | Discord | Support | Amazon | Epic Games Store 

Note: If you want to support me when buying games on the Epic Games Store, enter code Kyber3000 at checkout and your purchase will support me (commission is usually about 5% of the sale). You can also support me when signing up for Amazon/Twitch Prime or when purchasing eligible items using my Amazon Affiliate link. Your support is greatly appreciated, thank you!