💠 This weekend you can find Xûr hanging out at Watcher's Grave on Nessus (on the Big Tree) and Trials is live on Endless Vale (Side note: If you've been wanting the Hand Cannon, this weekend is the best chance for that). Get a more detailed look at Xur and Trials below!
---
__
A peddler of strange curios, Xûr's motives are not his own. He bows to his distant masters, the nine. (Note: Xur offers random rolls on all armor.)
Departs: Tuesday, May 18 @ 10AM Pacific
Where is Xur? Watcher's Grave (on Big Tree), Nessus (The green arrow below is Xur's location)
Exotic Armor – 23 LS (Random Rolls are available)
Exotic Weapon – 29 LS (Random Rolls are available)
Other Items
Exotic Engram (97 LS)
An engram with a predestined outcome. Contains a new Exotic if any remain to be collected; otherwise, it contains a random piece of Exotic armor. This item can be purchase only once per week, per account.
Exotic Cipher Quest (No Cost)
Complete strikes or win matches in Crucible or Gambit. Extra progress is awarded for more challenging activities and for succeeding with clanmates. Reward: Exotic Cipher Present it to Xûr or the Monument To Lost Lights to receive a reward. You can only hold 1 of this item at a time. (Available on a weekly cadence)
More Info
Xur Graphic: kyber3000.com/Xur | Post: kyber3000.com/Xurpost
Reddit: Xûr Mega-thread via r/DestinyTheGame
---
__
TRIALS OF OSIRIS // 3V3 COMPETITIVE MODE
Compete in a fireteam-required event version of Elimination. Earn as many wins on a ticket as you can. Three losses and you're out. 
Ends: Tuesday, May 18 @ 10AM Pacific
Rewards:
Map: Endless Vale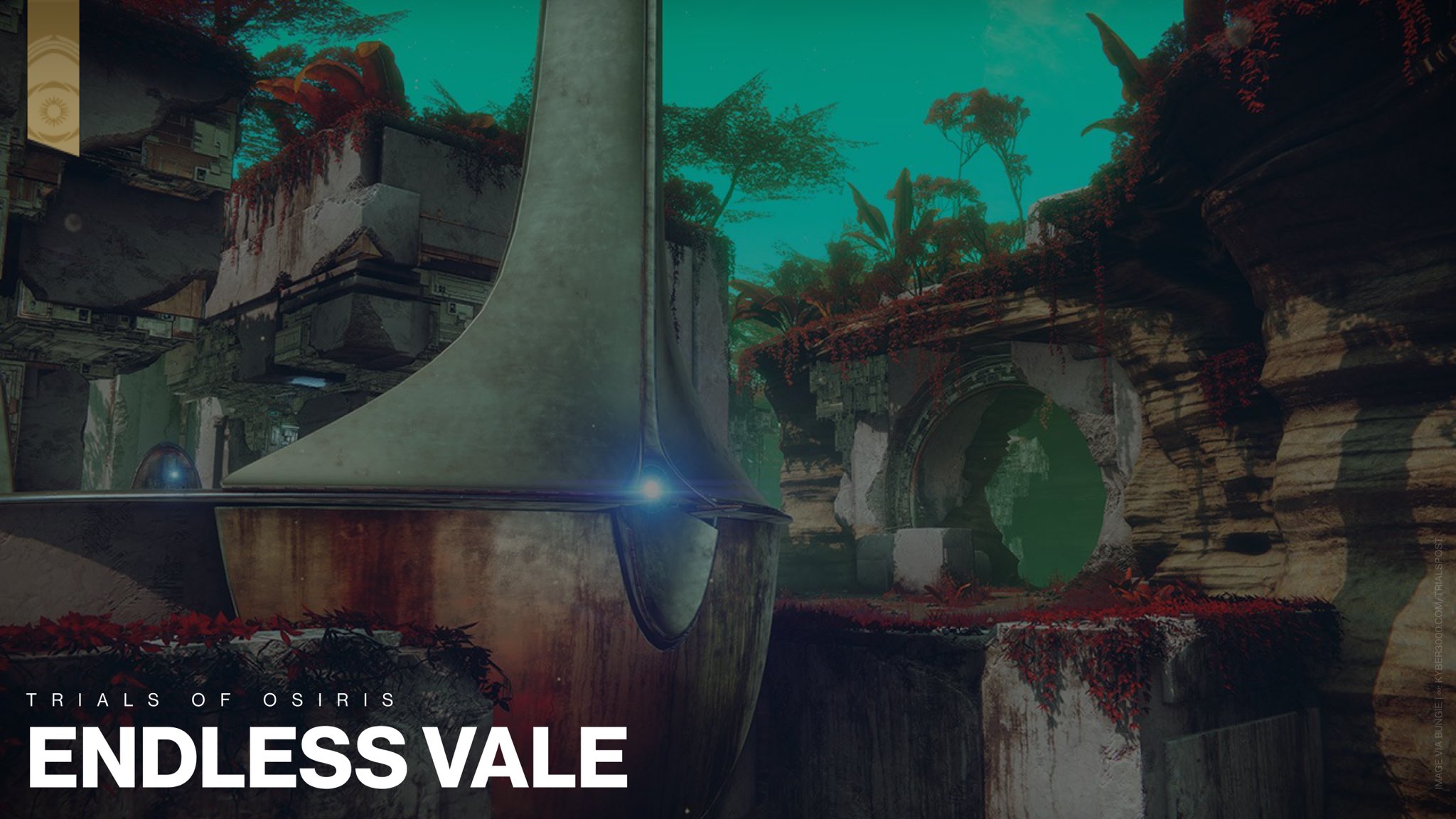 Callout Maps by @R3likt
Trials Graphic: kyber3000.com/Trials | Post: kyber3000.com/Trialspost
More Info: View Guides, Rewards, and More for Trials | Trials Help Article via Bungie
Reddit: Trials Mega-thread via r/DestinyTheGame
---
__
SEASON OF THE SPLICER (May 11 – Aug 24)
Live Now for All Players! Some activities require the Season of the Splicer Season Pass.
The Vex have plunged the Last City into an endless night, threatening the safety once found beneath the watchful presence of the Traveler. It is here, bathed in perpetual moonlight, that Ikora reveals the identity of an unlikely ally that may hold the keys to triumphing over this attack.
Links: Official Website | Guide | Season Pass FAQ
Destiny 2: Season of the Splicer campaign walkthrough via shacknews.com
__
A series of returning Future War Cult weapons loaded up with the new rolls and some class-specific Swords are available for free to all players and drop from multiple World Loot Pool sources.
Here are the links to some of those weapons:
---
__
DESTINY 2 PRIME GAMING EXOTIC BUNDLES
New Exotic Bundle is Available Now for a Limited Time!!
Vigilance Wing Exotic Bundle:
❄Vigilance Wing – Exotic Weapon
❄Book of the Dead – Exotic Weapon Ornament
❄Ravager's Ride – Exotic Sparrow
❄House of Light Projection – Ghost Projection
If you do not have a membership, you may start your free trial here – This link supports Kyber3000 with a credit for each sign up. (visit this page to start your free trial and support Kyber at the same time or to sign up without using a link that supports Kyber with a small commission click here).
Once you have signed up, visit this page and link your Bungie.net account to start receiving your monthly gear drops. Each drop will contain four rewards, including Exotic weapons, Ghosts, ships, Sparrows, emotes, and weapon ornaments from previous Seasons.
When a drop is available, players with Twitch Prime can claim the rewards here! Once claimed, follow a visual indicator to Amanda Holliday in the Tower's hangar. Amanda will have the rewards available in her inventory. As long as you claim the rewards on the Twitch Prime page by 10:00 AM on the last day of the drop, the gear will still be available from Amanda after the deadline.
Still have questions? Check out Bungie's Help article with more details on how everything works.
Source: Twitch Prime
---
__
IKORA AND MITHRAX HAVE BIG ROLES THIS SEASON, BUT THE BABY ELIKSNI HAVE STOLEN THE SHOW. WE'VE WATCHED AS THE COMMUNITY HAS EXPLODED OVER HOW CUTE THESE LIL' CREATURES ARE. IF YOU WANT ONE OF YOUR OWN, SIGN UP FOR EMAIL UPDATES TO KNOW WHEN THE PLUSHY BABIES BECOME AVAILABLE AT BUNGIE STORE.
---
https://cdn.discordapp.com/attachments/365626318315847681/842816538755203114/Next_Week_in_Destiny_05-18-2021.png
__
NEXT WEEK IN DESTINY!
Hack the Vex Network on the Moon in the next Override!
The Vault of Glass raid opens May 22!
Iron Banner and Showdown return to the Crucible with Valor boosts.
Fallen S.A.B.E.R. will be the Nightfall Strike.
---
__
Begins: Tuesday, May 18 @ 10AM Pacific
Ends: Tuesday, May 25 @ 10AM Pacific
Next week, the first Iron Banner of Season of the Splicer goes live. Lord Saladin will be back at the Tower with bounties and a slew of pinnacle rewards. Find him up on the top level and make sure you grab the quest he is offering as well. Bungie re-enabled the Heavy weapon step and, based on player feedback, have made it much easier to complete. It only requires three Machine Gun kills now to finish.
Bungie showed off two new weapons as well as two Year-1 weapons that are getting random rolls for the first time in a previous TWAB. Here is another look in case you missed it!
---
__
Visit Bungie.net for news, updates, and more!
News and Updates
Helpful Info
---
__
Hotfix 3.2.0.0
Since Season of the Splicer launched, some players have been unable to access Destiny and experience a crash when attempting to log in. Bungie issued a fix for this on May 14 in Hotfix 3.2.0.0. This patch also addressed an issue that was allowing some players to access Cross Play early.
Armor Synthesis
With players now able to turn their armor into universal ornaments, here are some clarifications on how and why some armor doesn't appear unlocked in the Armor Customization area.
Armor won't show up if a player is wearing that armor.
Some armor sets were purposely combined into one set to reduce players accidentally overspending their tokens for duplicate armor. Examples include:

Gambit Prime Armors – Anyone who unlocked a Gambit Prime armor set has access to the Illicit (Basic) Gambit Prime Armor Synthesis universal ornaments.
Leviathan Prestige Class Items – The Prestige class items from the Leviathan raid uses the same arrangement as the base version, but uses a different dye to distinguish the two, so we reduced these two items into one item for Armor Synthesis.
Red War Parade Armors – The Legendary sets share appearances with the armor from the Red War introductory mission.
Green and Blue Solstice Armor – The appearances of these armors are identical without support of the Glows and were reduced to a single set. The green set also matches the wrecked parade armor, so it was reduced further.
Purple Solstice Armor – As we announced last week, glows from 2018's and 2019's Solstice of Heroes are being worked on and will be implemented later this year for the Legendary armors only.
Exotic Armor – Exotic armor cannot take the appearance of alternate armor, nor can Exotic armor be converted into a Universal Ornament and used on Legendary armor.
Year 1 Armor Ornaments – These are being worked on and will be implemented later this year.
For more information about Armor Synthesis, view this support article.
Known Issues List  |  Help Forums  |  Bungie Help Twitter
---
__
Goes Live: Saturday, May 22 @ 10AM PDT
The time lost Raid returns. Stored away, deep in the Vault of Glass on Venus is Atheon, Time's Conflux. No one knows what this Vex is. Guardians must access the Vault, navigate the fractures in space and time, and terminate Atheon before it can become an unstoppable threat.
Contest Mode Power Requirement:
You will need to be at 1300 Power to be at the cap for all of the encounters.
Raid Challenges:
The first raid challenge is set to go live on June 15, 2021 (Challenges will be updated below after they go live)
NOTE: To view more Vault of Glass info and check out the loot pool visit the VoG page.
---
To stay up-to-date with gaming infographics/posts, news and updates, enter occasional giveaways and more, make sure to join Kyber's Community Discord! As a reminder, you may always view graphics and post at kyber3000.com/Links. All graphics and posts are updated here every week so you may bookmark that link to have easy access to graphics and posts for Destiny 2.
I hope you all have a good weekend!!
  Kyber (Kimberly)
---


🤍 FOLLOW & SUPPORT KYBER

Twitter | IG | Discord | Support | Amazon | Epic Games Store 

Note: If you want to support me when buying games on the Epic Games Store, enter code Kyber3000 at checkout and your purchase will support me (commission is usually about 5% of the sale). You can also support me when signing up for Amazon/Twitch Prime or when purchasing eligible items using my Amazon Affiliate link. Your support is greatly appreciated, thank you!