💠 This weekend you can find Xûr hanging out at the Winding Cove on EDZ and Trials is live on Twilight Gap. Get a more detailed look at Xur and Trials below!
---
__
A peddler of strange curios, Xûr's motives are not his own. He bows to his distant masters, the nine. (Note: Xur offers random rolls on all armor.)
Departs: Tuesday, Jun 29 @ 10AM Pacific
Where is Xur? Winding Cove, EDZ (The green arrow below is where Xur is located)
Exotic Armor – 23 LS (Random Rolls are available)
Exotic Weapon – 29 LS (Random Rolls are available)
Other Items
Exotic Engram (97 LS)
An engram with a predestined outcome. Contains a new Exotic if any remain to be collected; otherwise, it contains a random piece of Exotic armor. This item can be purchase only once per week, per account.
Exotic Cipher Quest (No Cost)
Complete strikes or win matches in Crucible or Gambit. Extra progress is awarded for more challenging activities and for succeeding with clanmates. Reward: Exotic Cipher Present it to Xûr or the Monument To Lost Lights to receive a reward. You can only hold 1 of this item at a time. (Available on a weekly cadence)
More Info
Xur Graphic: kyber3000.com/Xur | Post: kyber3000.com/Xurpost
Reddit: Xûr Mega-thread via r/DestinyTheGame
---
__
TRIALS OF OSIRIS // 3V3 COMPETITIVE MODE
Compete in a fireteam-required event version of Elimination. Earn as many wins on a ticket as you can. Three losses and you're out. 
Ends: Tuesday, Jun 29 @ 10AM Pacific
Rewards:
Map: Twilight Gap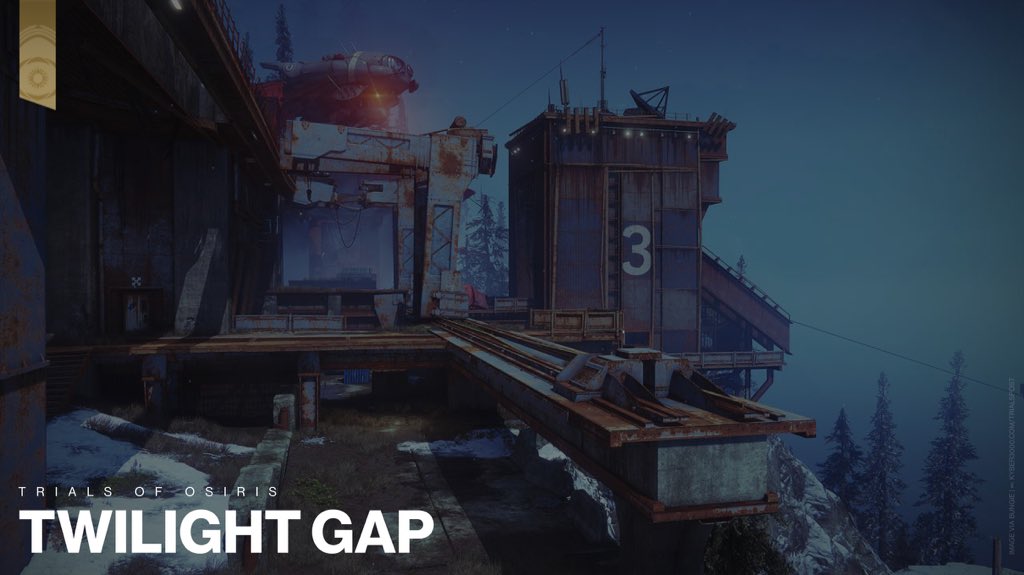 Callout Maps by @R3likt
Trials Graphic: kyber3000.com/Trials | Post: kyber3000.com/Trialspost
More Info: View Guides, Rewards, and More for Trials | Trials Help Article via Bungie
---
__
DESTINY 2 PRIME GAMING EXOTIC BUNDLES
New Exotic Bundle is Available Now for a Limited Time!!
All Alone Exotic Bundle:
All Alone Exotic Emote
SV-112 Predator Exotic Sparrow
Fire Victorious Exotic Ghost Shell
Breakpoint Legendary Ship
If you do not have a membership, you may start your free trial here – This link supports Kyber3000 with a credit for each sign up. (visit this page to start your free trial and support Kyber at the same time or to sign up without using a link that supports Kyber with a small commission click here).
Once you have signed up, visit this page and link your Bungie.net account to start receiving your monthly gear drops. Each drop will contain four rewards, including Exotic weapons, Ghosts, ships, Sparrows, emotes, and weapon ornaments from previous Seasons.
When a drop is available, players with Twitch Prime can claim the rewards here! Once claimed, follow a visual indicator to Amanda Holliday in the Tower's hangar. Amanda will have the rewards available in her inventory. As long as you claim the rewards on the Twitch Prime page by 10:00 AM on the last day of the drop, the gear will still be available from Amanda after the deadline.
Still have questions? Check out Bungie's Help article with more details on how everything works.
Source: Twitch Prime and Bungie
---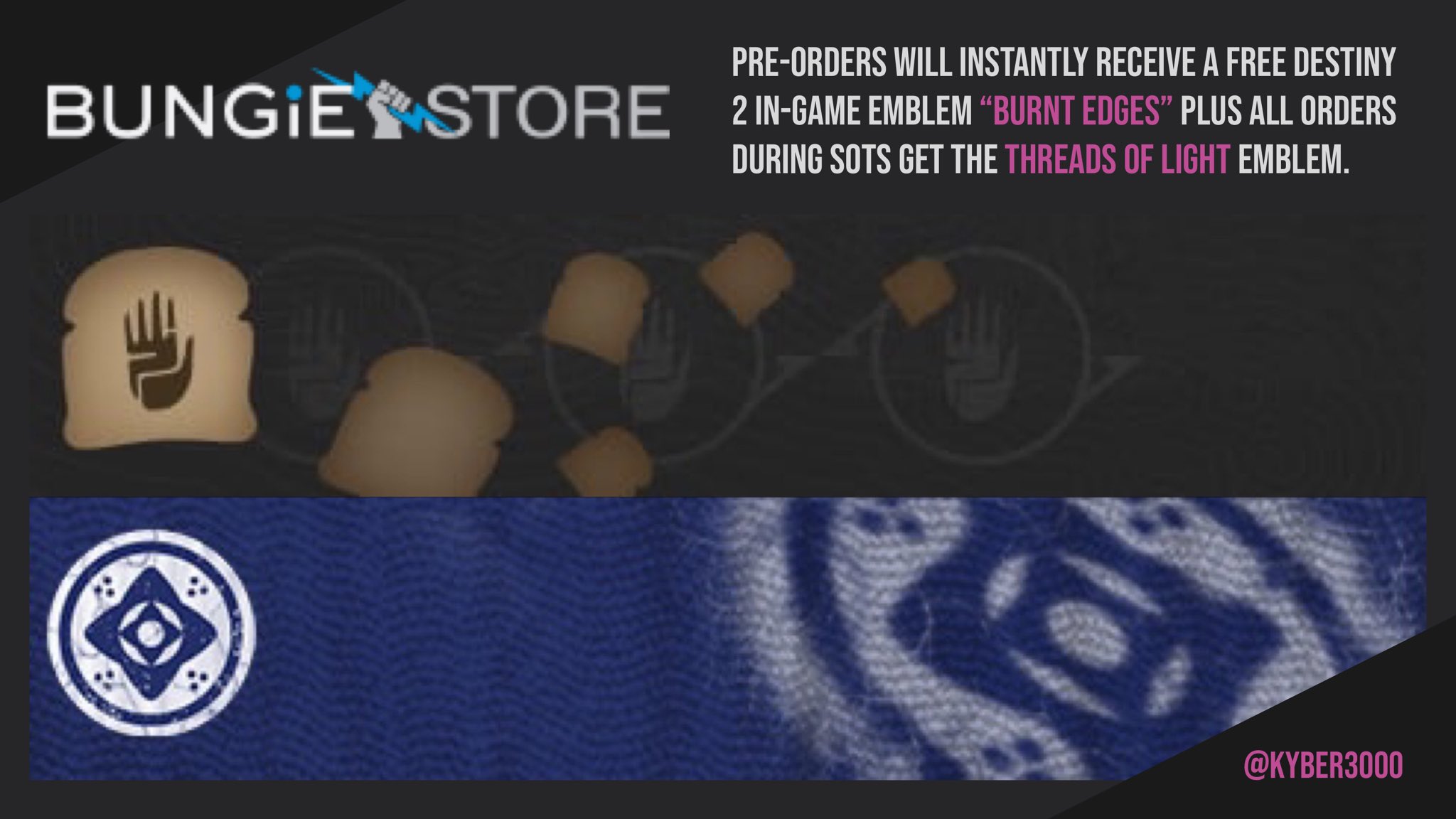 __
DESTINY TOASTER PRE-ORDER
Pre-Orders Are Available Now for the Destiny Toaster!
Emblems Included with Purchase:
From TWAB: "In June 2020, the Destiny community raised more than $800,000 for St. Jude Children's Research Hospital® during Bungie's livestream supporting Gaming Community Expo (GCX). During the livestream, Bungie announced that if we hit $777,777.77, we would look into creating an official Destiny Toaster."

"Get that bread!" may have started as a silly community meme about earning god-rolls on loot, but it's now become a physical Destiny Toaster available on the Bungie Store for purchase. We're also excited to announce that 10 percent of profits from sales of the Destiny Toaster will go to St. Jude Children's Research Hospital.

Yes, it will actually toast a Tricorn onto your bread. Yes, it comes with a free sandwich container so you can keep your food safe during your quests. Oh, and it comes with the fancy Burnt Edges in-game emblem.

"Don't let your memes be dreams," as some say. Cheers to all who donated in the past, and cheers to all who are actively donating to the GCX charity stream right now. If you haven't yet, head on over to GCXEvent.com to check it out!

Credit/Source: This Week at Bungie – June 17
---
__
NEXT WEEK IN DESTINY!
A new Expunge mission goes live!
Iron Banner returns, plus all players earn Bonus Valor in the Crucible all week long.
The third Vault of Glass raid challenge is now available.
Stop Kargen in the Insight Terminus Nightfall.
Mayhem returns to the Crucible.
Soon:
Jul 06: Solstice of Heroes event and Vault of Glass difficulty options.
Season 14, Season of the Splicer ends on August 24.
---
__
Visit Bungie.net for news, updates, and more!
News and Updates
Helpful Info
---
__
Next week, Lord Saladin is making another trip back to the Tower to hold his infamous tournament.
Starts: Tuesday, June 29 @ 10 AM Pacific
Ends: Tuesday, July 06 @ 10 AM Pacific
NOTE: View the Iron Banner page for more details.
---
__
RETURNS WEAPONS // MOON AND DREAMING CITY 
Back in January Bungie announced that four weapons from the Dreaming City and four weapons from the Moon were being reissued with new perk pools but had not brought them all back yet. In the next update, currently scheduled for 7/6, Bungie will be reissuing the remaining Moon and Dreaming City weapons with new perks. All of these weapons will drop from their original sources on their respective destination.
Here is the full list of the weapons along with an example of the new perks they can each roll with.
SOURCE (info and images): This Week at Bungie – Jun 24, 2021
Bungie Store and Rewards Update
On July 1, the Bungie Store beta will be rolled out as Bungie prepares to transition to a new e-commerce platform. Players with existing Bungie Store accounts will be prompted to change their passwords once the beta is live. With the new store, players will be able to sign in using their Bungie.net accounts, which will make viewing, browsing, and purchasing Bungie Rewards an improved and more streamlined experience.
Please note that any generated Bungie Rewards codes for the Vault of Glass Art Print, Descendant Seal, and Splintered Seal will no longer be valid after July 1, 2021. Players who do not purchase these Bungie Rewards before July 1 will need to sign in with a Bungie Store account linked to a Bungie.net account that has completed the appropriate Triumph(s) to purchase the associated Bungie Rewards item.
For more information, please visit the Bungie Rewards help article.
PC Framerate Update
Earlier this week, AMD released an optional update that resolved an issue where some Radeon graphics products may have been experiencing lower than expected performance in Destiny 2 when compared to previous Radeon Software versions. For more information, please see the Radeon Software Adrenalin 21.6.1 Highlights.
Please note that this optional update may not fully resolve PC framerate issues for AMD users, and we are continuing to investigate other issues related to PC framerate.
Previous Season Pass Rewards
We are currently investigating an issue on the Previous Season page where previous Season Pass rewards do not refresh upon selecting different characters in browser. Players who encounter issues can still claim their previous Season Pass rewards for all characters via the Companion App.
Help and Info
Known Issues List  |  Help Forums  |  Bungie Help Twitter
---
To stay up-to-date with gaming infographics/posts, news and updates, enter occasional giveaways and more, make sure to join Kyber's Community Discord!
I hope you all have a good weekend, take care!!
  Kimberly (Kyber)
---

__
FOLLOW & SUPPORT
Twitter | IG | Discord | Support | Amazon | Epic G

ame

s Store 

Note: If you want to support me when buying games on the Epic Games Store, enter code Kyber3000 at checkout and your purchase will support me (commission is usually about 5% of the sale). You can also support me when signing up for Amazon/Twitch Prime or when purchasing eligible items using my Amazon Affiliate link. Your support is greatly appreciated, thank you! 🤍