💠 This weekend you can find Xûr hanging out at the Hangar in the Tower and Trials is live on The Dead Cliffs. Get a more detailed look at Xur and Trials below!
---
__
A peddler of strange curios, Xûr's motives are not his own. He bows to his distant masters, the nine. (Note: Xur offers random rolls on all armor.)
Departs: Tuesday, Jul 06 @ 10AM Pacific
Where is Xur? Hangar, Tower (The green arrow below is where Xur is located)
Exotic Armor – 23 LS (Random Rolls are available)
Exotic Weapon – 29 LS (Random Rolls are available)
Other Items
Exotic Engram (97 LS)
An engram with a predestined outcome. Contains a new Exotic if any remain to be collected; otherwise, it contains a random piece of Exotic armor. This item can be purchase only once per week, per account.
Exotic Cipher Quest (No Cost)
Complete strikes or win matches in Crucible or Gambit. Extra progress is awarded for more challenging activities and for succeeding with clanmates. Reward: Exotic Cipher Present it to Xûr or the Monument To Lost Lights to receive a reward. You can only hold 1 of this item at a time. (Available on a weekly cadence)
More Info
Xur Graphic: kyber3000.com/Xur | Post: kyber3000.com/Xurpost
Reddit: Xûr Mega-thread via r/DestinyTheGame
---
__
TRIALS OF OSIRIS // 3V3 COMPETITIVE MODE
Compete in a fireteam-required event version of Elimination. Earn as many wins on a ticket as you can. Three losses and you're out. 
Ends: Tuesday, Jul 06 @ 10AM Pacific
Rewards:
Map: The Dead Cliffs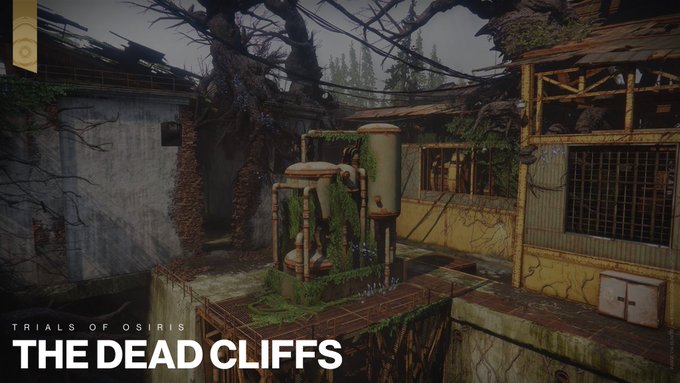 Callout Maps by @R3likt
Trials Graphic: kyber3000.com/Trials | Post: kyber3000.com/Trialspost
More Info: View Guides, Rewards, and More for Trials | Trials Help Article via Bungie
---
__
NEXT WEEK IN DESTINY!
Solstice of Heroes begins!
The Master difficulty for Vault of Glass raid goes live.
The fourth Vault of Glass raid challenge becomes available.
Nightfall boosts will be live with Fallen S.A.B.E.R. Nightfall.
Momentum Control returns to the Crucible.
NOTE: Season 14, Season of the Splicer ends on August 24.
---
__
Available from: Jul 6 – Aug 3, 2021
Official Event Websites: Official Event Page | Guide | Watch Trailer
About: The Last City of humanity is built, not from iron and stone, but of heroism and bravery. Join your fellow Guardians and remember those who stood in defense of our home. Eva Levante awaits you in the Tower with words of gratitude and the promise of celebration.
Activities: European Aerial Zone Join high-flying fireteams as you soar across the European Aerial Zone in search of glory and treasure. The sky's the limit on how many bosses you defeat and how many caches you unlock.
Armor: Earn class-specific Solstice armor and improve its quality by adventuring through a variety of objectives. Once fully upgraded, the armor will glow.
Gameplay: Each day will challenge you to match your attacks to the daily element in order to charge one of four unique elemental buffs. On Prism days, all four buffs can charge but only one can be activated at a time. Choose your subclass wisely.
Rewards: Although glowing Solstice armor does a good job of stealing the show, it isn't the only prize to chase. There's a new Legendary Shotgun, new Exotic Ghost Shell, new emblem, and plenty of Solstice Packages to unlock.
Bungie Rewards: Start celebrating with earning a new emblem for completing the introductory journey. Then acquire the final Solstice armor set to unlock the exclusive 2021 Solstice of Heroes shirt for purchase. Visit bungie.net/Rewards for details.
Eververse: Adorn any of your Legendary armor with universal ornaments that glow to match your subclass – available for Silver or Bright Dust! There are also new ships, Sparrows, and eye-catching cosmetics to collect.
More info will be added here next week. 
---
__
VAULT OF GLASS MASTER DIFFICULTY
Info from article by Bungie
Unlocks: Tuesday, July 06 for all players
How do you enter? 
When signing in next Tuesday, Vault of Glass will offer a Master difficulty option to launch for you and your fireteam. While there is no minimum Power requirement to enter, enemies will be at 1350 Power, so you will want to earn some Pinnacle Power and raise your Artifact levels before attempting a run.
What can you earn? 
First up, Master Vault of Glass unlocks the final Triumphs required for the Fatebreaker raid Seal and title. Once completed, players may equip their in-game title and purchase the Bungie Rewards pin if they so desire.
Second, Master Vault of Glass will also introduce Timelost weapons to Destiny 2. Timelost weapons can be comparable to Adept weaponry from Grandmaster Nightfalls or Flawless Trials Passages, but offer an additional perk in columns three and four for slightly more customization.
Complete Vault of Glass Challenges in the Master difficulty of the activity, and you will be rewarded. Each week will feature a specific Timelost weapon for you to hunt, rotating alongside the available challenge. Once you've earned a Timelost weapon, you may also purchase additional rolls from the chest at the end of the raid (on Master difficulty) using Spoils of Conquest. Note that these will be at a higher price than normal versions of these weapons.
Note: The raid challenge next week is for the Gatekeeper encounter, so I believe the Timelost specific weapon for next week should be one of the following: Found Verdict, Fatebringer, or Hezen Vengeance. The armor that could drop next week, could be Helmet or Legs. Unless I am misunderstanding how this will work (if I am I will make sure to update that info here). Once I know the weekly rotation for the Timelost weapon I will add it to the weekly reset infographic, weekly reset post, and raid challenges page. -Kyber (July 01, 2021)
Please note – Weekly reward lockouts are shared between both Normal and Master difficulties of Vault of Glass. That means encounters, challenges, and hidden chests will only award gear the first time you complete them in either activity each week. They must be completed at Master difficulty first to earn Timelost weapons and stat-focused armor.
Lastly, armor from the Master difficulty of Vault of Glass will focus on specific stats, rotating weekly. If you've been hunting a Prime Zealot Helm with a high spike in the Intellect stat, Master difficulty will give you greater chances for the distribution you're looking for.
Get ready for a fight. 
This won't be a walk in the park if you haven't dipped your toes into the Destiny 2 endgame before. Enemies will be tougher. They'll be looking to put you down with more aggression. A few more Champions will be appearing to defend the Vault. More modifiers will be active, forcing you to think on your feet and come prepared. If you're looking to increase your Power, make sure to complete your weekly milestones for Pinnacle rewards. One way to do that is in the Iron Banner. It's active right now, so make sure to complete those bounties for additional Pinnacle rewards as you prepare for the raid!
Atheon will be seeing you next week. Good luck to all fireteams as they attempt their first Master difficulty raid.
Source: Bungie Article – Jul 01, 2021
---
—
These updates were originally planned for next season but will be going live next week with Destiny 2 Update 3.2.1!
Here is a run down about the changes coming:
The big-ticket items for PvP are (no surprises) Shotguns, 120 RPM Aggressive Hand Cannons and Dead Man's Tale.
Here are the roles Bungie intends each Special weapon to fill:
Sniper Rifles – Engaging at long range, with aiming skill, when not already under fire.
Shotguns – Engaging at point blank range, using skill at movement or positioning to get close enough to get a one- or two-hit elimination.
Fusion Rifles – Engaging at mid-range, but with careful positioning and pre-charging around cover required for success.
Trace Rifles – Strong at close to mid-ranges, at the cost of not being a one-hit elimination, making it possible to be outplayed by skillful Primary users.
Grenade Launchers – Useful for weakening an opponent, getting damage around corners with bounces, or getting a one-hit elimination with a direct impact, at the cost of projectile travel time and being in a bad place if you miss your shot with the single-round magazine.
Shotguns
Increased Aggressive Frame Shotgun cone angle from 4.0 to 4.25 degrees.
Reduced Shotgun damage falloff min by 2m.
Increased Shotgun damage falloff max by 2m.
Note: Slug Shotguns are unaffected by this change.
Hand Cannons
Reduced precision damage multiplier from 1.8 to 1.6, preventing a 10% damage bonus from allowing two-tapping in PvP.
Reduced aim assist minimum falloff distance by 1-2m depending on the Range stat.
Reduced damage minimum falloff distance by 1m (this reduces their damage falloff advantage over other Hand Cannons to 1m (as usual, this is 1m before the zoom scalar).
Perk Changes
Drop Mag:
Can no longer roll on new drops of weapons, will have functionality changed later.
There's a change coming next Season that requires adjusting this, and some perks with similar functionality – more on that later…
Pulse Monitor:
Fixed an issue where the Handling bonus was no longer applying.
Rewind Rounds:
Fixed an issue where the perk would not trigger if the last shot in a magazine missed, or if the player reloaded another weapon before firing the final shot.
Reservoir Burst:
Bungie has seen the complaints that the detonation on kills doesn't feel that reliable or impactful, so this has been updated with the same consistency and speed fix as Dragonfly.
Dead Man's Tale
Removed hip-fire damage falloff scalar (was 1.8x to match zoom).
Aim Assist cone angle hip scalar reduced from 1.5 to 1.2.
Sleeper Stimulant
Fixed an issue where Sleeper Simulant was benefiting less than other LFRs from the Season of the Splicer LFR precision damage buff.
Total buff is now 16.5%, compared to the 15% buff other LFRs received.
To read about future changes coming to the Sandbox, check out the full TWAB article.
---
__
Alongside the sandbox update, Bungie has a slew of bug fixes going out with Destiny 2 Update 3.2.1. Here's a quick list of some high-priority changes to expect next Tuesday when the patch hits your hard drive.
Expunge
Styx

Fixed an issue where the Codestrider platform over the boss would fail to have collision in certain circumstances.

Tartarus

Fixed an issue where a Codestrider platform would fail to have collision in certain circumstances.
Fixed an issue where defeating the boss before the second immunity phase would block mission completion.
Strikes
The Inverted Spire

Fixed an issue where players who died in the drill area could have their Ghosts appear far back in the strike. The Ghosts now appear at set safe locations in the drill area.
Momentum Control
Decreased Trace Rifle damage in Momentum Control

Dev Note: While we know Trace Rifles are too hot, we are also aware that some players are greatly enjoying "laser tag" in Momentum right now. With that in mind, we're starting out with a small change to see how that feels before taking another pass.
Gameplay 
Fixed an issue in which Slow duration from Withering Blade did not increase with Whisper of Durance Fragment equipped.
Fixed an issue in which Stormcaller Warlocks were unable to use Ionic Blink while slowed by Stasis.
Fixed an issue in which Diamond Lance could be generated by throwing a Glacier Grenade into a pile of Telesto projectiles.
Fixed a few bugs in which abilities were not properly costing Sentinel Shield energy when guarding (Celestial Fire, Withering Blade, Shiver Strike, Glacial Quake, Silence & Squall).
SOURCE: This Week at Bungie – Jul 01, 2021
---
__
RETURNS WEAPONS // MOON AND DREAMING CITY 
In the next update, currently scheduled for 7/6, Bungie will be reissuing the remaining Moon and Dreaming City weapons with new perks. All of these weapons will drop from their original sources on their respective destination.
Here is the full list of the weapons along with an example of the new perks they can each roll with.
SOURCE (info and images): This Week at Bungie – Jun 24, 2021
---
__
Visit Bungie.net for news, updates, and more!
News and Updates
Helpful Info
Update 3.2.1 and Maintenance Timeline
On Tuesday, July 6, Destiny 2 will undergo maintenance in preparation for Destiny 2 Update 3.2.1. Below is a timeline of events. Note, some times may be subject to change during this maintenance period:
9 AM PDT (1600 UTC): Maintenance begins.
9:45 AM PDT (1645 UTC): Players are removed from activities. Destiny 2 is brought offline.
10 AM PDT (1700 UTC): Update 3.2.1 will be available across all platforms and regions. Players will be able to log back into Destiny 2.
11 AM PDT (1800 UTC): Destiny 2 maintenance is expected to conclude.
Below are some issues that will be resolved with Update 3.2.1. A complete list will be shared when the update goes live.
Resolved the issue causing players on PlayStation consoles to receive persistent BEAGLE errors.
Assassin's Cowl no longer clips through a majority of Hunter cloaks.
Gunsmith weapons will no longer be missing masterwork slots.
Armor with glows will properly display their glow when transmogged over another armor set that also has glows.
Bungie Store Beta Delay
In last week's PSR, we announced that the new Bungie Store beta would be rolling out beginning on July 1, however, this launch has been delayed until later in the month. We will provide updates on the new beta launch date when it becomes available.
Solstice of Heroes 2021
Solstice of Heroes begins on July 6 at the Weekly Reset, and will run until August 3. For event information and a list of known issues, players can view our updated Solstice of Heroes Guide here.
Help and Info
Known Issues List  |  Help Forums  |  Bungie Help Twitter
---
To stay up-to-date with gaming infographics/posts, news and updates, enter occasional giveaways and more, make sure to join Kyber's Community Discord!
I hope you all have a good weekend and a Happy Fourth of July (to everyone that celebrates it)!!
  Kimberly (Kyber)
---

__
FOLLOW & SUPPORT
Twitter | IG | Discord | Support | Amazon | Epic G

ame

s Store 

Note: If you want to support me when buying games on the Epic Games Store, enter code Kyber3000 at checkout and your purchase will support me (commission is usually about 5% of the sale). You can also support me when signing up for Amazon/Twitch Prime or when purchasing eligible items using my Amazon Affiliate link. Your support is greatly appreciated, thank you! 🤍