💠 This weekend you can find Xûr hanging out at Watcher's Grave (on the Big Tree 🌳) on Nessus and Trials is live on the map Guardians voted for, Javelin-4. Get a more detailed look at Xur and Trials below!
---
__
A peddler of strange curios, Xûr's motives are not his own. He bows to his distant masters, the nine. (Note: Xur offers random rolls on all armor.)
Departs: Tuesday, Jul 13 @ 10AM Pacific
Where is Xur? Watcher's Grave (on the Big Tree 🌳), Nessus (The green arrow below is where Xur is located)
Exotic Armor – 23 LS (Random Rolls are available)
Exotic Weapon – 29 LS (Random Rolls are available)
Other Items
Exotic Engram (97 LS)
An engram with a predestined outcome. Contains a new Exotic if any remain to be collected; otherwise, it contains a random piece of Exotic armor. This item can be purchase only once per week, per account.
Exotic Cipher Quest (No Cost)
Complete strikes or win matches in Crucible or Gambit. Extra progress is awarded for more challenging activities and for succeeding with clanmates. Reward: Exotic Cipher Present it to Xûr or the Monument To Lost Lights to receive a reward. You can only hold 1 of this item at a time. (Available on a weekly cadence)
More Info
Xur Graphic: kyber3000.com/Xur | Post: kyber3000.com/Xurpost
Reddit: Xûr Mega-thread via r/DestinyTheGame
---
__
TRIALS OF OSIRIS // 3V3 COMPETITIVE MODE
Compete in a fireteam-required event version of Elimination. Earn as many wins on a ticket as you can. Three losses and you're out. 
Ends: Tuesday, Jul 13 @ 10AM Pacific
Rewards:
Map: Javelin-4 (Anomaly was an error, Guardians voted for Javelin-4 in a @DestinyTheGame Twitter poll)
Callout Maps by @R3likt
Trials Graphic: kyber3000.com/Trials | Post: kyber3000.com/Trialspost
More Info: View Guides, Rewards, and More for Trials | Trials Help Article via Bungie
---
__
Event Ends: Aug 3, 2021
Official Event Websites: Official Event Page | Guide | Watch Trailer
About: The Last City of humanity is built, not from iron and stone, but of heroism and bravery. Join your fellow Guardians and remember those who stood in defense of our home. Eva Levante awaits you in the Tower with words of gratitude and the promise of celebration.
Activities: European Aerial Zone Join high-flying fireteams as you soar across the European Aerial Zone in search of glory and treasure. The sky's the limit on how many bosses you defeat and how many caches you unlock.
Armor: Earn class-specific Solstice armor and improve its quality by adventuring through a variety of objectives. Once fully upgraded, the armor will glow.
Gameplay: Each day will challenge you to match your attacks to the daily element in order to charge one of four unique elemental buffs. On Prism days, all four buffs can charge but only one can be activated at a time. Choose your subclass wisely.
Rewards: Although glowing Solstice armor does a good job of stealing the show, it isn't the only prize to chase. There's a new Legendary Shotgun, new Exotic Ghost Shell, new emblem, and plenty of Solstice Packages to unlock.
Bungie Rewards: Start celebrating with earning a new emblem for completing the introductory journey. Then acquire the final Solstice armor set to unlock the exclusive 2021 Solstice of Heroes shirt for purchase. Visit bungie.net/Rewards for details.
Eververse: Adorn any of your Legendary armor with universal ornaments that glow to match your subclass – available for Silver or Bright Dust! There are also new ships, Sparrows, and eye-catching cosmetics to collect.
NOTES: Get more details on this Solstice of Heroes page.
---

__
Bungie made a Spicy Ramen emblem called A Classy Order in celebration of Bungie Day 2021 and it's available now for everyone who wants it. You don't have to buy anything, it's totally free!
YRC-C3D-YNC
Sign in to your Bungie.net account, head to the Redeem Codes page, and use the code above to get this sweet new emblem.
---
__
BUNGIE DAY 2021 GIVING CAMPAIGN
Info below is from this Bungie blog article.
Availability: You may donate to the Bungie Foundation's Giving Campaign between July 7 and July 20 at 11:59 PM PDT.
By donating you are helping Bungie make an impact in each of these areas – from their iPads for Kids Program to helping communities impacted by a natural disaster, you are changing lives and proving that the Bungie community is the best there is. This has been an unprecedented year of hardships for so many around the world, including many of you. Thank you for leaning into your friendships and shared passions to lift each other up and support each other when it was needed the most. And yet, there is so much work to do. Please help out by donating today.
Goal: Bungie's goal is to reach $777,000 by July 20. To help stay on track, Bungie will commit to having one of our Community Managers record a lore reading if we reach $500,000 by Wednesday, July 14, to be shared in This Week at Bungie the next day!
Rewards: To be eligible for the in-game items listed above, donations must be made to this campaign between July 7 and July 20 at 11:59 PM PDT. Unique redemption code(s) will be emailed to you on Thursday, July 29th following the completion of the fundraiser. One redemption code per item, per email for qualifying donations.
As a thank you for your donation, Bungie is excited to offer you several incredible in-game items:
$10+: 2020 "The Bungie Foundation" emblem
$25+: Above, plus the NEW "Circadian Guard" emblem
$50+: Above, plus NEW Exotic "Buoyant Shell" Ghost Shell
$75+: Above, plus NEW Exotic "Tiny Tank" emote (click here to see a higher quality video version or open the link below)
---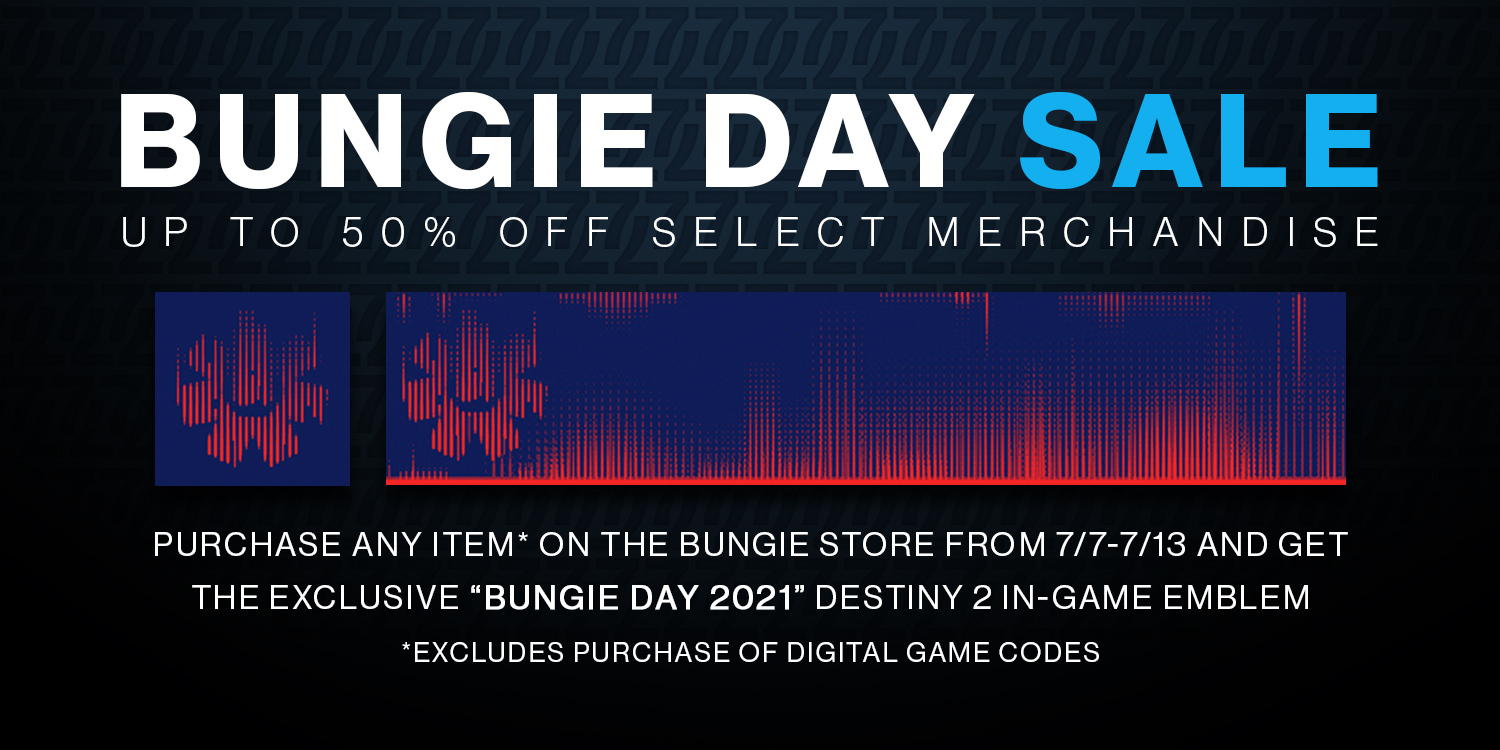 __
In honor of Bungie Day, Bungie is running a sale on the Bungie store! You can expect to save up to 50% off select merchandise.
Everyone who makes a purchase on the Bungie Store from now until the end of July 13 will receive an exclusive "Bungie Day 2021" emblem.
For all the Guardians out there that can't get enough Destiny story content, Bungie is opening up pre-orders for Destiny Grimoire Anthology Volume IV: The Royal Will. This latest addition to our Grimoire Anthology unravels the making and methods of two of Destiny's most powerful monarchs—Mara Sov, the Queen of the Awoken, and Oryx, the Taken King.
New Bungie Rewards are now available as well. As mentioned above, with Solstice of Heroes starting up there is a new shirt available for purchase by anyone who collects their first set of Solstice armor. If you are looking to personalize something, Bungie has a Bungie Reward you can put your name on coming with Moments of Triumph later this year.
There is also a Season of the Splicer Bungie Reward. If you have completed the Expunge questline you are eligible to purchase this new Expunge hoodie.
The community is full of amazing artists! On occasion, Bungie likes to invite a few to participate in our Community Artist Series and partner with them to sell merchandise featuring their creations. Each artist receives a share of revenue from sales of their product design. Bungie has a new line up of items available today, check them out!
In the mood for some arts and crafts? Bungie has a special papercraft character bundle of Crow, Eris Morn, and Drifter you can create. Just go download the free kit, print and fold a new friend to perch up on your desk.
---
__
Visit Bungie.net for news, updates, and more!
News and Updates
Helpful Info
---
__
NEXT WEEK IN DESTINY 
Solstice of Heroes continues! Visit Eva in the Tower to get started.
Stop Protheon, Modular Mind, in the weekly Nightfall strike – The Inverted Spire.
Lord Shaxx brings Clash back to the Crucible, make him proud.
---
__
REMINDER: TURN IN VANGUARD TOKENS!
With the launch of Season 15 on August 24, Vanguard reputation ranks will be updated and no longer require the use of Vanguard Tokens.
Due to this, Vanguard Tokens will be deprecated at the launch of the Season. Players should turn in their Vanguard Tokens to Zavala to receive rewards this Season before August 24 when their Tokens expire.
Source: This Week at Bungie – July 08, 2021
---
__
Join Bungie on August 24 for some exciting news about the future of Destiny. For now there will be no spoilers.
---
__
Triumphs Re-Redeems
With the launch of Update 3.2.1 players found that all previously redeemed Triumphs from Season 13 and Season 14 needed to be re-redeemed. This was the result of a fix for an issue that caused Season 14 Triumphs to incorrectly share Triumph Scores with Season 13 Triumphs.
As a result of this fix players may notice a slight decrease in their Season 13 Triumph score due to their scores being recalculated correctly.
Additionally, we are currently investigating players being unable to re-redeem the Catalyst Competitor and One Fell Strike Triumphs.
Help and Info
Known Issues List  |  Help Forums  |  Bungie Help Twitter
---
To stay up-to-date with gaming infographics/posts, news and updates, enter occasional giveaways and more, make sure to join us on Discord!
Have a good weekend everyone!
  Kimberly (Kyber)
---

__
FOLLOW & SUPPORT
Twitter | IG | Discord | Support | Amazon | Epic G

ame

s Store 

Note: If you want to support me when buying games on the Epic Games Store, enter code Kyber3000 at checkout and your purchase will support me (commission is usually about 5% of the sale). You can also support me when signing up for Amazon/Twitch Prime or when purchasing eligible items using my Amazon Affiliate link. Your support is greatly appreciated, thank you! 🤍