This page will be updated with more details on 02/11/2020. Eververse items for this event will be listed here.
__
CRIMSON DAYS SEASONAL EVENT 💘 
February 11 – February 18 | For ALL players!!
Details: bungie.net/CrimsonDays | Guide: bungie.net/7/en/Help/Article
---
---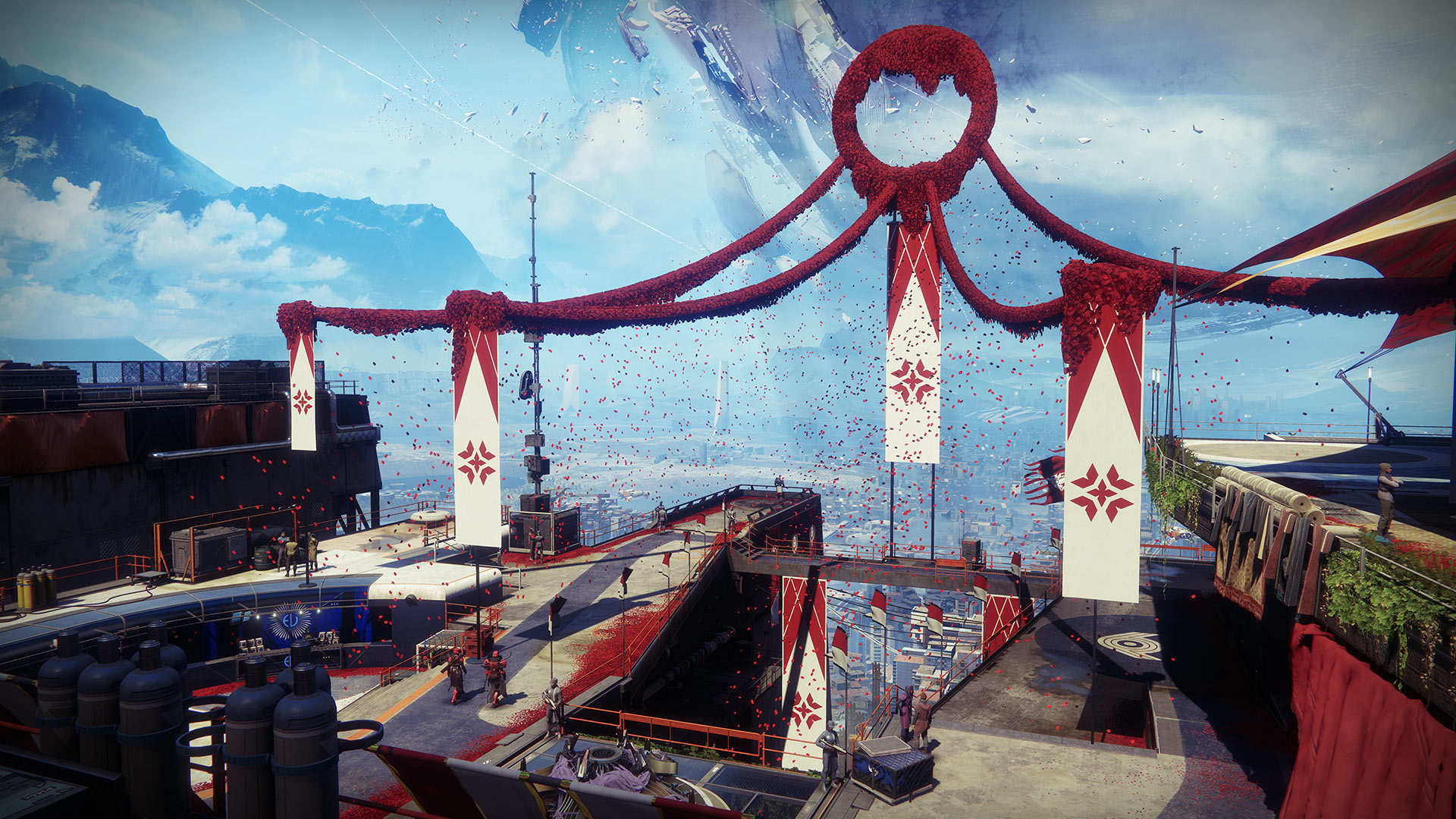 __
EVENT DETAILS via Bungie Website
Love Reigns: Since we began to explore the colonies, no Guardian has triumphed alone. Once again, the time has come to recognize the bond that Guardians share on the battlefield. Meet with Lord Shaxx in the Tower and feel the fire of camaraderie that only Crimson Days can stoke. Take up arms, bite off more than you can chew, and stand together as one.
It Takes Two (Activity): Two Guardians standing together in the face of insurmountable odds. Shaxx invites you to revel in the glory of a legendary standoff during a match of Crimson Doubles. This unique event challenges you and your partner to fight as one. Will you celebrate victory together, or mourn defeat alone?
Sweet Loot: The bonds between Guardians are eternal but Crimson Days also brings loot to fall in love with, including a Ghost shell, ornament, emote, and a pair of Sparrows that are meant for one another. All Shaxx asks for in return is your heart.
The Vow: One is the loneliest number, except when landing a precision shot with this fully Masterworked bow. A single shot is all it takes to prove your fiery devotion to victory. Crimson Days lives on in those who take The Vow.
Eververse: Fan the flames of Crimson Days with a weapon ornament, something special for your Ghost, and even a heartfelt Emote made for two.
Bright Red Bling: You've fought. You've triumphed. You've done heart-shaped donuts in the hangar on your new Sparrow. Now it's time to really show off. Learn how to unlock your "In the Valley" emblem during Crimson Days.
---
---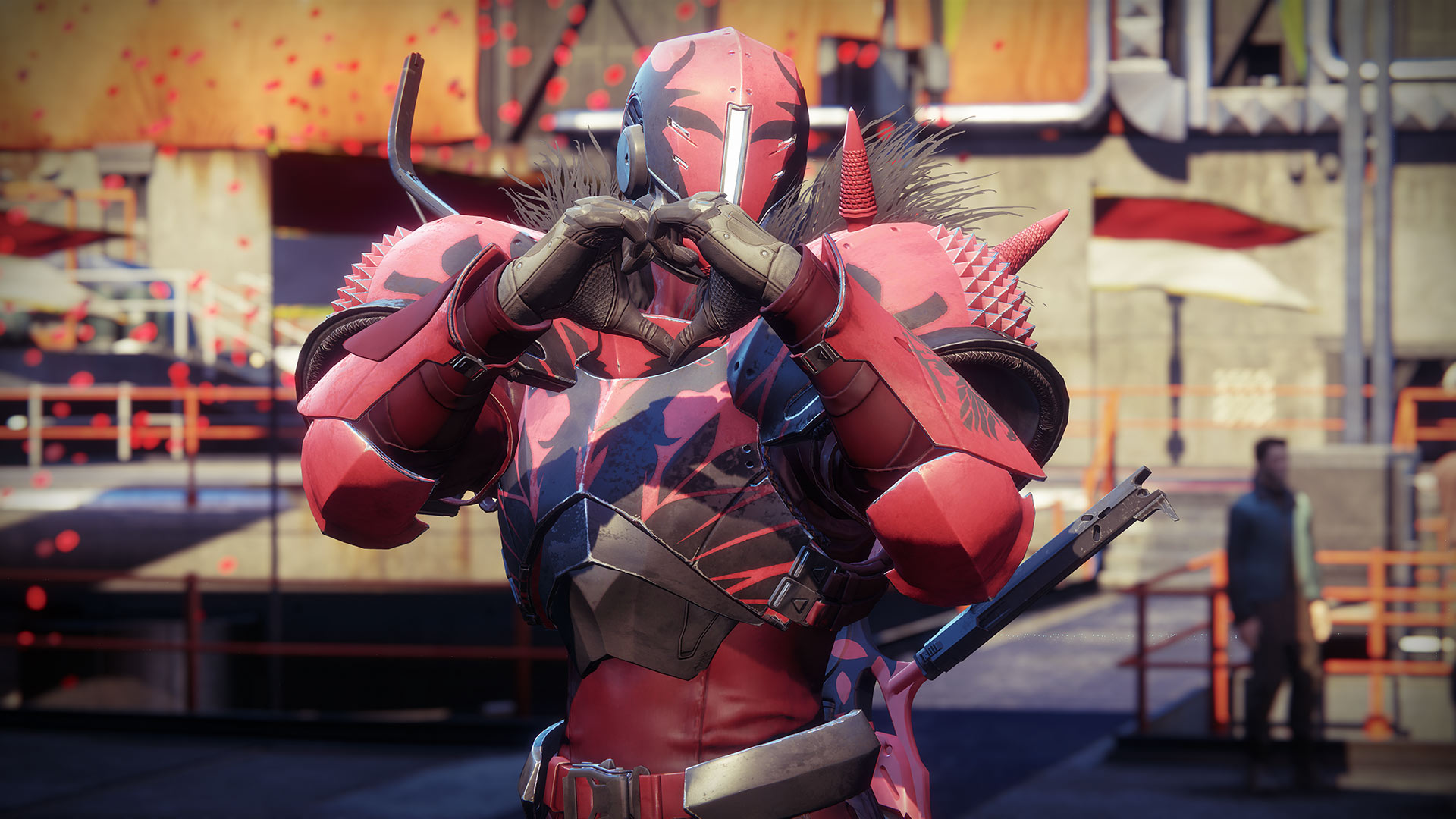 __
A LOOK AT THEMED REWARDS
Crimson Doubles will be returning to the Crucible during the event, bringing explosive 2v2 combat to the fold. Stay close to your partner: you'll each have heightened ability regen as long as you retain your Crimson Bond. If you stray too far away from each other, opponents will be able to see your every move. If you'd rather take your partner out for a stroll in one of Destiny 2's PvE activities, Shaxx will offer bounties for you to complete in a two-person fireteam.
As you complete Crimson Doubles matches and bounties, you and your partner will be showered in delicious candy hearts. To sweeten the deal, Daily and Weekly bounties will offer double XP. Bright Dust will also be rewarded when completing your weekly bounties.
As you begin to stockpile Confectionery Hearts, they can be exchanged with Lord Shaxx for Crimson Days themed rewards, including two new Exotic Sparrows. Ride in tandem to show the strength of your Crimson Bond!
If this is your first Crimson Days event, or you didn't earn enough hearts in years past, rewards from previous events will also be available to earn alongside the new Sparrows.
Additionally, spare Confectionery Hearts may be exchanged for Warmhearted Gift packages containing Glimmer, with a slight chance for legendary loot. Once you've collected both Sparrows and claimed the associated Triumph, an exclusive emblem will become available through Bungie Rewards.
Eververse will feature many items from previous events for Bright Dust, including two new items exclusive to Crimson Days. One new item will be available for Silver only, the Heartfelt Union Multiplayer Emote.
Here is the emote (for a larger video version click here)
---
---
__
CRIMSON DAYS GUIDE from Bungie.net
Crimson Days is a limited-time Live Event in Destiny 2 which honors the unbreakable bonds Guardians forge on and off the battlefield. Crimson Days begins on February 11, 2020 and ends at the weekly reset on February 18, 2020.
For information on Crimson Days, including instructions on how to unlock the "In the Valley" emblem through the Bungie Rewards program, please visit Crimson Days 2020.
Participation Requirements
While all players are invited to experience Crimson Days, new players* must first meet the following requirements:
Escape the Cosmodrome to 

unlock the Tower

.
Achieve 790 Power.
Once new players meet the above requirements, they will unlock a Milestone telling them to speak to Lord Shaxx in the Tower.
*Characters created before the launch of New Light do not have to achieve 790 Power to receive the Crimson Days Milestone.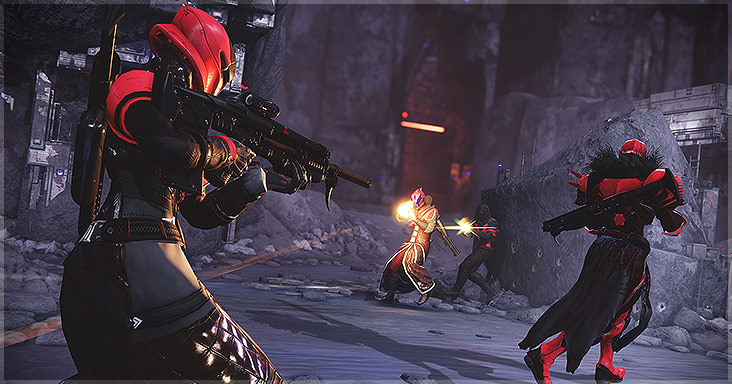 Crimson Days Crucible
During Crimson Days, Lord Shaxx prepares a special Crimson Days Doubles playlist for Guardians to compete for valor and rewards.
New Light players are able to enter the Crimson Days Doubles playlist as soon as they escape the Cosmodrome and unlock the Tower. Matchmaking is available for solo players. Listed below are features that players should be aware of when participating in this playlist.
Reunited: Reunited is a special buff that increases the recharge rate of Guardian abilities for teammates who are close together.

Falling Apart:

Falling Apart is a debuff that grants enemy teammates waypoints to your

location when you and your teammate drift too far apart in a Crucible match.

Vengeance:

Vengeance is triggered when a player's teammate is defeated combat. For a short time, the surviving player is granted significantly increased ability regeneration, and receives a small portion of their health back.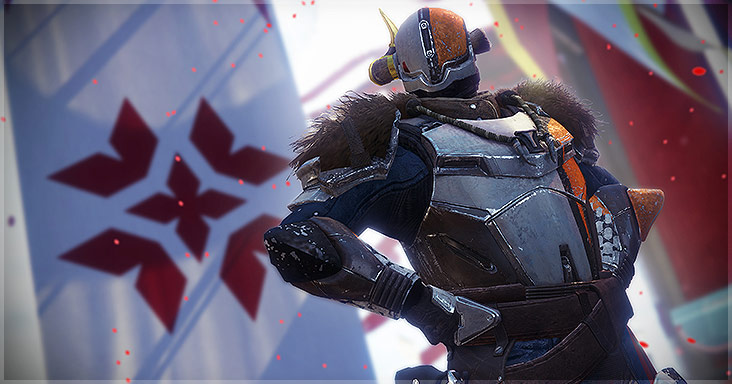 Bounties and Rewards from Lord Shaxx
Lord Shaxx is the Crimson Days event vendor. Players can speak with him to complete the initial Crimson Days Milestone, pick up Crimson Days bounties, and purchase event rewards.
After players speak with Lord Shaxx and receive the Fire of the Crimson Days emblem, they will be able to purchase Crimson Days bounties and rewards. Rewards can be purchased using Confectionery Hearts, which are earned through completing bounties and matches in the Crimson Days Doubles playlist.
| | |
| --- | --- |
| Fire of the Crimson Days | Confectionery Hearts |
PLEASE NOTE!

Crimson Days Confectionery Hearts do not dismantle individually. In the event that players choose to dismantle these items, their entire stacks will be deleted.
Crimson Days Bounties
During Crimson Days, Lord Shaxx offers Crimson Days bounties which can reward players with Double XP, Bright Dust, and Confectionery Hearts.
Weekly
Bounty (2)

Daily
Bounty (4)
–
Crimson Days Rewards
Lord Shaxx offers exclusive Crimson Days-themed rewards for the duration of the event. These rewards are available as one-time purchases with the exception of the Warmhearted Gift. Players may use Confectionery Hearts to repeatedly purchase the Warmhearted Gift, which randomly awards Glimmer, weapons, and gear. For purchase costs, please visit Lord Shaxx in the Tower Courtyard.
| | | |
| --- | --- | --- |
| Tirastrella Shell | Undeterred Sparrow | The Vow (Masterworked) |

Dieselpunk
Ornament

SVC-12
Sparrow

IVC-10
Sparrow

Flaunting
Dance

Warmhearted
Gift
–
Crimson Days Triumphs
During Crimson Days, players may also complete exclusive Crimson Days-themed Triumphs. To track progress toward Crimson Days Triumphs, players should visit their Triumphs character menu, go into the Seasonal node, and navigate to the Events > Crimson Days subpage.
Players have until Crimson Days ends at the weekly reset on February 18, 2020, to complete Crimson Days Triumphs. Please note that some Crimson Days Triumphs or bounties may require players to have access to certain activities, such as the Crimson Days Doubles playlist. For activity details, please visit Lord Shaxx in the Tower Courtyard, or see the Crimson Days Triumph requirements listed in the Triumphs character menu.
Once Crimson Days has ended, these Triumphs will no longer be eligible for progress, and incomplete Triumphs will be hidden.
These Triumphs are as follows:
Labor of Love

Complete Crimson Days Triumphs.

Heart's Desire

Collect each of the Crimson Days rewards offered by Lord Shaxx.

I'm with You

Complete Crimson Days matches.

Love Conquers All

Win Crimson Days matches.

Homewrecker

As a fireteam, defeat Guardians while they are affected by the "Reunited" buff. May be completed only within the Crimson Days playlist.

Divide and Conquer

As a fireteam, defeat Guardians separated from their partner. May be completed only within the Crimson Days playlist.

Heartless

As a fireteam, defeat Guardians while they seek vengeance for their fallen ally. May be completed only within the Crimson Days playlist.

Love Avenged

Earn Blood for Blood medals by avenging your fallen ally. May be completed only within the Crimson Days playlist.

Looking for Love

Complete Crimson Days bounties.

Two to Tango

Complete a Nightfall in a fireteam of two.
PLEASE NOTE!

Triumphs for Crimson Days 2020 that have been unlocked but not claimed will become inaccessible after Crimson Days ends at the weekly reset on February 18, 2020. In order to players to ensure that they receive credit for these triumphs, they must claim them as soon as they are completed.
Crimson Days Vital Information and Known Issues
For the latest information on known issues discovered after Crimson Days has gone live on February 11, 2020, players should visit our pinned top issues and vital information thread on the #Help forum.
Guide above via Bungie Website