__
Apr 21 – May 11 for ALL Destiny 2 players!
Info and Help: Website | Guide
---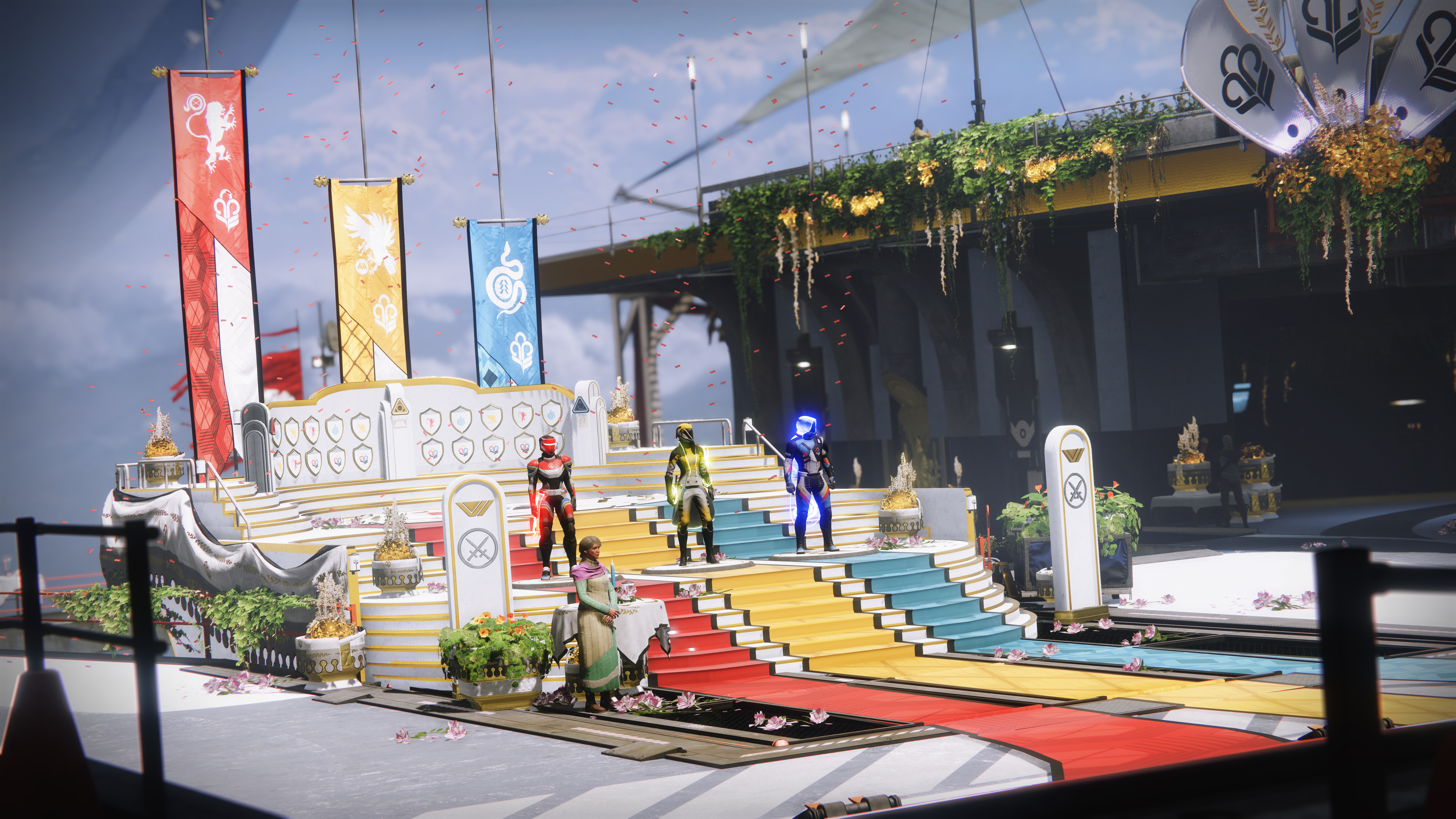 __
EVENT // YOUR CHANCE FOR GLORY
The Vanguard has secured a ceasefire with the Cabal Empress Caiatl and humanity enjoys a brief moment of respite. Eager to celebrate Guardians and lift spirits, Zavala sounds the call to competition and the class banners are raised around the Tower. The Guardians Games have returned and glory awaits.
---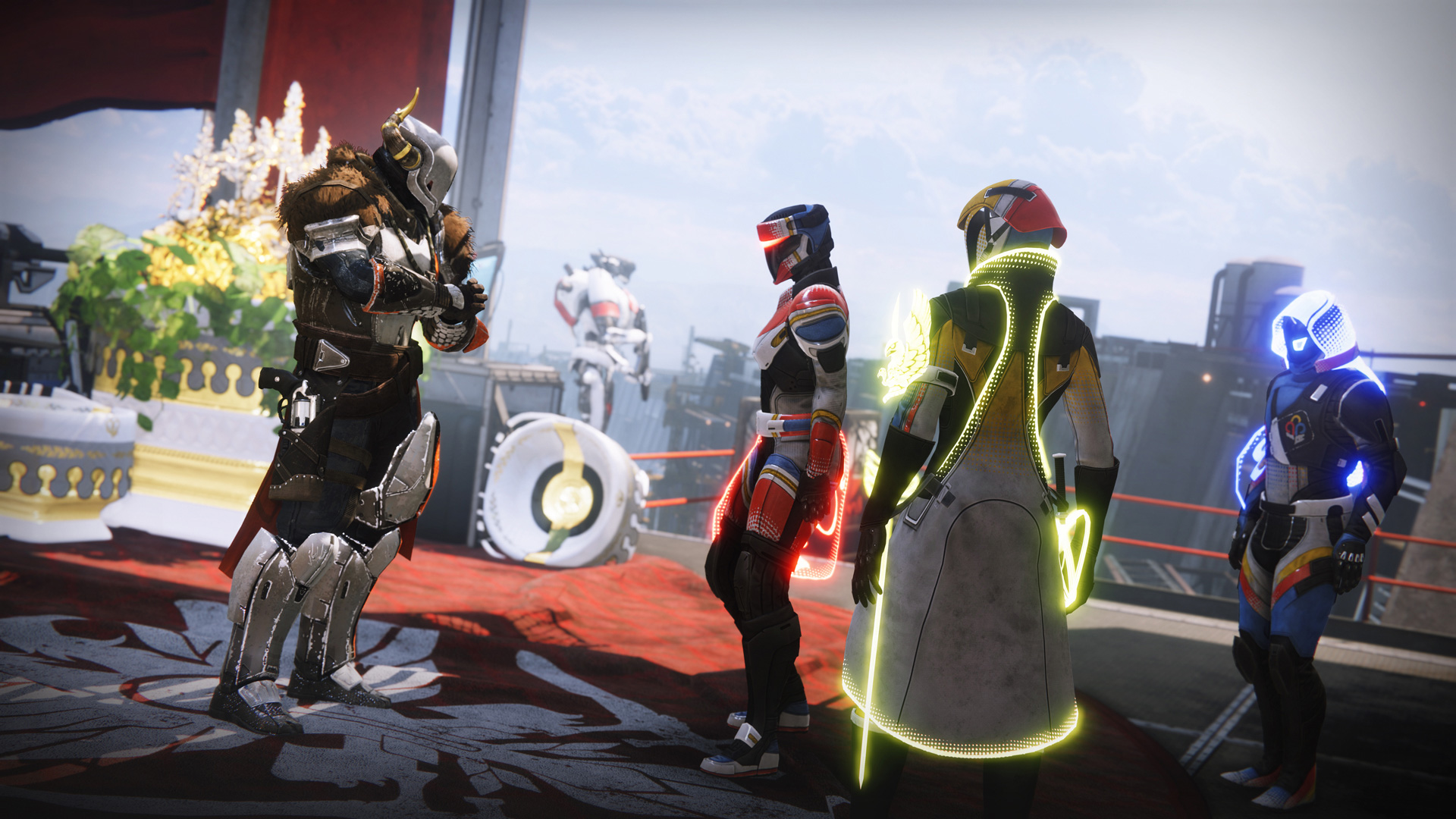 __
COMPETITION // HEAD OF THE CLASS
Titans dominated the last Guardian Games. Ever since, Hunters and Warlocks have been preparing for the annual challenge of skill, bravery, and resolve. Earn medals from Eva Levante by completing Contender Cards and Triumphs. Each week is a new chance to be recognized as the top class in the Games.
---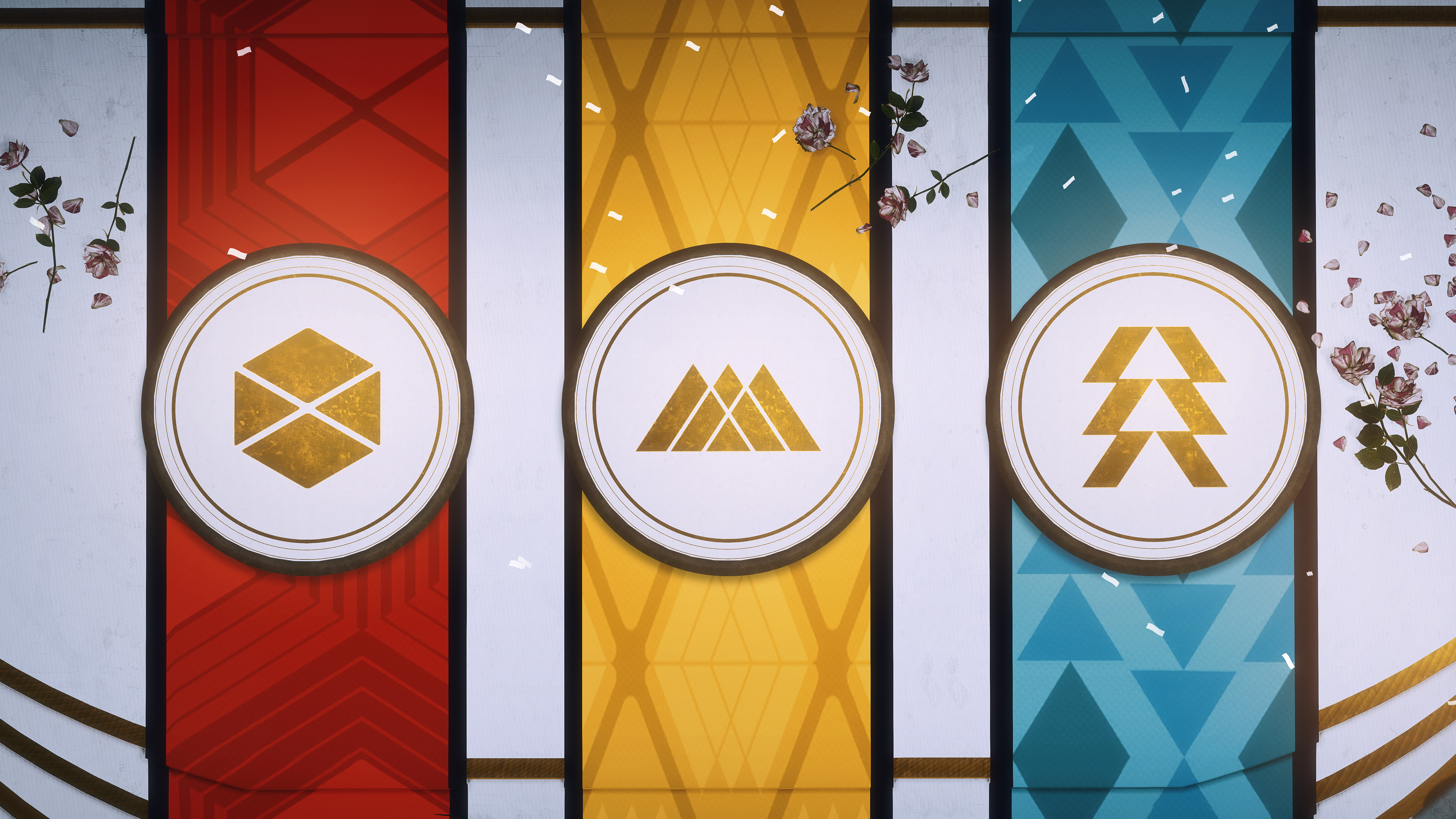 __
CLOSING CEREMONIES (MAY 7 – 11) // CLAIM THE PODIUM
Each weekly podium ceremony will grant Guardians with distinctive gold, silver, or bronze auras, which will last the rest of the week. The winning class will be recognized at the Guardian Games Closing Ceremonies (May 7-11), complete with resplendent fireworks and a trophy displayed in the Tower all year long.
---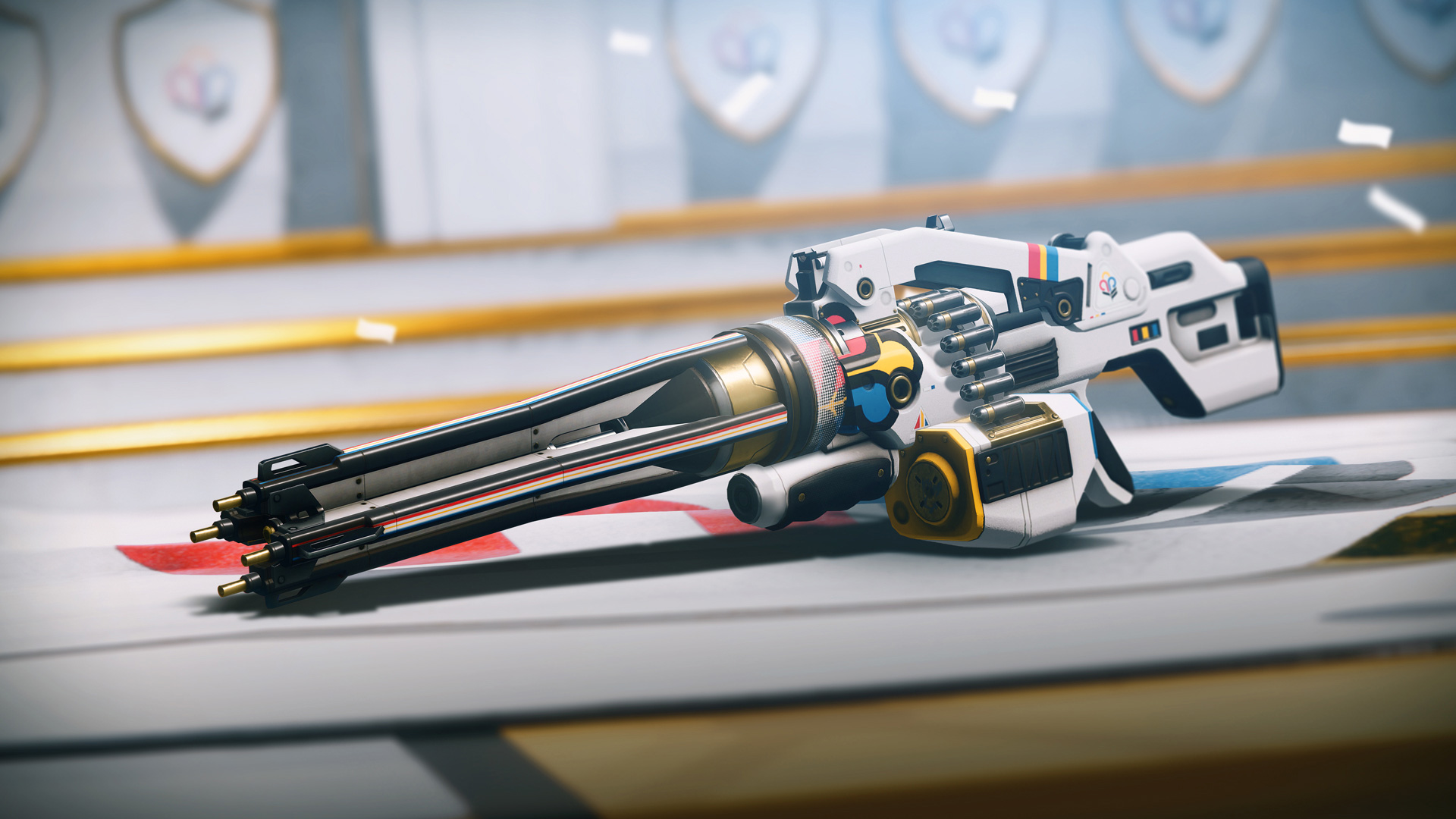 __
REWARDS // THE SPOILS OF VICTORY
Winning is its own reward, but equipping a powerful Exotic is even better. Earn the Heir Apparent Exotic Machine Gun and its catalyst, an Exotic Sparrow, plus Legendary class items (one per class), two emblems, and a pair of shaders.
---
__
BUNGIE REWARDS // ON TRACK
Show off your Guardian Games 2021 colors with unique items from Bungie Rewards. Unlock the new Exotic Sparrow for a chance to purchase a fresh new Guardian Games track jacket. Participate in the final weekend's Closing Ceremonies at the Tower to unlock a purchasable gold pin commemorating the winning class. Don't want to wait? Silver class pins are available now at the Bungie Store while you compete with your fellow Guardians to achieve gold.
Emblems:
Bungie Rewards will have a free emblem commemorating the games. Complete a Guardian Games Playlist Strike during the event to unlock your free reward.
Guardians can now complete the final Seasonal Challenge week. As part of Bungie Rewards, you can redeem the free "Thrill of the Chase" emblem as you complete the Master of All Triumph.
>> Learn more about Bungie Rewards
---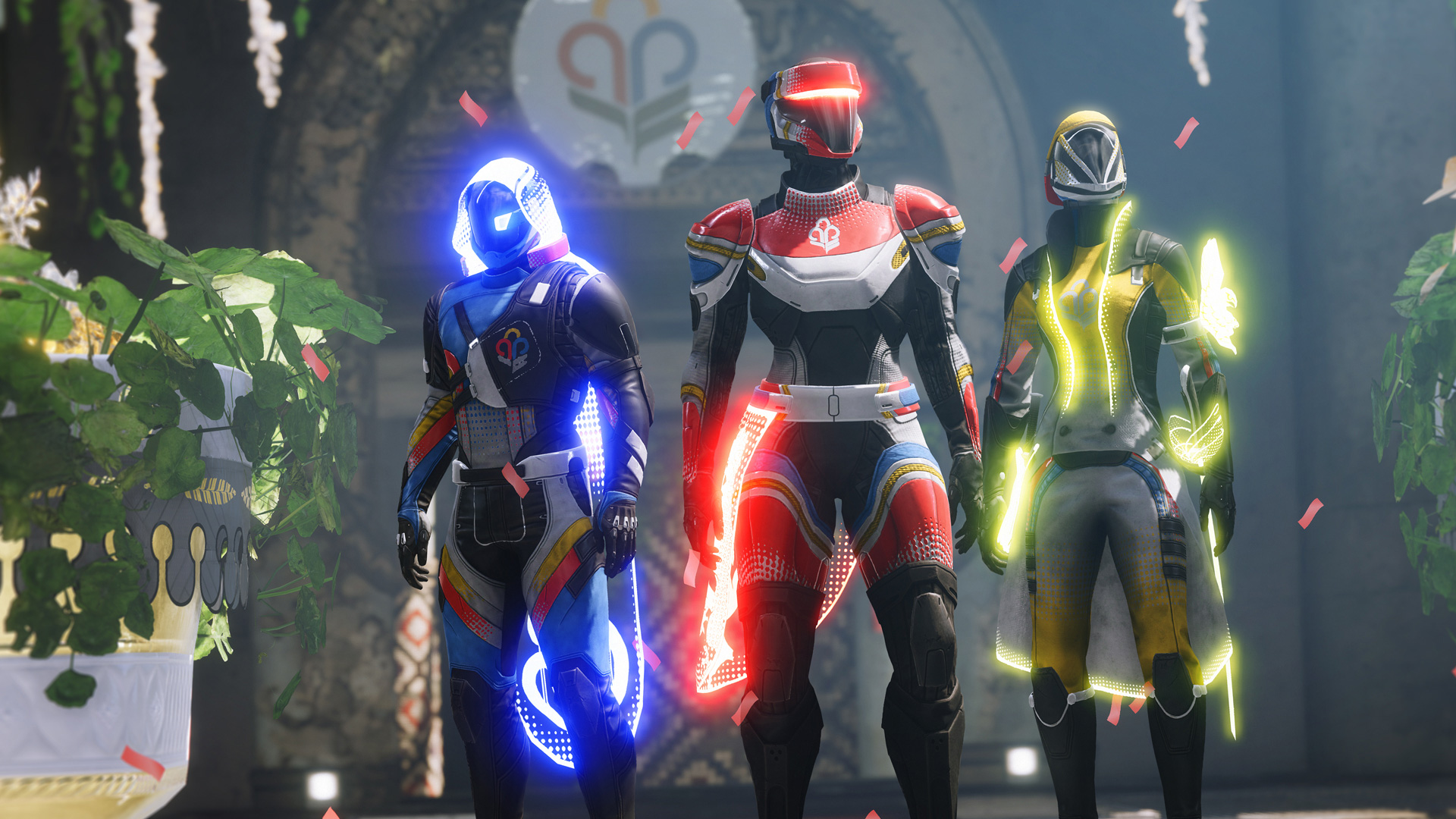 __
EVERVERSE // GLOW UP
Represent your class with pride with a new Guardian Games Universal Ornament Set featuring glowing class items! Plus a new weapon ornament for Heir Apparent, sporting Exotic emotes, and more.
---
__
GUARDIAN GAMES SCORING AND INFO
How the scoring will work this year.
Medals have the following values:
Bronze: 1 Point
Silver: 2 Points
Gold: 5 Points
Platinum: 15 Points
Bungie still has to account for different class population, so this year the class that comes in third place each day gets a permanent 10% bonus on scoring going forward.
Bungie has tested this new scoring system using last year's data and a few other data sets and it seems to provide a more competitive Guardian Games where we see different classes winning throughout the event. Hunters will likely win early on because of their population advantage but as the bonuses kick in, the competition should tighten up quickly.
New Guardian Games Playlist 
Another new addition to this year's event is the Guardian Games Strikes Playlist. This is like the standard Vanguard Strikes Playlist but will group players together by class. This feeds into the Laurel collecting mechanic where players have a chance at bonus Laurels when they pick up a Laurel generated by a player of the same class.
Modifiers
This new playlist will have gameplay modifiers added based on the previous day's class standing. Classes will get a beneficial modifier tied to gold, silver, and bronze placement.
Gold: Health, shields, and recovery are increased. Kinetic weapons deal more damage.
Silver: Melee abilities recharge faster. Elemental damage increased from Guardian sources. More Heavy ammo available.
Bronze: Grenade abilities deal more damage and recharge much faster. Elemental damage increased from Guardian sources.
There are also negative modifiers added to the playlist to make things a little more challenging for the leaders. The gold class gets two modifiers, and the silver class gets one. These modifiers are themed around the classes that finished lower on the podium.
| | | |
| --- | --- | --- |
| | Bronze | Silver |
| Titan | Combatant melee attacks deal more damage. | Combatant melee attacks deal significantly more damage. |
| Warlock | Incoming damage increased while airborne. | Incoming damage significantly increased while airborne. |
| Hunter | Radar is disabled. | Radar is disabled and combatants don't flinch when damaged. |
Silver classes only get the modifier from the bronze class below them. Gold classes get a combination of both silver and bronze.
Thematically, Bungie is going for an experience where the Guardian Games Strike Playlist is the venue for players hoping to jockey their classes' podium placement as it will likely be one of the most efficient ways to earn Laurels.
Medal Case
You will receive a medal case from Eva to store your hardware until you are ready to visit the podium in the Tower to bank them for your team. Once you have the maximum medals for a certain type in your case, make sure you go turn them as any more earned for that type will be lost. Turning in medals will give you a chance at receiving an event package depending on the medal type.
Contender Car
This year Bungie is introducing a new way to earn points for your team called Contender Cards. You will be able to pick these up from Eva in exchange for Laurels and can have one active at any given time. Completing objectives in strikes, Crucible, and Gambit will grant a Gold Medal upon completion.
There is also a special Platinum Contender Card that will focus on completing objectives in Nightfalls, Survival, and Trials. This will be the only way to earn Platinum Medals. Completing a Platinum Card will earn you All-Star status and a special reward at the next podium ceremony.
Make sure you complete your Platinum Contender Card before daily reset on Friday if you want to lock in your All-Star status for the weekend.
Podium Ceremony
Every weekend there will be a special ceremony where you will be able show off a glow from your class item depending on your class' standing that week.
Third place receives a bronze glow.
Second place receives a silver glow.
First place receives a gold glow.
All-Stars receive a platinum glow.
Bungie will be throwing a special final weekend closing ceremony in the Tower that will be live from May 7 to May 11 to celebrate the winning class!
Source: This Week at Bungie – Apr 15, 2021
---
__
GUARDIAN GAMES GUIDE via Bungie
Check out the full Guardian Games Guide by Bungie at help.bungie.net/hc/en-us/articles/360048722852-Destiny-2-Guardian-Games.
Known Issues 
Before Guardian Games 2021 launches on April 20 Bungie wants players to be aware of certain issues and information before logging in the first time:
Players must wear their Guardian Games class item to generate Laurels and progress any Guardian Game bounties.
Previous Guardian Games class items (the Cunning Rivalry Cloak, Mighty Rivalry Mark, and Sage Rivalry Bond) will not generate Laurels or progress any Guardian Games bounties.
Class items acquired from Zavala are awarded at 1250 Power Level instead of 1300, which can be acquired from Eva.
Laurels do not drop on the ground in Gambit or Crucible and are instead rewarded directly to players.
Unrecovered Laurels do not go to the Postmaster and must be picked up to count.
If the Medal Case is full, Medals earned through claiming Triumphs will be lost.
The Laurel acquisition step of Heir Apparent Exotic Quest only counts Laurels picked up off the ground.
Players will not be able to deposit Medals if they were acquired in the Tower after players have already deposited Medals of the same rarity. Players can return to orbit and head back to the Tower to deposit those Medals.
Certain shaders may erroneously remove the glow from the Eververse Warlock Guardian Games Universal Ornament set.
For more information, please visit the Guardian Games support page.
This page may be updated periodically with new/more information.