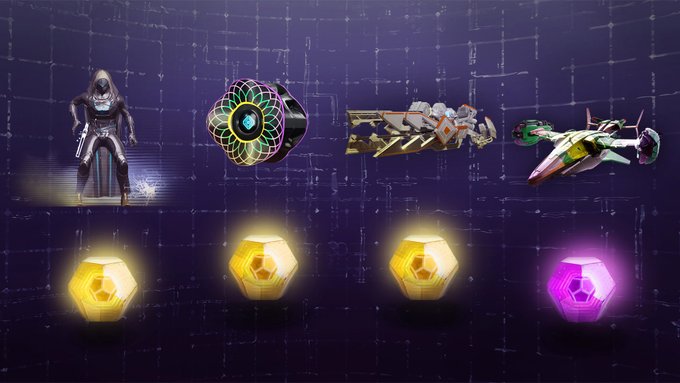 __
TWITCH PRIME REWARDS + DESTINY 2
Twitch Prime Drop #8 is Available Now!! (Stay tuned to this page, more drops coming soon!)
If you do not have a membership, you may start your free trial here – This link supports Kyber3000 with a credit for each sign up. (visit this page to start your free trial and support Kyber at the same time or to sign up without using a link that supports Kyber with a small commission click here).
Once you have signed up, visit this page and link your Bungie.net account to start receiving your monthly gear drops. Each drop will contain four rewards, including Exotic weapons, Ghosts, ships, Sparrows, emotes, and weapon ornaments from previous Seasons.
Standoff Exotic Bundle Drop:
Standoff Exotic Emote
Neon Helix Shell Exotic Ghost Shell
Vespulaser Exotic Sparrow
Egbe-01X Legendary Ship
(If player doesn't work for you, click here to watch it)
When a gear drop is available, eligible players can claim the rewards here. Once claimed, follow a visual indicator to Amanda Holliday in the Tower's hangar. Amanda will have the rewards available in her inventory. As long as you claim the rewards on the Twitch Prime page by 10:00 AM on the last day of the drop, the gear will still be available from Amanda after the deadline.
---
SIGN UP FOR TWITCH PRIME 
Twitch Prime Loot Drops are available now for Destiny 2. If you are not currently a member of Prime, all new members can get a FREE TRIAL! (Cost: $12.99 monthly, after trial ends. Cancel at any time!)
Claim monthly free games and in-game loot
Exclusive in-game loot for some of your favorite games
Free games included with Twitch Prime
Limited time promotions you won't want to miss
Free Twitch channel subscription ($5 value) every month
Reign supreme with a Prime members-only chat badge
Exclusive Twitch chat colors and emotes
Shopping on Amazon.com is fast and convenient with free two-day shipping.
Watch your favorite movies and TV shows including award-winning Amazon Originals.
Listen to over 2+ million songs, ad-free on any device.
If you would like to sign and want to support me at the same time, you may do so by using my Amazon Affiliate link >> Amazon.com/shop/kyber3000 or to get Prime without using my link visit twitch.amazon.com/prime (On my Amazon page you will see some products I got for my first PC build and there should also be a banner to sign up for Twitch Prime, click on this to sign up.) Your support is appreciated!
Note: I will receive a small credit/portion of the sale, whenever someone signs up for Twitch Prime or buys eligible items from Amazon.com when using my link.