Pardon the dust while we update this page.
AUG 22 – NOV 28, 2023
"To pursue the Witness, Eris Morn must turn to the magic of the Hive and accept a deal that Savathûn crafted before her death. To honor our end of the bargain, Guardians must become masters of the arcane and harness the power required to defeat a god."
---
Included in Season 22
New Story
New Season Pass
New Seasonal Activities
Crota's End Reprised Raid (Free-to-Play)
PvP Map: Multiplex
Crucible modes: Checkmate and Relic
New Strand Aspects
New Weapons & Armor
Exotic Mission Rotator
Vanguard Medals arrive in Vanguard Ops and Nightfalls.
More Battlegrounds coming to the Nightfall rotation
Armor and Weapon updates
PvP Matchmaking Improvements
Quality of Life upgrades

Includes Cosmetic favoriting, Transmat unlocked like shaders, Wish-Ender pursuit improvements, Resources tab, Ritual Rank Ups immediately.

Crafting changes
and more!
*Some seasonal content will require the paid Season Pass for Season 22. The Season Pass is included with Lightfall + Annual Pass or the Season Pass may be purchased from the Eververse Store in-game once the Season has begun.
---
---
---
New Matchmade Activity
Savathûn's Spire
Power the spire, defeat its custodians, and gain access to the Altars of Summoning.
---
Rewards
New Exotic Lost Sector Armor
Drops from completing Legend/Master Solo
Slide 1

Winged Eclipse: Your grenade becomes a cage of loyal moths that release on impact and fly toward the nearest target or ally. If they reach a target, they detonate in a blinding explosion; if they reach an ally, the moths grant your ally a Void overshield.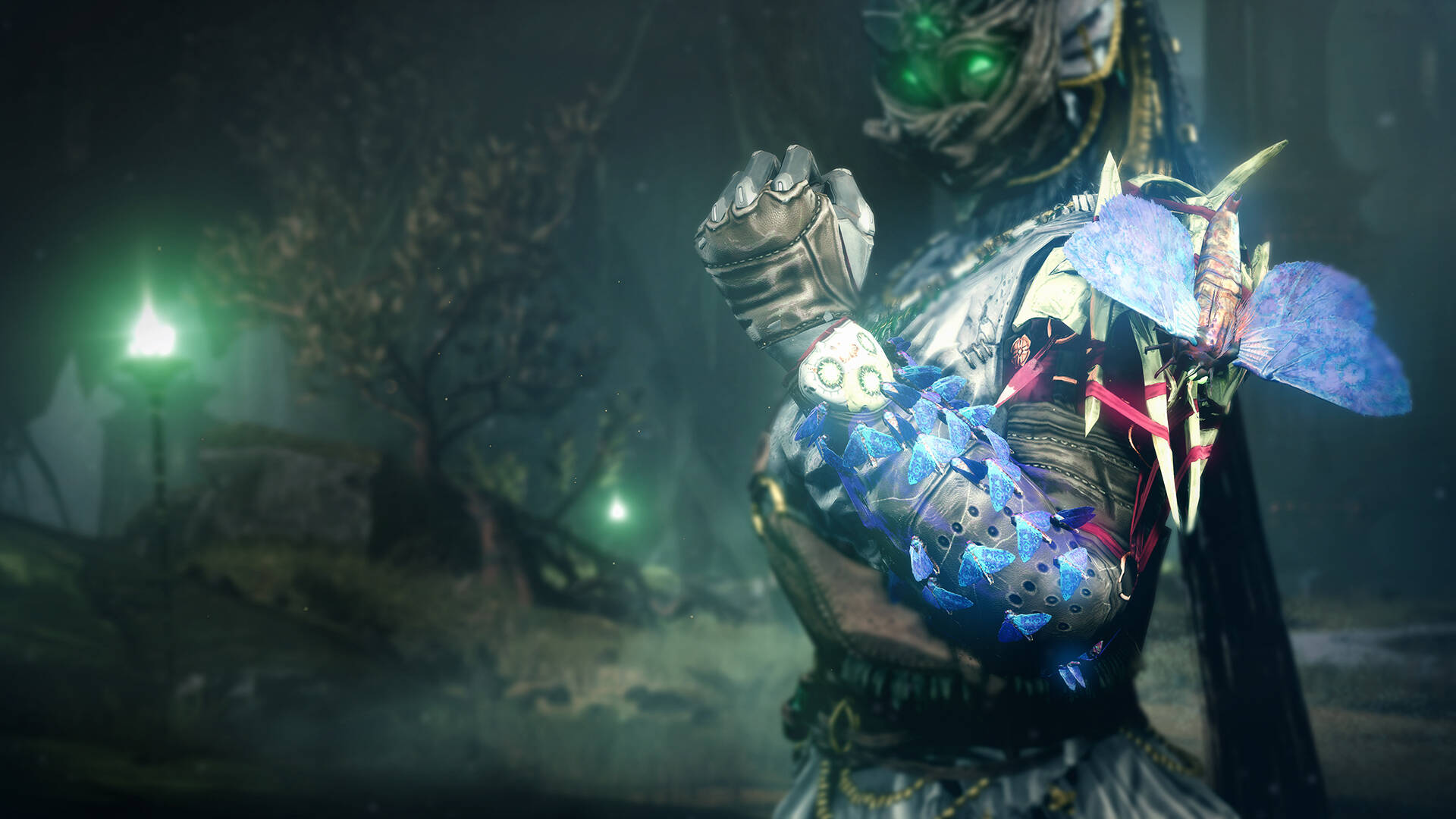 Slide 1

Percussive Flames: Modifies Burning Maul into a single high-damage slam of your hammer that creates five cyclones of flame. Consecration's second slam creates a cyclone of flame.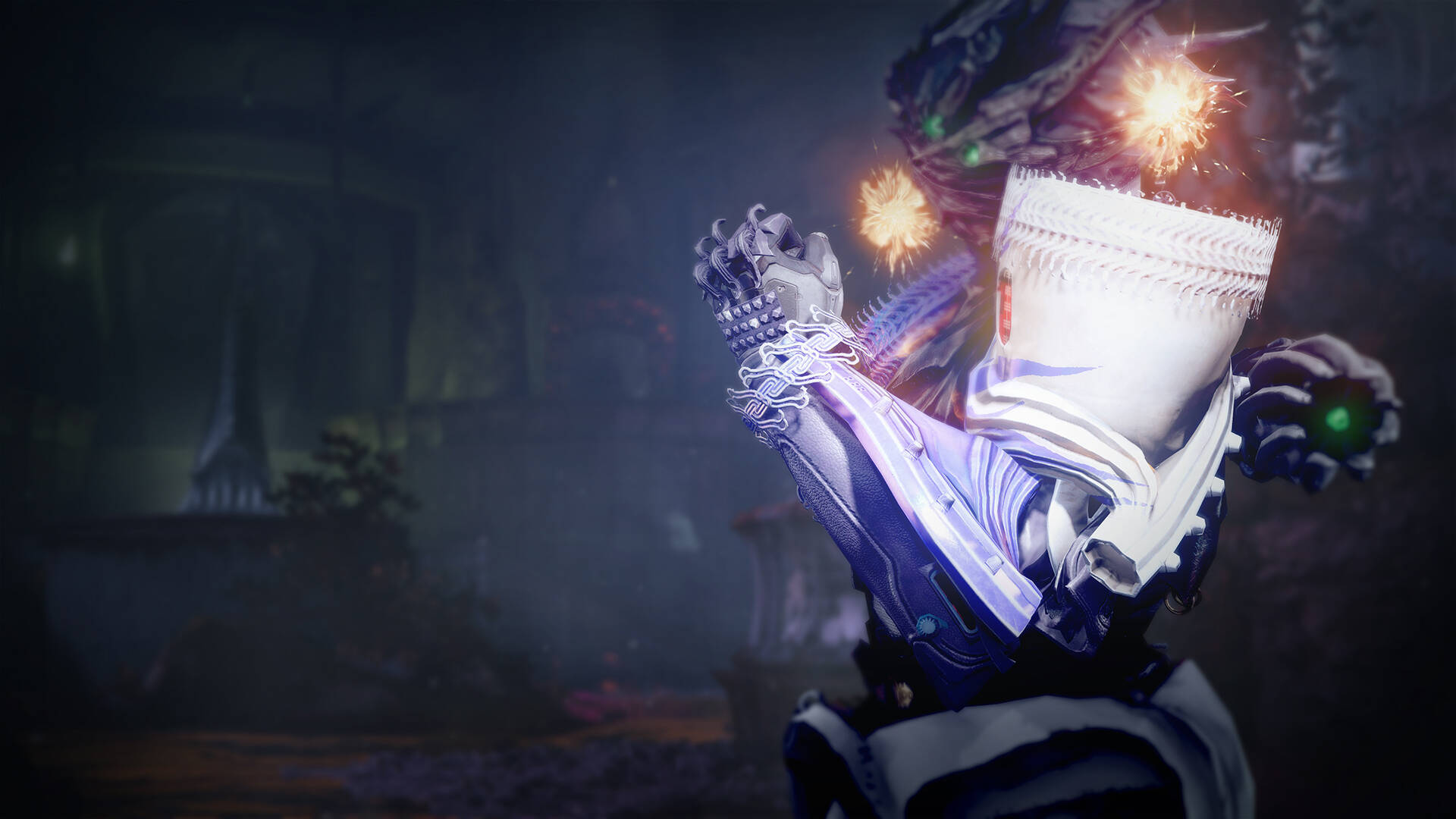 Slide 1

One with the Void: Your Void Souls have a longer duration. They also gain escalating damage and durability as they defeat targets. You can retrieve your Void Souls by interacting with them, allowing them to be redeployed.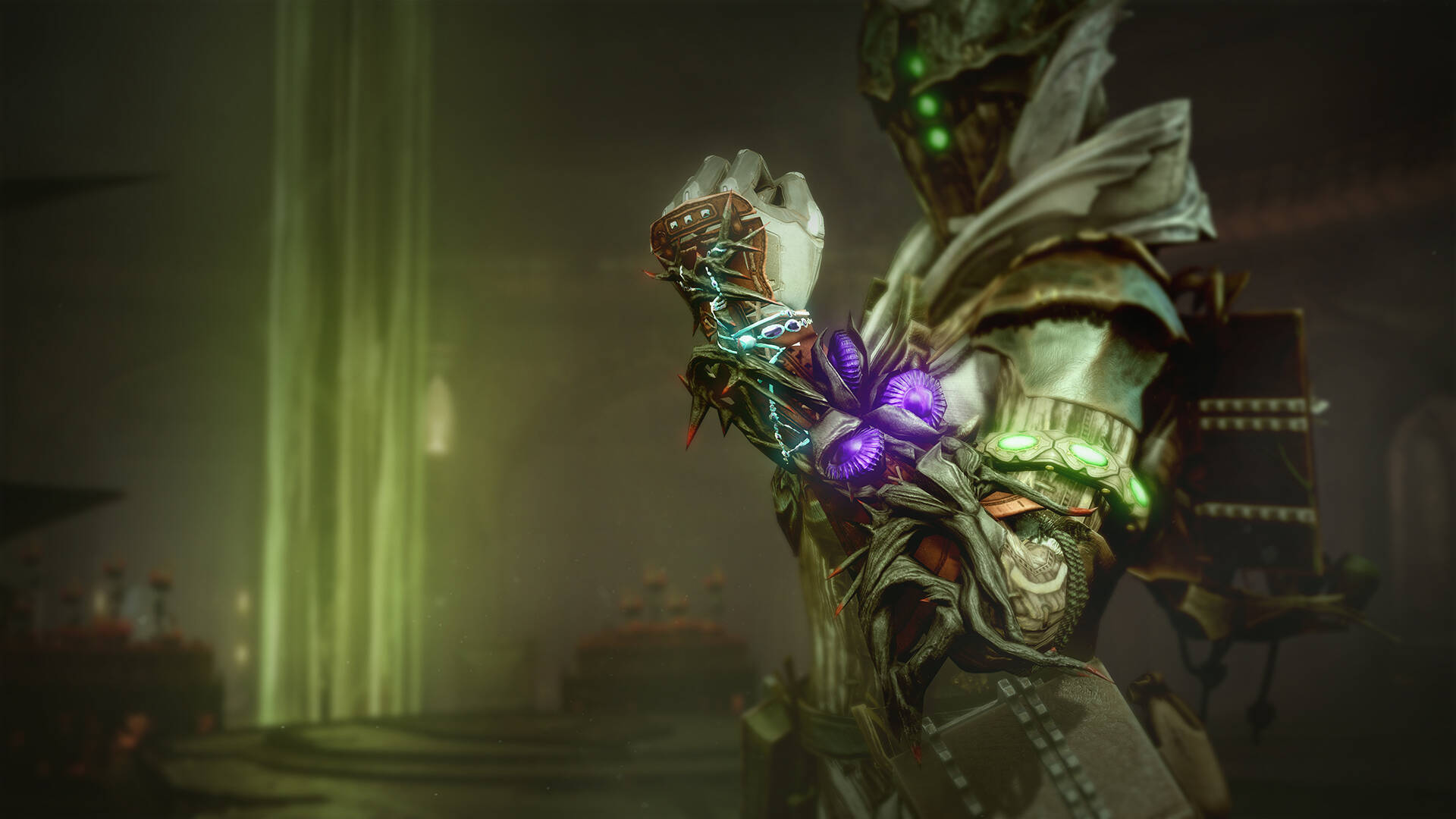 ---
Season 22 Ritual Weapons
Crucible
Strikes
Gambit
Nightfall
Iron Banner
Trials of Osiris
---
---
Artifact Perks
Slide table to view more perks. Once Season 22 goes live we will add links to view more details on light.gg as well as icons.
Your equipped Auto Rifles fire shield-piercing rounds and stun Barrier Champions. Additionally, Auto Rifles are always overcharged when that modifier is active.

Combines the Arc and Strand Siphon mods into one.

Strand weapon final blows have a chance to generate a Tangle.

Uninterrupted fire from your equipped Machine Gun stuns unshielded combatants, delaying ability energy regeneration and lowering combatant damage output.


Strong against Overload Champions. Additionally, Machine Guns are always overcharged when that modifier is active.

Dealing elemental ability damage increases matching weapon damage, and elemental weapon damage increases matching ability damage. Bonus granted is 10% for 5 seconds.


Solar/Strand

Siphon Combo

Origin Perk

Specialization II

- Bows gain shield-piercing arrows, which bypass combatant defenses.


- Bows gain shield-piercing arrows, which bypass combatant defenses.


- Strong against Barrier Champions. Additionally, Bows are always overcharged when that modifier is active.

Combines the Solar and Strand Siphon mods into one.

Weapons with the Head Rush, Nanotech Tracer Rockets, Unsated Hunger, and [REDACTED] Origin traits are always overcharged when that modifier is active.

While stunned, Champions take bonus damage from your abilities and Elemental Orb damage

Rapid precision hits made from long range weaken the target.

-Aiming down the sights of a Scout Rifle for a short time loads a powerful explosive payload that stuns unshielded combatants.


- Strong against Unstoppable Champions.

- Additionally, Scout Rifles are always overcharged when that modifier is active.


Combines the Void and Strand Siphon mods into one.

While using a Void subclass, Void weapon final blows have a chance to spawn a Void Elemental Orb. Void Orbs can be thrown to create a Void explosion that makes enemies it damages volatile.

When an ally destroys or picks up your Tangle or Elemental Orb, the Tangle cooldown is reduced by 5 seconds, and you gain bonus damage with weapons matching your subclass for 10 seconds.

Subclass elemental buffs grant you bonus recovery and damage resistance against combatant attacks of the matching element type.

Origin Perk

Specialization I

- Landing consecutive hits with any Hand Cannon you are wielding disrupts combatants, stunning them, delaying ability energy regeneration and lowering combatant damage output.


- Strong against Overload Champions. Additionally, Hand Cannons are always overcharged when that modifier is active.


Greatly improves the benefits provided by the Head Rush, Nanotech Tracer Rockets, Unsated Hunger, and [REDACTED] Origin traits.

While using an Arc subclass, Arc weapon final blows have a chance to spawn an Arc Elemental Orb. Arc Orbs can be thrown to create an Arc explosion that jolts targets it damages.

Picking up a Tangle or Elemental Orb grants energy to your least-powered ability.

Combatant final blows with Tangles or Elemental Orbs have a chance to drop Special or Heavy ammo.

- Aiming down sights for a brief period with any Fusion Rifle you are wielding loads a powerful explosive payload that stuns unshielded combatants.


- Strong against Unstoppable Champions. Additionally, Fusion Rifles are always overcharged when that modifier is active.


All Scavenger mods are discounted.

While using a Solar subclass, Solar weapon final blows have a chance to spawn a Solar Elemental Orb. Solar Orbs can be thrown to create a Solar explosion that scorches targets it damages.

If you have fewer than 2 stacks of Armor Charge, rapid precision shots with Bows, Snipers, and Scout Rifles generate an Armor Charge.

Your Armor Charges grant bonus damage to your thrown Tangles or Elemental Orbs. Your Armor Charge now decays over time.

"One final note: The perks Overload Machine Guns and Overload Hand Cannon do not currently overcharge those weapons when that modifier is active – this is an unintended bug. Anti-Barrier Bow and Unstoppable Fusion Rifle will overcharge their weapons, but this is not currently reflected in their in-game descriptions. These issues will be corrected in a later patch. Stay tuned to @BungieHelp for more information in the future."
---
Sandbox Changes
Here's a look at changes Bungie has discussed over the past month or so.
Exotic Armor Updates
All information below is from/by Bungie. We recommend checking out the full article for a more detailed look at changes.
Hunter
Knucklehead Radar: The functionality of the Foetracer Exotic helmet has been completely removed from that Exotic and added to Knucklehead Radar, on top of its existing benefits.
Foetracer: We took some cues from the popular Monochromatic Maestro artifact perk for this one. When you deal damage with one of your abilities, you gain a damage bonus with weapons that have damage types matching your subclass damage type. Additionally, when you defeat an enemy you've damaged with one of your abilities (either with another ability or with a weapon with a damage type matching your subclass type), you will spawn one of the collectible objects associated with your subclass, such as Ionic Traces or Firesprites.
Lucky Raspberry: This Exotic was a little too unreliable in its current form, so we've taken a crack at streamlining its energy gains, while leaving some of its benefits intact. The Exotic still expands the chaining capabilities of Arc Bolt grenades. But now instead of basing the grenade energy gains on those chains, each time you damage an enemy with the lightning strikes from the jolted condition—as well as each time you pick up an ionic trace—you gain additional grenade energy. We've also given this grenade the intrinsic ability to stun Overload Champions. Now you don't have to jolt them and then trigger the jolt lightning strikes just to stun them, making these grenades a more reliable tool against Overload Champions.
Renewal Grasps: We've undone the previous nerf to Duskfield grenade cooldowns when using this Exotic.
Titans
Icefall Mantle: Grants an escalating bonus to Stasis weapon damage when getting rapid Stasis kills. When you activate your class ability, you immediately gain the highest tier bonus.
Doom Fang Pauldrons: Grants an escalating bonus to Void weapon damage when getting rapid Void kills. When you get a Void melee kill, you immediately gain the highest tier bonus.
Path of the Burning Steps: Getting a Solar Grenade kill now grants the highest tier Solar weapon damage bonus.
Eternal Warrior: Since the exotic only grants its highest tier damage bonus automatically when your Super ends (which is a rarer occurrence), the duration of the Arc weapon damage bonus when your Fist of Havoc Super ends has been extended to 30 seconds (up from 10 seconds in Season 21).
ACD/0 Feedback Fence: This Exotic got a complete mechanical rework and now ties into the Armor Charge system, increasing its versatility and making it more useful in scenarios where you might not be taking a lot of melee damage. With the new perk (which completely replaces the old), when melee hits give you an Armor Charge, you take reduced melee damage while you have that Armor Charge. Taking melee damage causes you to emit a burst of damaging Arc energy that jolts targets, consuming your Armor Charge and dealing more damage based on the number of stacks consumed. (Note that the damage dealt by the burst of Arc energy should be comparable to its current damage for 0-3 stacks of Armor Charge.)
Hallowfire Heart: This Exotic often stands in the shadow of the more ubiquitous Heart of Inmost Light. To remedy that, we've removed its base energy to Solar abilities and replaced it with a perk that will let you build more into Sunspots. We think you'll be seeing many more Sunspots on the battlefield as a result. As for the perk that greatly increases your ability regen rate when your Super is fully charged, we left that as-is.
Warlocks
Astrocyte Verse: edited on 8/9/23 11:00 AM PT. We've added two more pieces of functionality to this Exotic. Enemies near you when you Blink become volatile. Additionally, when you're using the Nova Warp Super, the Dark Blink ability no longer consumes Super energy.
Geomag Stabilizers: While we've often heard calls to restore the perk that let you top off your Super energy by sprinting, the legacy of that incentive still creates some pretty silly play patterns. Instead, we wanted to give players a way to get more Super energy, no matter how charged their Super is. Now picking up an ionic trace while wearing this Exotic will grant Guardians additional Super energy.
Wings of Sacred Dawn: Leaning into the "orbital weapons platform" fantasy, we wanted to help players have a way to stay aloft longer (especially in target-rich PvE environments). Typically, reloading was the main cause for a float to end. This Exotic now automatically reloads Solar weapons (including the weapon you are holding) from reserves each time you get a kill while aiming down sights. Try this one out with Xenophage!
Winter's Guile: Due to the nature of the Stasis warlock's melee ability, this Exotic was previously a disappointing choice for that subclass. We've added a new perk to this one, specifically for when you are playing your Stasis subclass. Now combatants encased by your Penumbral Blast melee will automatically shatter after a short delay.
OTHER RELATED ARTICLES
📰 State of the Game – Changes Coming in Season 22 and Beyond
This weekend, we're sharing an article that highlights different sections of the State of the Game. For the time being check out the full article here.
HIGHLIGHTS
Ritual
Season 22 boosts weekly ritual rewards to Exotic engrams for reliable materials.
Players can complete nine ritual challenges in any ritual playlist.
Get more ritual engram drops after activities.
New ritual loot pool introduces weapons like Unending Tempest, Luna Regolith III, Qua Xaphan V, Cataphract GL3 Strand, and more.
Returning favorites include Igneous Hammer and revamped Warden's Law as a Nightfall reward.
Crucible Updates
Vex Network-themed map called Multiplex
New Relic 6v6 mod

Relic is a dynamic 6v6 party mode where players use special relic weapons like the Aegis, Synaptic Spear, and Scythe.
This mode will be accessible in Crucible Labs Weeks 1-4 and Week 11 onward.

New Checkmate modifier (focuses on gunplay)

Checkmate trials in Crucible Labs from Weeks 5 to 10: Control for 2 weeks, followed by 2 weeks of Survival, and concluding with 2 weeks of Rumble, all testing for Season 22.

New Competitive Ascendant Division emblem
Matchmaking improvements

In Season 22, Bungie is adjusting matchmaking for Control and Iron Banner to provide better experiences for players of all skill levels, particularly in regions with lower player counts or during less active periods.

Loose Fireteam Matchmaking is being added to the Crucible rotators and Labs.
Lobby Balancing
and more
Season 23
New Competitive Division weapon reward: Brand-new Häkke Aggressive Frame Strand Pulse Rifle

"The Mercurial Overreach Adaptive Frame Arc Sniper Rifle will remain available for competitors throughout Season 22."

The Citadel reprisal
Additional Battlegrounds will join the Nightfall and GM Nightfall rotations in Season 22 and 23.
Vanguard
Vanguard Medals is coming to Vanguard Ops in Season 22. Medals will count towards scoring, some medals will not be available (such as some Guardians Games medals).
Active medals are chosen according to currently active modifiers, like Surges.
Gambit
"While we don't have plans to dedicate more resources to significantly transform Gambit, we do have a few updates planned for the year of The Final Shape"
Cathedral of Scars map is being added to the Gambit playlist with The Final Shape, as well as Shadow Legion and Lucent Hive enemies.
Starting from Season 22, Bungie is decreasing the quantity of Gambit-specific Seasonal Challenges.
Armor Set Rewards
"Players have pointed out that we didn't release a new armor set for the ritual playlists (Vanguard, Crucible, Gambit) with Lightfall as previously called out in our yearly release schedule. Delivering ritual armor sets at the rates we have in the past has become increasingly challenging, especially considering these sets have historically had very low adoption by players as both base armor and cosmetic ornaments."
Bungie has decided they will no longer creating a new armor set every expansion. They will be prioritizing releasing a new ritual armor set with The Final Shape. There is also a new Trials armor set coming in Season 22, check out a preview of the the Titan armor below.
Quality-of-Life Upgrades (Season 22)
Cosmetic Favoring: Pin up 100 of your favorite shader, ornaments, and emotes.
Stasis Aspects and Fragments will be available from Elsie Bray on Europa for any character who has completed the Beyond Light campaign.
Transmats will become unlocks instead of consumable.
Wish-Ender becomes a real quest.
Collections now have a Resources section. It sorts and explains all the game money, upgrade stuff, and engrams, telling you how to get them and what they're for.
Iron Banner challenges will be split into two stacking challenges.

One is to get the reputation multiplier (this does not require using specific Seasonal subclasses).
The other is for Pinnacle rewards (this does require using Seasonal subclasses).

Ritual rank-ups process immediately upon activity completion.
Sandbox Updates (Season 22)
New Strand Aspects arrive

Whirling Maelstrom for Hunter
Banner of War for Titans
Weavewalk for Warlocks

A few more underused Exotic Armor pieces will be reworked. Learn more in next week's Developer Insights article.
New weapon subfamilies will be introduced with The Final Shape. Tune into the Showcase on August 22 for a look at some in action.
Weapon Tuning (The upcoming Weapon Preview article will go over changes coming soon).

Hand Cannons: Reload faster, deal more PvE damage to minor and major enemies.
Swords: Use full-power heavy attacks with any Sword energy, improved Sword Guard.
Touch of Malice: Adjustments for player enjoyment.
Perks: Bipod, Envious Assassin, Under-Over more useful in Season 22.
and more!
"The Final Shape and its raid will provide a climactic conclusion to the Light and Darkness Saga before we look ahead to what comes next in Destiny 2."
Power Cap
Due to seeing positive feedback, the Power level cap is not being increased in Season 22.
Exotic Rotator
The new Exotic Mission Rotator will start on Day One of Season 22.

First up is Presage with Dead Man's Tale, which will be craftable!
Vox Obscura and Operation: Seraph's Shield will be added to the rotation, with their craftable Exotic weapons and catalysts.
Pathfinder
Bungie is creating the Pathfinder system to replace some bounties with a more rewarding approach. This will debut on the new destination in The Final Shape, and Bungie is exploring the possibility of replacing core ritual bounties in the upcoming year. See a preview of the work-in-progress Pathfinder UI:
In-Game LFG
New LFG Fireteam Finder feature arrives with Season 23.
Bungie will be revealing more about the features above during the Showcase on August 22.
For a deeper dive, I recommend checking out the complete State of the Game.
Here's a look at changes Bungie discussed regarding changes coming in Season 22 (click link to open).
Source: Bungie
---
Upcoming Regional Pricing Update
Effective Aug 22, 2023, prices will change in specific regions due to currency variations. USD remains unaffected, while Silver packs & expansions adjust for currencies like ARS, INR starting Sept 6, 2023. More details: http://bungie.net/7/en/News/article/this-week-in-destiny-8-17
---