__
S12 // SEASON OF THE HUNT
Nov 10, 2020 – Feb 09, 2021 
You can view your Season Pass progress and claim pass rewards in-game, on the Companion App or via the Bungie website bungie.net/7/en/Seasons/Progress. To find out which activities reward powerful gear click here.
Helpful Links
Power Caps
Soft Cap: 1200
Hard Cap: 1250
Pinnacle Cap: 1260
When you first log in next Season, all of your weapons and armor will be at 1050 Power or higher. If you have anything already over 1050 it will be unchanged, and anything under will be brought up to 1050. All new players will start at 1050 as well.
Season Pass
NOTES:
Players will need to own the Season Pass to purchase Cryptolith Lure upgrades and the Crow's bounties.
In a Wrathborn Hunt, players must deal damage to the final boss to get credit for the activity.
Starting in Season of the Hunt, new Legendary weapons and armor will have a one-year span of time (four Seasons total) that it can reach the Max Power Level through Infusion. For more information, click here.
When Season of the Hunt ends, some pursuits and activities may be removed and replaced with new rewards and themes in the next Season.
---
__
STORY // RISE OF A HIVE GOD
Entire planets have vanished. In the chaos that follows, Xivu Arath, the Hive God of War boldly moves to seize power. If left unchecked, she threatens a solar system already in turmoil. While investigating the growing threat, Osiris finds himself in need of help. Fortunately, a new – and yet familiar – ally known as the Crow joins you in the rescue…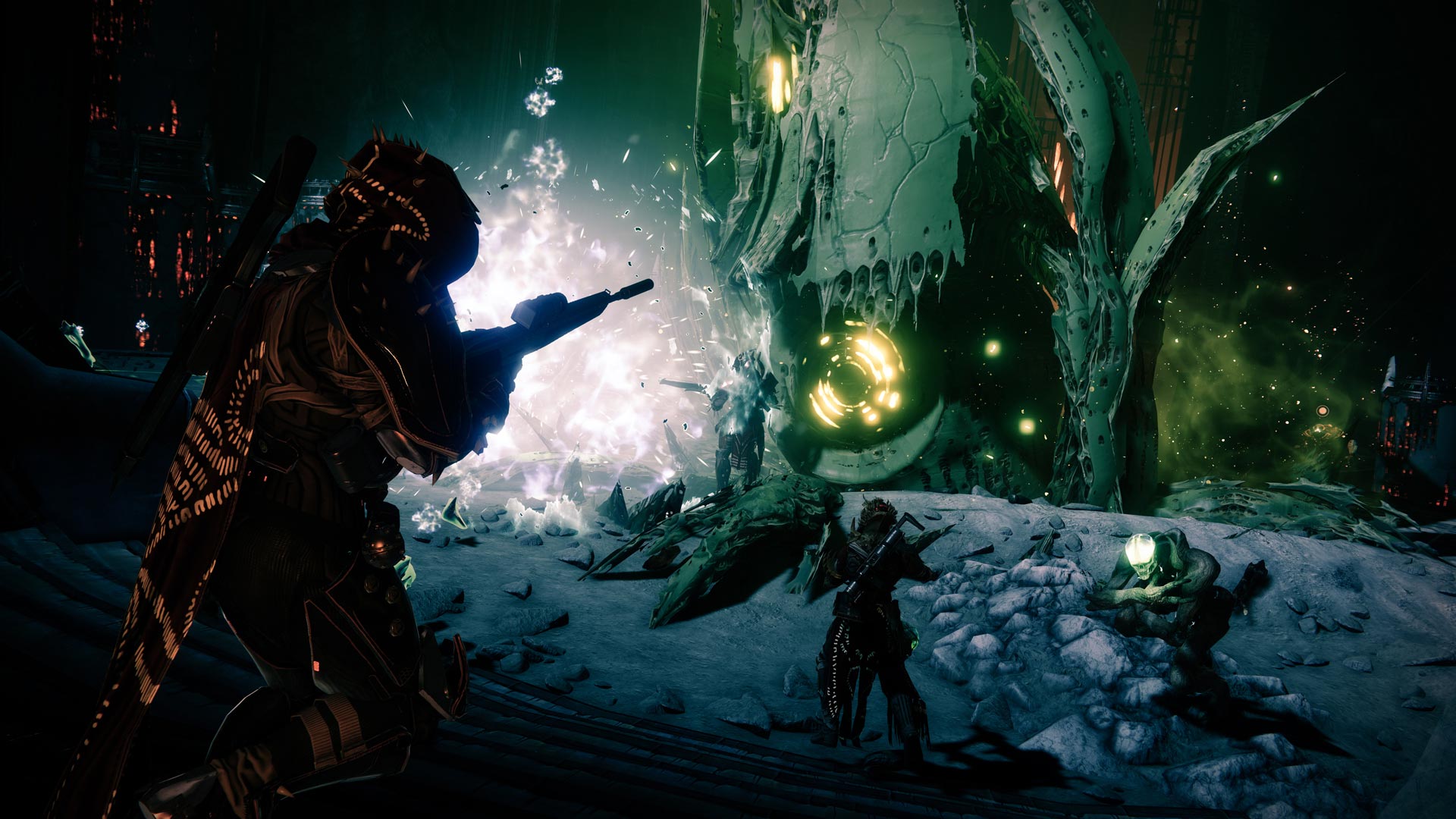 __
ACTIVITIES // THE HUNT BEGINS
Hive shrines are appearing throughout the system. The Spider has felt the effect of this disturbance and wants to strike a bargain. Work with him and the Crow to build a device that will draw Xivu Arath's lieutenants out of hiding. Once constructed, upgrade your Lure, snare your prey, and challenge the Hive god.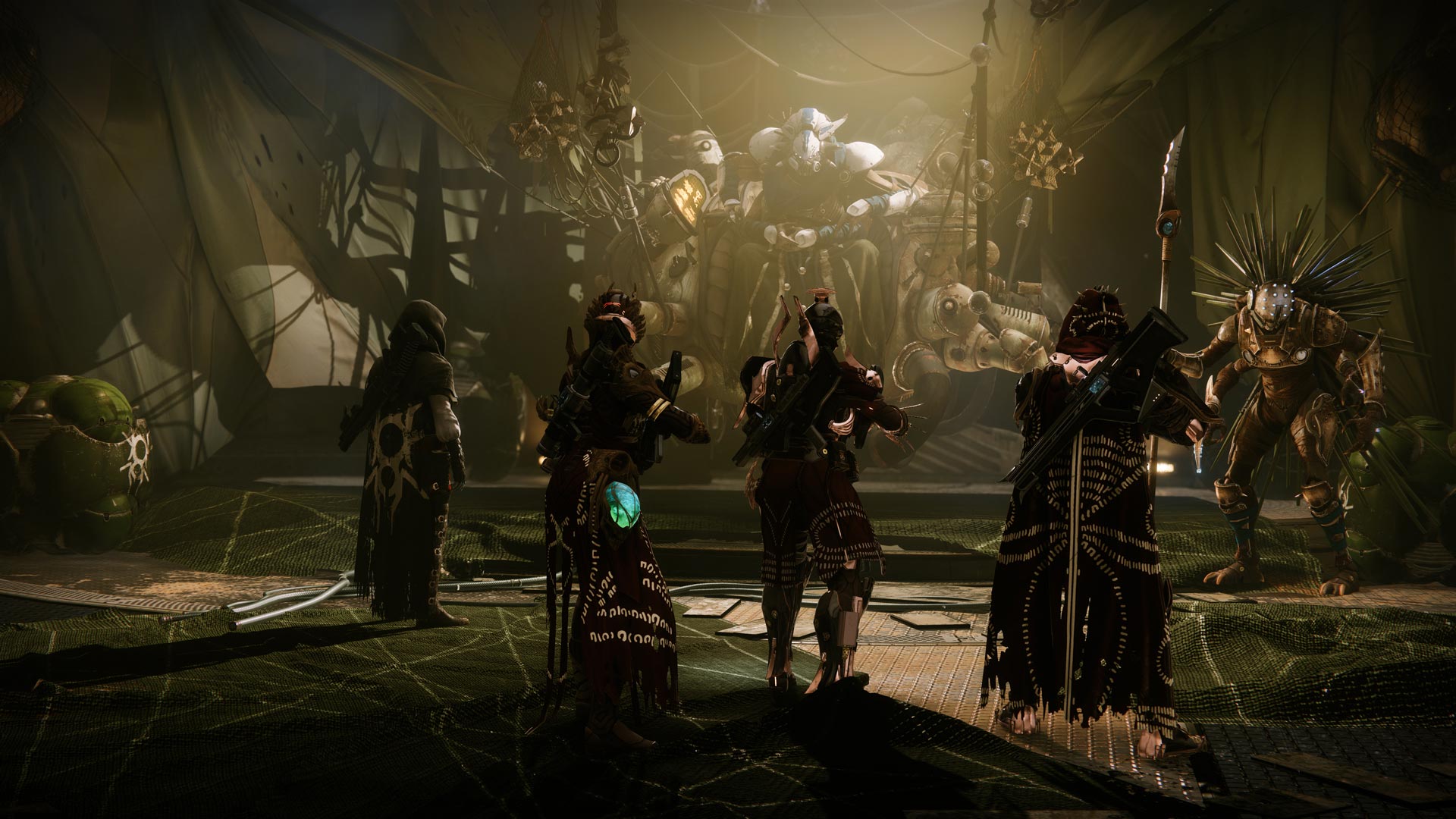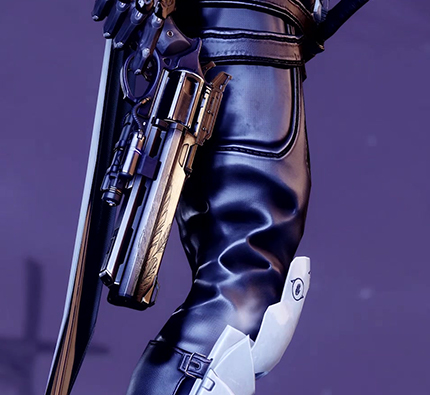 __
EXOTIC QUEST // HAWKMOON
Let loose thy talons upon the Darkness. Hawkmoon returns and your quest begins.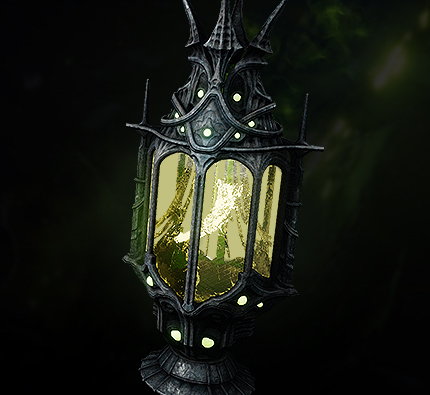 __
SEASONAL ARTIFACT // FANG OF XIVU ARATH
Pulled from the jaws of a Hive God, the Fang of Xivu Arath increases your Power every time it's upgraded. Unlock new Seasonal mods and choose new ways to customize your playstyle.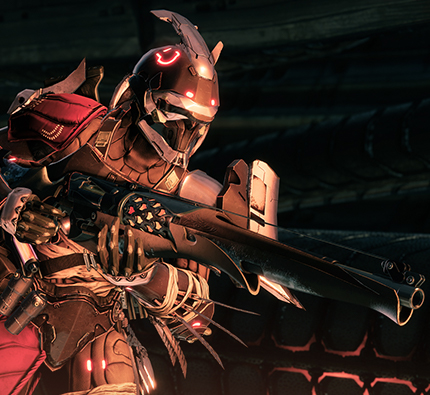 __
EXOTIC SHOTGUN // DUALITY
Calmly aim down the sights or fire wildly from the hip. Unlock the true potential of this new Exotic Shotgun by embracing its duality.
__
REWARDS // SEASON PASS
Gear, XP, rewards! Get the Season Pass and instantly unlock the new Seasonal armor set and new Exotic Shotgun, Duality. You also get an XP boost that speeds up your Seasonal ranks and engram unlocks.
DUALITY EXOTIC SHOTGUN
FREE SEASONAL ARMOR
PROGRESSION BOOSTS & EXOTIC ENGRAMS
INCLUDED WITH SEASON OF THE HUNT
Season Pass Owners
New Season Progress Track with Unlockable Rewards
New Artifact and Mods to Unlock
The Dawning
Iron Banner
Instantly Unlock Seasonal Armor Sets and New Exotic Shotgun
Hawkmoon Exotic Hand Cannon Quest
New Wrathborn Hunts Public Activity
Bonus XP
Free to All Destiny 2 Players
New Season Progress Track with Unlockable Rewards
New Artifact and Mods to Unlock
The Dawning
Iron Banner
Earnable Seasonal Armor Sets and New Exotic Shotgun
BUNGIE REWARDS
Begin your hunt and unlock the new Seal, Grimoire, and even a purchasable replica of Hawkmoon. Log in to view all the Season of the Hunt Bungie Rewards as they become available.
SEASON OF THE HUNT // SILVER BUNDLE
Purchase the Season of the Hunt Silver Bundle and receive the 'My Poor Friend' Legendary emote along with 1,700 Silver (1,000 + 700 bonus Silver) which you can use to purchase Season of the Hunt, cosmetics, and more! Visit the Eververse store in-game to use your Silver and buy Season of the Hunt. To unlock your new emote, speak with Master Rahool in the Tower.
One-time purchase only available during Season of the Hunt. Silver is an in-game currency used at the Eververse store. Season of the Hunt not included with purchase.
---
__
FREQUENTLY ASKED QUESTIONS VIA BUNGIE
This info is directly from the Season of the Hunt page by Bungie. View the Season of the Hunt guide by Bungie at here.
What is a Season and Season Pass?
A Destiny 2 Season continues the overall evolving world of Destiny 2 after Destiny 2: Beyond Light with its own unique story, activity, and gear. A Season Pass gives players access to a specific Season. Learn more about Season Passes in our Season Pass, Ranks, Artifacts and Mods article.
How do I buy a Season Pass?
A Season Pass can be purchased from the "Seasons" tab of the Director map. You can purchase all Seasons (approx. one year of content) in our Destiny 2: Beyond Light Digital Deluxe Edition.
How can I tell when a Season Ends?
The end date of the currently active Season is displayed in-game in the "Seasons" section of the Director map.
What happens to Seasonal Content when a Season Ends?
In Year 4 of Destiny 2, beginning in November 2020, some seasonal content will persist beyond its Season if player's own the Season Pass for that Season, such as the Season of the Hunt's Wrathborn Hunts, weapon quests, and story missions.
Can I play a Season that has Expired?
Players who don't own the Season Pass for that Season and would like to access its content must purchase or upgrade to the Destiny 2: Beyond Light Digital Deluxe Edition. This content will be available until Year 4 ends.
Do Season Passes transfer between Platforms via Cross Save? 
Yes. Season Passes can be shared across platforms on accounts that have successfully enabled Cross Save. For full details and support for Cross Save, please visit our Cross Save page.
How can I get Support?
For support, please visit the following links:
---
__
PROGRESSION AND ECONOMY CHANGES
All info in the section below is directly from Bungie.net | Click here to find out what items are being depreciated in Year 4.
Progression
The start of any new Destiny expansion begins with a Power climb as you  experience the campaign and play through the story missions. After finishing that up and completing some additional quests and activities, you're usually around what we call the "Soft Cap" and will need to start earning Powerful rewards to continue to increase Power so you can tackle some of the more aspirational activities in the endgame. After you reach the "Hard Cap" then there is an additional 10 Power you can earn through earning pinnacle rewards if you choose to hit the "Pinnacle Cap."
Here are the new Power Caps you are aiming for when the next Season begins on November 10:
Soft Cap: 1200 
Hard Cap: 1250 
Pinnacle Cap: 1260
When you first log in next Season, all of your weapons and armor will be at 1050 Power or higher. If you have anything already over 1050 it will be unchanged, and anything under will be brought up to 1050. All new players will start at 1050 as well.
Powerful Reward Changes
Bungie has heard a lot of feedback from players for more opportunities to earn Powerful rewards from the activities you enjoy most. They have a change coming that will allow you to have a chance to earn Powerful rewards from strikes, Gambit, Crucible, and from Seasonal drops all the way up until the Hard Cap. It will still be much quicker to continue to complete all the Powerful reward sources each week, but if you just want to play strikes or Crucible matches all day every day, you can continue to earn Powerful rewards.
Bungie hopes this helps you to continue increasing your Power during the period when you are still close to the Soft Cap and may find completing some of the Powerful sources like The Ordeal very difficult.
Tokens and Collections
Starting next Season, gear received from Collections and turning in tokens will have a lower Power than in previous Seasons. Gear earned through token purchases will be 20 Power below your Power Level and Collection buybacks will be capped at 1050 Power.
Economy Changes
Some currencies and items have changes coming either at the end of this Seasons or in the near future. Here is what to expect when you login next Season.
Materials with No Home
With several destinations going into the Destiny Content Vault, many of you have been wondering what is going to happen to the currencies found in the areas currently underneath the Pyramids. The simple answer is that there are no changes to these currencies in Season of the Hunt, and you will be able to continue to spend them at vendors normally.
Starting in Season 13, Phaseglass Needles, Alkane Dust, Simulation Seeds, and Seraphite will be no longer accepted by vendors. For those of you that still have unspent stockpiles at the end of Season of the Hunt, Spider will be kind enough to offer a small Glimmer exchange to take them off your hands. But you'll realize the best value by spending them before that point, so make sure you turn in your stockpiles before the end of next Season.
There are other items that will be removed from your inventory at the end of Season of Arrivals. Some, like Faction Tokens, have not had a purpose in quite a while, and others, like Expired Ramen Coupons, never really had a purpose but held some sentimental value. Bungie knows that it might hard to part with those, but it's time to let them go.
Check out this Help article for the full list of items that will no longer be in your inventory at the start of Season of the Hunt.
Bounties
Back in late April, Bungie shared some plans on how to tackle the problem of "bounty fatigue." They have made some shifts to seasonal bounties and reduced their importance on earning seasonal currency and seasonal progress. Bungie is happy with these changes, but they still want to continue to improve the bounty system overall.
One of the plans Bungie previewed was to eventually replace weekly bounties with a new mechanism to provide players with a set of non-expiring and account-scoped objectives each week that will grant lots of Season rank progress. We're still working on that system and will share more on it before its targeted release of Season 13.
Season Pass
The Season Pass you've come to know since Shadowkeep is largely staying the same. There will be new weapons and armor to earn off both the free track and the owned path. One big change Bungie is making is adding Bright Dust to the Season Pass.
As mentioned before, Bungie wanted to change the way you earn Bright Dust and move more towards account-specific paths to give players with only one character significantly more Bright Dust than they've been earning over the last year. Here is the high-level look at the changes coming next Season.
Season Pass free path will now offer 7,500 Bright Dust
Season Pass owned path will now offer 3,000 Bright Dust
Weekly Bounties will now award 100 Bright Dust
With these changes, the vast majority of players will be earning more Bright Dust than before. One of the goals here is to not have a system that pushes you to try to grind out every weekly bounty on all three characters every single week. Whether you are a three-character player or only play a Hunter, Bright Dust will be more available when earning ranks on the Season Pass. Bungie will also be making a change to the timing of Season Pass rank purchases which will be available starting in week five instead of week nine.
They have more plans for improving how you earn Bright Dust coming in Season 13 and will continue to monitor your feedback.
Here is Design Lead Justin Dazet to tell you about some changes Spider is making to his wares and to answer a question we have been seeing about the customization updates Bungie is making to your Ghosts.
Spider's Dealings
Justin Dazet: Spider is going through some changes in Beyond Light. Though a notoriously savvy black-market dealer, our favorite four-armed friend has been largely the same for quite some time now. But the impending journey to Europa has finally given him a reason to tune up the materials exchange and make two key changes.
First, Spider will no longer be selling Legendary Shards. This exchange was removed mainly because it was not seeing enough use, particularly when compared with the other exchange offers. After reviewing player balances and the frequency with which this exchange was accessed, it was an easy decision to free up the space for something much more interesting.
In place of the Legendary Shard exchange, Spider is now selling Enhancement Prisms. These highly valued items come at a cost – 400 Legendary Shards per Prism – and he's stingy with them so you can only purchase three a week. But we wanted to give those of you with higher balances a way to transmute your Legendary Shards into something a little more valuable than planetary materials and Upgrade Modules.
Second, we've taken another look at how the Enhancement Core exchange works and made some changes. The ascending cost mechanism has been removed, and in its place, Spider will now sell you five Enhancement Cores a day for fixed price of 30 Legendary Shards each. While this does limit the number of Cores you can acquire from him each day, we feel a consistent price is a clearer experience with less chance to accidentally spend large quantities of Legendary Shards.
More importantly it's also cheaper. In the old purchase model, you'd pay 310 Legendary Shards for five Enhancement Cores (10, 20, 40, 80, and then 160). In the new model you'll only pay 30 Shards each, which equals out to 150 Legendary Shards for five Enhancement Cores. So, while it does limit your acquisition rate, it actually will save you 160 Legendary Shards every five Cores!
Eververse
Starting in Season of the Hunt, Bright Engrams will now contain all Eververse content from Season 1 to three Seasons prior to the current Season (excluding content from special events like Festival of the Lost, the Dawning, etc.). Here are some practical examples:
Season 12: Bright Engrams contain all content from Seasons 1 through 9.
Season 13: Bright Engrams contain all content from Seasons 1 through 10.
As always, as you open more Bright Engrams, your chances for earning things you don't own increases. There will be instances of duplicate drops, but the Engram will be weighted to grant you things you might be hunting.
Source: https://www.bungie.net/en/Explore/Detail/News/49722
---
__
Guides
Destiny 2 Power Level Caps Guide – Power Limits for Season 11 & 12 by Fanbyte.com
Destiny 2: LEVEL UP FAST in Beyond Light! | Easy 1250+ Power Level! by KackisHD on YouTube << Click here to watch more Destiny 2 videos
---
Media
Bungie ViDoc – Forged in the Storm by Bungie via YouTube
---
Check this page periodically for more information about Season of the Hunt.