This page is being updated.
__
Release Date: December 10, 2020
Xbox One, PS4, PC, Stadia | Official Website | Pre-Order Now!
Epic Games Store: If you plan on pre-ordering and would like to support me further, enter creator tag Kyber3000 at checkout >> kyber3000.com/get-cyberpunk or epicgames.com/affiliate/link/kyber3000/cyberpunk-2077. Your support is appreciated very much, thank you! (**Kyber will receive about a 5% commission on game sales when supporters use the Kyber3000 at checkout)
Tweet via @CDProjektRed
---
__
PRE-ORDER INFO
Platforms: Steam | Epic (Creator Link) | Xbox One | PS4 | Stadia or directly from CD Projekt Group
Versions
Standard: $59.99 USD
Collector's Edition: Currently Sold Out
Standard Version – Physical Items Included
CASE WITH GAME DISCS
CASE WITH GAME CODE AND SOUNDTRACK CDS (PC)
REVERSIBLE COVER
WORLD COMPENDIUM DETAILING THE GAME'S SETTING AND LORE
POSTCARDS FROM NIGHT CITY
MAP OF NIGHT CITY
STICKERS
Standard Version – Digital Goodies Included
GAME SOUNDTRACK
DIGITAL COMIC
CYBERPUNK 2077: YOUR VOICE
ART BOOKLET FEATURING A SELECTION OF ART FROM THE GAME
CYBERPUNK 2020 SOURCEBOOK
WALLPAPERS FOR DESKTOP AND MOBILE
---
Info below from Steam (click link to Pre-Order on Steam or to view this info)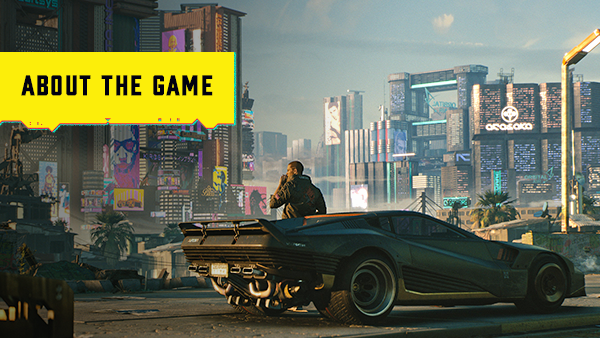 Cyberpunk 2077 is an open-world, action-adventure story set in Night City, a megalopolis obsessed with power, glamour and body modification. You play as V, a mercenary outlaw going after a one-of-a-kind implant that is the key to immortality. You can customize your character's cyberware, skillset and playstyle, and explore a vast city where the choices you make shape the story and the world around you.

Become a cyberpunk, an urban mercenary equipped with cybernetic enhancements and build
your legend on the streets of Night City.

Enter the massive open world of Night City, a place that sets new standards in terms of visuals, complexity and depth.

Take the riskiest job of your life and go after a prototype implant that is the key to immortality.

---
MEDIA
---
This page will be updated periodically with new information.