Warmind Expansion 2 and Season 3 – Now Available!
View the Official Warmind Expansion page
Get more info about: Season 3 | Expansion II | Update 1.2.0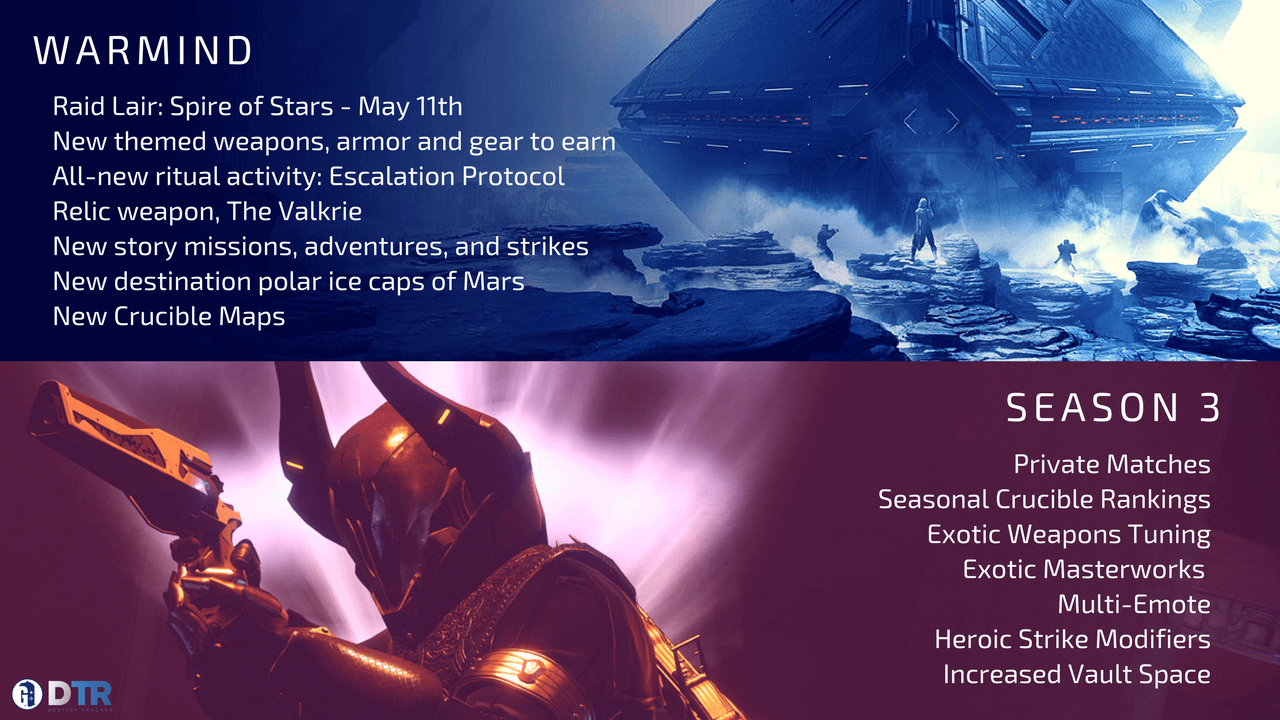 ---
What's Coming?
Power Level Increase – 340 Soft Cap and 380 Hard Cap (doesn't include +5 mods)
Increased Vault Space from 200 – 300
NPC Vendor 'Ana Bray' and planet Mars.
Two New Strikes: Strange Terrain will send you into the tunnels under Hellas Basin to fight the Hive Prince, Herald of Xol. The other new strike is called Will of the Thousands in this strike Rasputin's network is under attack, you'll need to take the Valkyrie and use it to defeat a monstrous foe.
Spire of Stars Raid Lair
2 Crucible Maps: There are two new maps featuring Solitude and Survival modes (will require Warmind ownership in order to use in private matches).
Private Crucible Matches: Just like in Destiny 1, Private Matches are returning with some improvements.
Ranked Crucible – Glory and Valor: Will have exclusive rewards like Redrix's Claymore Pulse Rifle, you can earn this legendary weapon from the Glory Rank System (see image below). Ranked Crucible will feature two different ranks: Glory and Valor. Glory is attached to competitive playlists and is based on performance, if you lose your rank will go down and if you win your rank will go up. Valor is has no penalties, your rank will go up when you complete crucible matches and winning moves you up faster.
New Activity 'Escalation Protocol': In this activity there is a total of seven waves with a boss fight on each wave as well as a final boss on wave 7. There is a total of five unique final bosses that will rotate each week. Escalation Protocol has rewards that are unique only to this activity that change each week. (Note: Players must complete the Warmind campaign before they can activate Escalation Protocol. This activity will start anytime it is activated by a player instead of on a schedule and anyone is able to join in on the activity.)
Emote Wheel: Equip 4 different emotes on the wheel.
New Items – Here are some of the Warmind Exotics:
The Huckleberry – Exotic Submachine Gun
Suros Regime – Exotic Auto Rifle
Sealed Ahamkara Grasps  – Exotic Hunter Gauntlets
Sanguine Alchemy – Exotic Chest Armor
Opihidia Spathe – Exotic Chest Armor
Frost-EE45 – Exotic Hunter Leg Armor
Eternal Warrior – Exotic Titan Helmet
Claws of Ahamkara – Exotic Warlock Gauntlets
Ashen Wake – Exotic Gauntlets
Armamentarium – Exotic Titan Chest Armor
Apotheosis Veil – Exotic Warlock Helmet
Note: This is just a preview of Warmind and Season 3. There will also be changes coming with Update 1.2.0 on May 8, get details here.
---
MEDIA
Destiny 2 Expansion II: Warmind Prologue Cinematic by Bungie
Warmind Reveal Archive by Bungie
Destiny 2: NEW DLC EXOTICS | New Raid Lair Info | Huge Worm-God Boss! (Warmind Expansion)
Destiny 2 News | NEW WARMIND EXOTICS & END GAME! Secret Collectables, Reward Systems & Mars Gameplay
Destiny 2 Warmind. VALKYRIE STAFF! Escalation Protocol, Crota Swords, Mars Public Events & More! by Mesa Sean
Click images and zoom in to view larger text. This page will be periodically updated with new details and information.
Sources/Credit:
https://www.destinythegame.com/expansion2
https://www.psu.com/news/destiny-2-warmind-exotics-every-weapon-and-piece-of-armor-in-new-expansion/