Due to the launch date changing some info on this page isn't correct and will be updated ASAP!
SHADOWKEEP EXPANSION

Launches: October 01, 2019
Cross Save Arrives: August 21, 2019
Visit Official Website | Pre-Order
View more pre-order info below!
Click here to watch the Inside Xbox Gamescom Livestream with Deej (Fast forward to 01h 23m)
---
A NEW CHAPTER
As the heroes of the last safe city turned their attention to frontiers beyond the protection of the Vanguard, new Nightmares have emerged from the shadows of our long-forgotten Moon.
Called forth by the haunting visions from her tormented past, Eris Morn has returned and unleashed something that once slumbered beneath the lunar surface – a long dormant power even she cannot control.
Return to the Moon. Journey deep into a mysterious enemy citadel. Help Eris slay these nightmares before they reach out beyond the Moon to cast humanity back into an age of darkness.
---
NEW LIGHT – PLAY FOR FREE — 10.01.19
Dive right into the world of Destiny to experience responsive first-person shooter combat, to explore rich worlds with sweeping vistas and stunning visuals, and to earn an arsenal of powerful weapons and armor. Bring your personalized Guardian into a large variety of activities and modes – from cooperative quests, competitive modes, challenging endgame activities, and more.
Build Your Legend
Create and personalize your Guardian. Devastate your enemies by unleashing incredible super abilities. Grow more powerful by hunting and collecting a handcrafted arsenal of Legendary and Exotic weapons, armor, and gear to customize your playstyle.
Dive into the rich world of Destiny and quickly join your fellow Guardians to complete adventures and earn powerful rewards.
Cooperate with friends or choose matchmaking to conquer a huge variety of social activities and events.
Compete against other players across a full suite of competitive PvP maps, modes, and activities, and test your skills in Gambit – an intense, tactical activity that blends cooperative and competitive play.
Destiny 2: New Light launches October 01, 2019 and is free to play on every supported platform.
Click here to sign up with your email address to be notified when Destiny 2: New Light is available to download.
---
PC IS MOVING TO STEAM 
As the PC version of Destiny moves to its new home, Bungie will be enabling you to move your current characters, gear, collections, and game purchases from Blizzard's Battle.net to Steam. The process of linking your accounts will begin on August 20. This will give the PC Community time to get their Guardians sorted and ready for the new launch on October 1.
*Further details for Korea will be announced in the future via Bungie.net
Click here to sign up for notifications!.
---
CROSS SAVE IS COMING!
Arrives for all players August 21!
Click here to sign up to get notifications by Bungie!
Play your characters anywhere.
With Cross Save, you'll be able to access the same set of Guardians on one Active Account wherever you play Destiny.
Setup is easy:
01- Link your accounts
02- Choose your characters
03- Profit!
Bring Your Gear!
Your gear, weapons, and loot across all platforms.
Play Anywhere
Whatever you earn on one platform can be equipped wherever you play.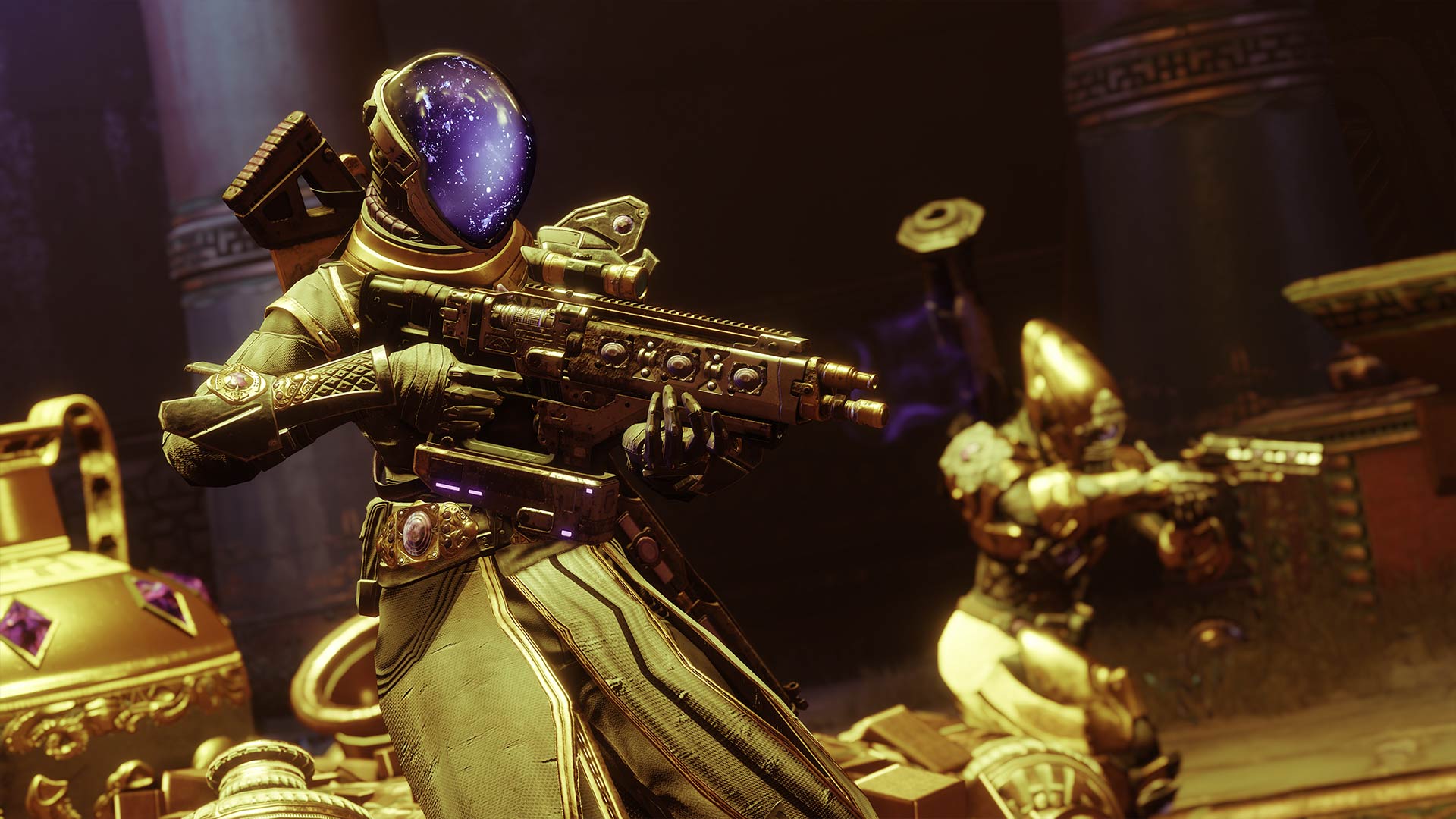 F.A.Q.
Below are the most commonly asked questions. For more information, head over to Bungie's Help Forums.
What is Cross Save? What will it actually do?
Cross Save enables you to choose one Destiny player account (your Active Account) that you can access from wherever you choose to play. Although this is not a permanent action, we did build this new feature as something that players will activate just once to support a hobby that spans more than one platform where Destiny can be played.
Which platforms does Cross Save support?
All of them! With one Active Account, you'll be able to unify your experiences on PlayStation, Xbox, Steam, and Stadia (when it launches later on this year).
Does this mean that I can play with players on other platforms?
Cross Save won't let you engage players on other platforms in real time. The idea is that you can move from one platform to another and play with the same Guardians.
Can I use Cross Save to merge Guardians or Collections on different platforms?
No. Cross Save will enable you to link accounts you use to play games on separate platforms and then designate one of them as your Active Account. From that point forward, the Guardians on that account will the characters you use to play on all linked platforms. We built the feature envisioning this as a decision you will make once.
I don't have Destiny on another platform, can I still Cross Save?
If you have Destiny installed on multiple platforms, you can link the accounts you use to access them. With Destiny 2: New Light, it's easier than ever to install a version of the game that you can play with your friends.
Do my previous game purchases transfer across platforms?
No. The things you have purchased from your PC or Console stores will remain on the platforms where you bought them. These includes games or balances of Silver. Cross Save enables you to access the Guardians and Collections on one Active Account from wherever you play. The things that you acquire for your characters in the game are what move with you from one platform to another.
Can I disable Cross Save once I've enabled it?
Cross Save is intended to be a one-time action, but we realize there may be cases in which you want to visit the characters you left behind. Once Cross Save has been disabled, you will have access to your original characters on each platform. There is a 90-day wait to re-enable the feature. This policy exists to discourage activity like account recoveries by other players.
How does Silver work?
Just like the game content that you acquired for one specific platform, Silver must be spent on the platform it was purchased.
Does Silver get merged with Cross Save?
No. With Cross Save, players select one set of characters from a platform to be their active characters. Silver is associated with your characters, so when you select a set of characters to be active, only that silver on that platform will be available. The Silver you own on your other accounts will remain tied to those accounts, should you ever choose to access them again. However, any future Silver purchased will be available on the platform it was purchased.
How much does it cost?
Cross Save is a free service that we provide to players of Destiny who want to jump into the action in more than one place.
When can I link my accounts and use the same Guardians to play in more than one place?
We expect to launch this feature on August 21, 2019. This will give you the time you need to link your accounts and get your friends lists sorted before the launch of Shadowkeep and New Light.
How will Cross Save impact my Clans?
Your Active Account will be included in only one Destiny Clan. That will become your Clan on all the platforms where you play Destiny. Your Active Account will only take up one player slot in your Clan Roster, but you'll have access to your Clan teammates who are currently playing on the same platform. As you move from one platform to another, you'll be able to make progress on your clan objectives wherever you play.
I still have a bunch of questions!
Our Player Support Team is always patrolling the #Help forum in search of people who need assistance. Pay them a visit and let them know what's on your mind.
Help | About Cross Save | PC Migration
Source: Bungie Website
---
GOOGLE STADIA 
Destiny 2 will be available on Stadia this Fall. Stadia is a new platform from Google for playing video games across virtually any screen. To learn more about Destiny 2 on Stadia, to sign up for updates, or to pre-purchase Stadia and Destiny 2, please visit the official Stadia page at the link below.
Click here for official Stadia news.
---
PRE-ORDER INFO
Pre-order Destiny 2: Shadowkeep on PlayStation 4 or Xbox One and receive Destiny 2, Curse of Osiris, and Warmind to begin playing today.  Pre-orders for Sony Japan coming soon. (Click here for a larger image of the one shown above)
New Missions & Quests
New Destination & Dungeon
New Armor and Gear to Earn
An All New Raid
Season Pass for Season of the Undying*
And more
Pre-order Destiny 2: Shadowkeep on PlayStation 4 or Xbox One and receive Destiny 2, Curse of Osiris, and Warmind to begin playing today.
Pre-purchase to also receive the Two-Tailed Fox Exotic Rocket Launcher and an exclusive Hive-themed Ornament once Destiny 2: Shadowkeep launches.
The standalone edition of Destiny 2: Shadowkeep includes a digital copy of the game and a single Season Pass, providing exclusive activities and rewards.*
*First purchase per Account. All subsequent purchase of Destiny 2: Shadowkeep will include an equivalent value in Silver instead of Season Pass activation. Accounts with an active Season Pass will be credited towards future Season Passes.
Destiny 2: Shadowkeep does not require ownership of any previous Destiny 2 expansions to purchase or play.
In addition to all of the content, activities, and experiences found in the Standard Edition of Destiny 2: Shadowkeep, the Digital Deluxe edition includes access to four Season Passes, each offering seasonally-unique activities and rewards.
Exclusive Digital Collector's Items include:
Four Season Passes, each offering unique and exclusive activities and rewards*

Exclusive Eris Morn themed items

Exotic Emote
Emblem
Exotic Ghost
Digital Products:
Collector's Edition Exclusive Physical Collectible Bundle Contents:
A Collector's Edition exclusive In-game Emblem Code: An exclusive in-game emblem code printed inside the physical collectible bundle.
Hive Cryptoglyph Replica: Follow clues in the Collector's Edition to unlock the Hive Cryptoglyph and its secret contents. Dimensions: 7.8"L.
Metal Luna Mission Container: A metal Luna mission folio that holds esoteric relics and records. Dimensions: 8.6"L x 5.9"W.
Luna Mission Handbook: Containing 40 pages of schematics and design documents.
Luna Journal: A 160-page journal featuring additional story content that is bound with the mysterious charms and talismans of Eris Morn.
Artifacts from the Golden Age
Click here for Shadowkeep help via Bungie.net.
---
VIDEOS
Warning, videos below may contain spoilers!
Armor Customization Preview via Bungie on YouTube
Destiny 2 DLC. VEX RAID/ARTIFACT DETAILS! Time Limited Mods, D1 Strikes & No More Power Level Grind? by Mesa Sean on YouTube << Click link for more Destiny 2 videos!
Destiny 2: How ARMOR 2.0 Works in Shadowkeep! by KackisHD on YouTube << Click link for more Destiny 2 videos!
Destiny 2 News | Shadowkeep Q/A, Cross-Save/Play, GUNNORA AXE Returning (Season of Opulence) by Aztecross Gaming on YouTube << Click link for more Destiny 2 videos!
---
This page will be periodically updated with new information!
*Kyber3000 and Kyber's Corner is not affiliated with Destiny 2/Bungie.