__
Happy Bungie Day, everyone!
Below features some news and details from the Bungie Day 2021 blog post.
---
__
Join Bungie on August 24 for some exciting news about the future of Destiny. For now there will be no spoilers.
---
__
BUNGIE DAY 2021 GIVING CAMPAIGN
Info below is from this Bungie blog article.
Availability: You may donate to the Bungie Foundation's Giving Campaign between July 7 and July 20 at 11:59 PM PDT.
By donating you are helping Bungie make an impact in each of these areas – from their iPads for Kids Program to helping communities impacted by a natural disaster, you are changing lives and proving that the Bungie community is the best there is. This has been an unprecedented year of hardships for so many around the world, including many of you. Thank you for leaning into your friendships and shared passions to lift each other up and support each other when it was needed the most. And yet, there is so much work to do. Please help out by donating today.
Goal: Bungie's goal is to reach $777,000 by July 20. To help stay on track, Bungie will commit to having one of our Community Managers record a lore reading if we reach $500,000 by Wednesday, July 14, to be shared in This Week at Bungie the next day!
Rewards: To be eligible for the in-game items listed above, donations must be made to this campaign between July 7 and July 20 at 11:59 PM PDT. Unique redemption code(s) will be emailed to you on Thursday, July 29th following the completion of the fundraiser. One redemption code per item, per email for qualifying donations.
As a thank you for your donation, Bungie is excited to offer you several incredible in-game items:
$10+: 2020 "The Bungie Foundation" emblem
$25+: Above, plus the NEW "Circadian Guard" emblem
$50+: Above, plus NEW Exotic "Buoyant Shell" Ghost Shell
$75+: Above, plus NEW Exotic "Tiny Tank" emote (click here to see a higher quality video version or open the link below)
---
__
For anyone who hasn't heard yet, Bungie launched their mid-Season update yesterday and  Solstice of Heroes event kicked off. It's that special time of year when Guardians travel to European Aerial Zone to earn their Solstice armor and get their glow on. You can get the full scoop on the Solstice of Heroes page.
Bungie also had Vault of Glass Master difficulty go live yesterday and a mid-Season shake-up of the weapon sandbox. For the full details check out last week's TWAB and the patch notes for Update 3.2.1.
---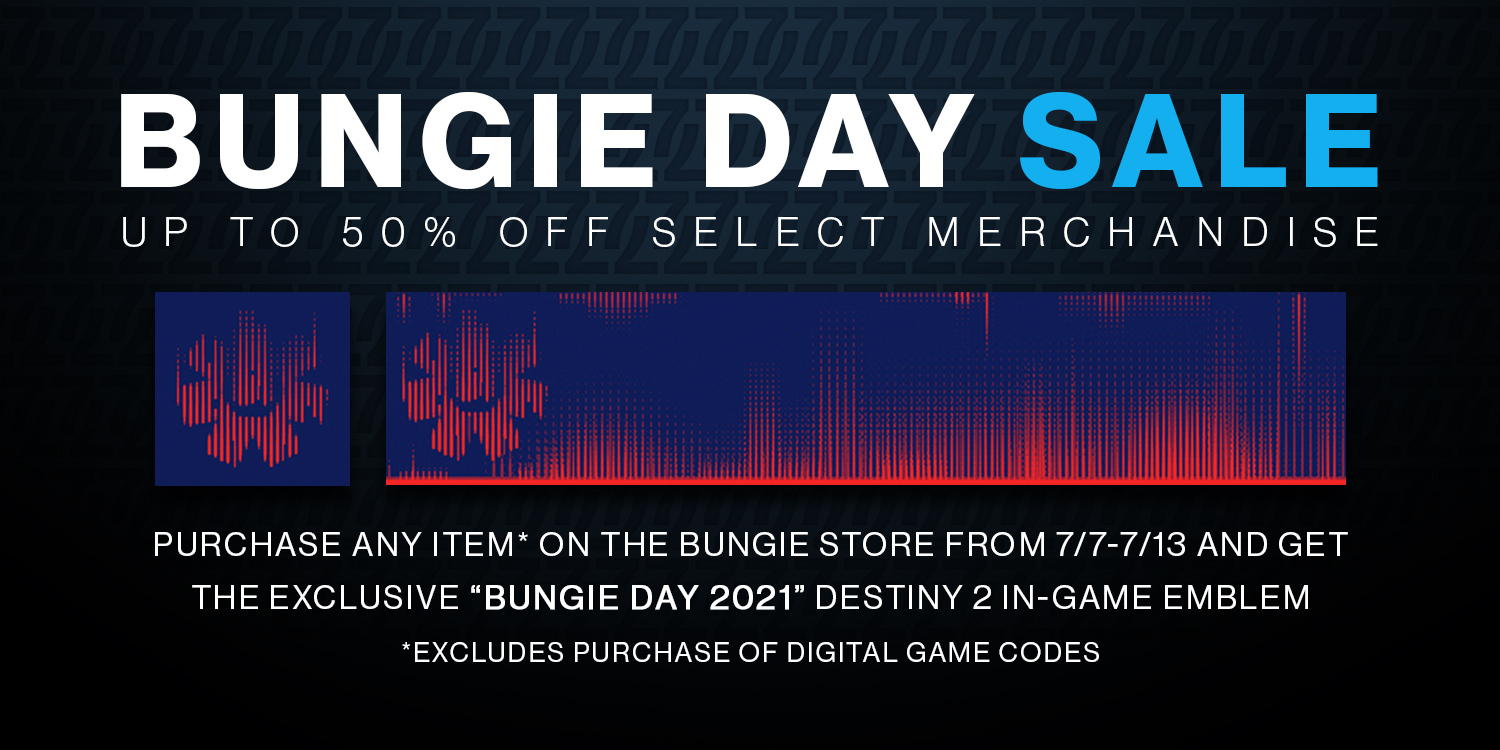 __
In honor of Bungie Day, Bungie is running a sale on the Bungie store! You can expect to save up to 50% off select merchandise.
Everyone who makes a purchase on the Bungie Store from now until the end of July 13 will receive an exclusive "Bungie Day 2021" emblem.
For all the Guardians out there that can't get enough Destiny story content, Bungie is opening up pre-orders for Destiny Grimoire Anthology Volume IV: The Royal Will. This latest addition to our Grimoire Anthology unravels the making and methods of two of Destiny's most powerful monarchs—Mara Sov, the Queen of the Awoken, and Oryx, the Taken King.
New Bungie Rewards are now available as well. As mentioned above, with Solstice of Heroes starting up there is a new shirt available for purchase by anyone who collects their first set of Solstice armor. If you are looking to personalize something, Bungie has a Bungie Reward you can put your name on coming with Moments of Triumph later this year.
There is also a Season of the Splicer Bungie Reward. If you have completed the Expunge questline you are eligible to purchase this new Expunge hoodie.
The community is full of amazing artists! On occasion, Bungie likes to invite a few to participate in our Community Artist Series and partner with them to sell merchandise featuring their creations. Each artist receives a share of revenue from sales of their product design. Bungie has a new line up of items available today, check them out!
In the mood for some arts and crafts? Bungie has a special papercraft character bundle of Crow, Eris Morn, and Drifter you can create. Just go download the free kit, print and fold a new friend to perch up on your desk.
---
__
BUNGIE MEMORIES
One thing Bungie wanted to do around Bungie Day this year is reflect on the past. It's hard to believe that Bungie has been making games for 30 years now. They know many of you have amazing stories of the epic moments and friendships forged through our games over the years. Bungie would love to hear them!
Bungie would like videos of you telling your story about your favorite Bungie memories. It could be your favorite Bungie game, a Bungie related event you attended, or a positive interaction with a Bungie employee you had. Doesn't have to be Destiny, you can reminisce about high-intensity Halo LAN parties or show your age by talking about how you played Pathways into Darkness on your Mac in 1993. Maybe it was that time when you bought the first copy of Halo 3 from Bill Gates?
If you want to share your story, just post your video on either Twitter, Instagram, or… they guess TikTok, too, with #BungieMemories. Try to keep them somewhat brief and under one minute. Bungie is going to pick a few we like and use them for something special in the future.
Quick Note: By using this #BungieMemories or #BungieDayArt, you are submitting content to Bungie. When you submit content to Bungie, you agree to the Bungie Services Terms of Use, which also means you're promising us that you have the right to upload that content, that we can freely use it, and you agree that your submission follows our Code of Conduct.
---
BUNGIE DAY ART SHOW 
Similar to the Bungie Memories above, Bungie is also putting a call out to all our extremely talented community artists to create artwork centered around your favorite Bungie games. Same thing as before, this can be Destiny related or from any games we have worked on. Share your art on Twitter or Instagram using #BungieDayArt and Bungie will pick out our favorites and use them along with the Bungie memories videos mentioned above.
---

__
Bungie has one more gift for you to commemorate the seventh day of the seventh month. Bungie made a Spicy Ramen emblem (A Classy Order) and it's available now for everyone who wants it. You don't have to buy anything, it's totally free!
YRC-C3D-YNC
Sign in to your Bungie.net account, head to the Redeem Codes page, and use the code above for the sweet new emblem.
That about wraps up the Bungie Day post. Bungie also thanks you for consistently being an amazing community. They truly love getting to make games for you and hope you have enjoyed playing them over the last 30 years as much as they have enjoyed making them.
Happy Bungie Day!